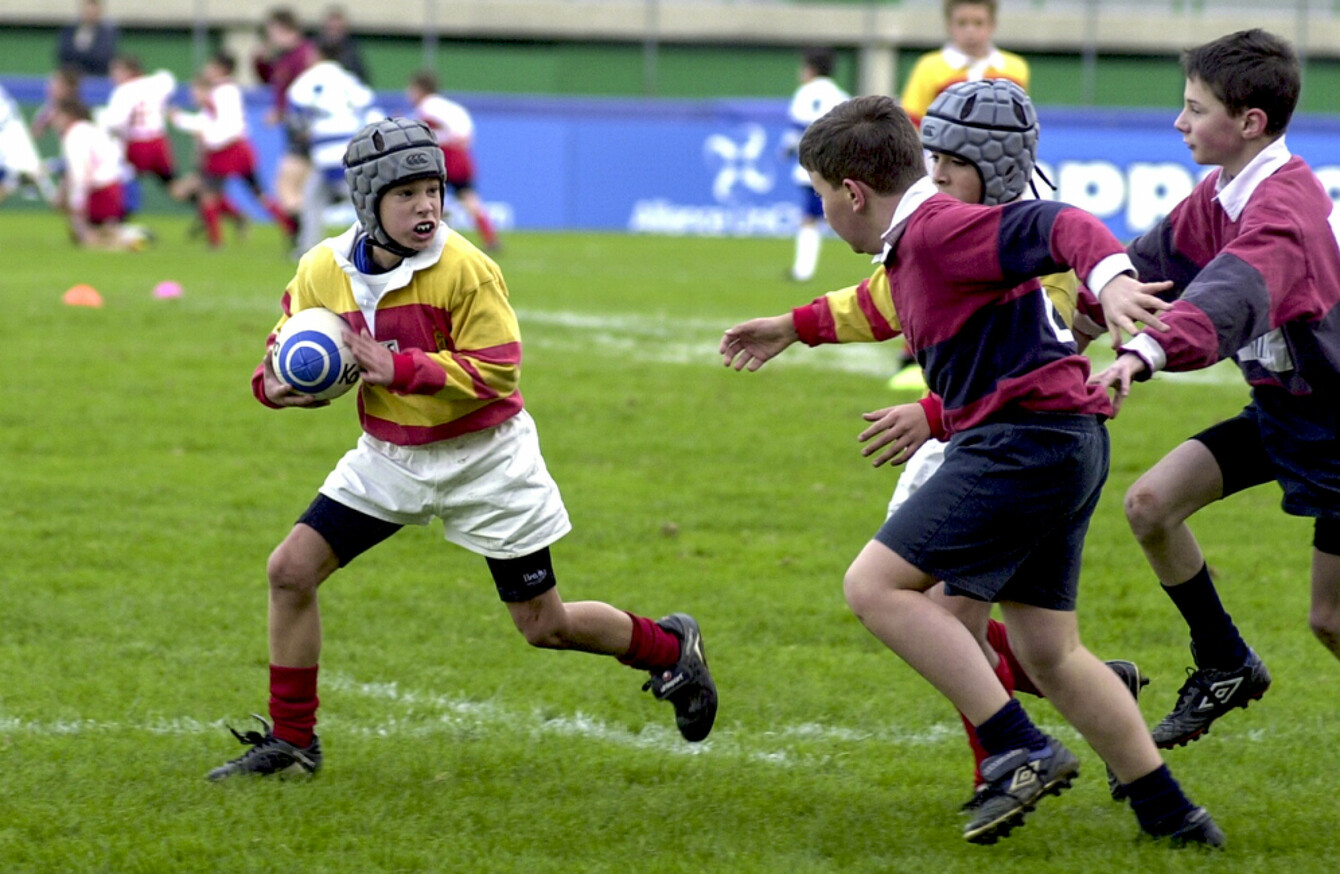 File photo: Children playing rugby
Image: Shutterstock/Paolo Bona
File photo: Children playing rugby
Image: Shutterstock/Paolo Bona
TACKLING AND SCRUMS should be banned in school rugby, according to academics.
An article in the British Medical Journal finds that most injuries in youth rugby are due to the collision elements of the game, mainly the tackle.
The authors have called on the UK and Irish government to "put the interests of the child before the interests of corporate professional rugby unions and remove the tackle and other forms of harmful contact from the school game".
Professor Allyson Pollock, director of the Institute of Health and Society at Newcastle University, and co-author Graham Kirkwood, said the data in support of the call to remove the tackle and other forms of harmful contact in school rugby is compelling.
Risks to children 
Speaking on RTÉ's Morning Ireland programme this week, Pollock said the risks to children playing the sport are much greater than for adults, adding that her concerns do not just relate to concussion, but also fractures and spinal injuries.
She recommends removing the "harmful collision parts of the game", but leaving the other parts of the game - essentially re-establishing the game as touch rugby. Encouraging children not to collide and crash into each other is also vital, she said.
However, the Irish Rugby Football Union (IRFU) have backed the World Rugby Union's position that the research article is "unfounded in data".
A World Rugby statement read:
World Rugby and its member unions take player safety and welfare very seriously and proactively pursue an evidence-based approach to reduce the risk of injury at all levels.
Contrary to Pollock's opinion, the systematic published studies where injury has been properly defined and monitored, suggest the risk for pre-teens is not unacceptably high compared to other popular sports.
It is well documented that, for most sports injury rates increase with age and yet the research quoted mixes 9-12 with 18-20 age groups.
Receiving hate mail and threats 
Since expressing her views on the sport, the professor said she has received hate mail and threats.
The issue of concussion among young players in particular has been in the headlines in recent years.
In the UK in 2011, 14-year-old Ben Robinson died after several blows to the head in a school rugby game.
Meanwhile in Ireland 72 children were admitted to Temple Street Children's Hospital suffering from head injuries as a result of playing sports in the first six months of this year, according to a report in the Irish Independent last month.
In January, five young Limerick rugby players were rushed to hospital after sustaining serious head injuries in two separate Junior Cup games.
There have been calls recently for compulsory headgear to be worn by junior players.
The government said it is assessing the matter, and in May, TheJournal.ie reported that a 'concussion guidance document' that will be used by schools, clubs and sports governing bodies is currently being drafted.
Three government departments are involved in drafting the memo - the Department of Transport, Tourism and Sport, the Department of Health and the Department of Education and Skills.
'Sport is getting more dangerous' says minister 
Sports Minister Shane Ross told TheJournal.ie in August that society needs to "face up" to the fact that sport is getting more rough and people are getting hurt.
When asked if he is concerned about the dangers of concussion and contact sports, Ross said:
I think we have to face up to it… Sometimes you see things on the sporting field which are completely unacceptable, even in rugby, where people are doing things which are dangerous.
I think it is something we have to be fairly vigilant about. The line between competition and abuse is sometimes difficult to draw.
Sport has become more physical, rugby has become more physical certainly, which is a pity, but I think we should vigilant about it and I hope it doesn't take some awful accident for us to wake up to the fact the sport is getting rougher.
While there has been an increased focus on the effects of concussion in recent years, the issue has been prominent in the US after years of controversy in the National Football League (NFL) where a number of players have made large settlements with the league over the injuries they sustained in pay.
Brain injuries 
The struggle for the sport to recognise the sport had a problem was brought to screen in the film, Concussion, starring Will Smith, which told the story of Dr Bennet Omalu – the man who discovered that the repeated concussive blows suffered by American football players was leading to the development of chronic traumatic encephalopathy (CTE).
In an interview with The42.ie, Omalu echoed the points made by British academic, Pollock, stating:
If a child asked you for a cigarette, you wouldn't give it to him. But you send that child onto a field to slam his head against the heads and bodies of other children and I ask you, which is more dangerous, a cigarette or a violent blow to the head?
Since 2002, the NFL has been forced to make 42 rule changes to protect players.
#Open journalism No news is bad news Support The Journal

Your contributions will help us continue to deliver the stories that are important to you

Support us now
Rule changes have also been set down by World Rugby this year, stating that players will have to stay off the pitch for ten minutes to undergo a head injury assessment.
Discussions on this side of the ocean are gaining traction, with major conferences on concussion brain injuries taking place, such as in Trinity College, which was attended by major sporting figures such as former Irish international rugby players Keith Wood and Fergus Slattery, as well as Tipperary hurler Seamus Callanan.
Speaking at the conference, Consultant Neurologist at St James's Hospital, Dr Colin Doherty said there is an urgent need to have a coherent set of national guidelines for recognition and management of mild traumatic brain injury.
Calls for national concussion strategy
This call was repeated by Fianna Fáil's Kevin O'Keeffe, who said there is a need for a coordinated national concussion strategy to stem the chronic number of young sports people getting injured while playing popular contact sports such as rugby, soccer, Gaelic football and hurling.
"We have seen in recent times a greater level of concussions being reported in our Emergency Departments. Many consultant doctors have raised concerns about the seriousness and frequency of such incidents in Irish hospitals as a result of sporting activities."
The issue of the effects of concussion resurfaced this week with the surprise announcement by former Republic of Ireland striker Kevin Doyle is retiring following repeated incidents of concussion.
The 34-year-old said heading the ball has become "problematic" and that two concussions this season alone have forced him to take medical advice.
A statement to TheJournal.ie from the Department of Sport said the issue of concussion and head injuries in sport "is a serious one, as the health and safety of players participating in sport is of paramount importance".
The document, which the government states will provide sufficient safety guidelines, currently being developed is for the general public, as well schools, clubs and the National Governing Bodies of Sport (NGB) such as the IRFU.