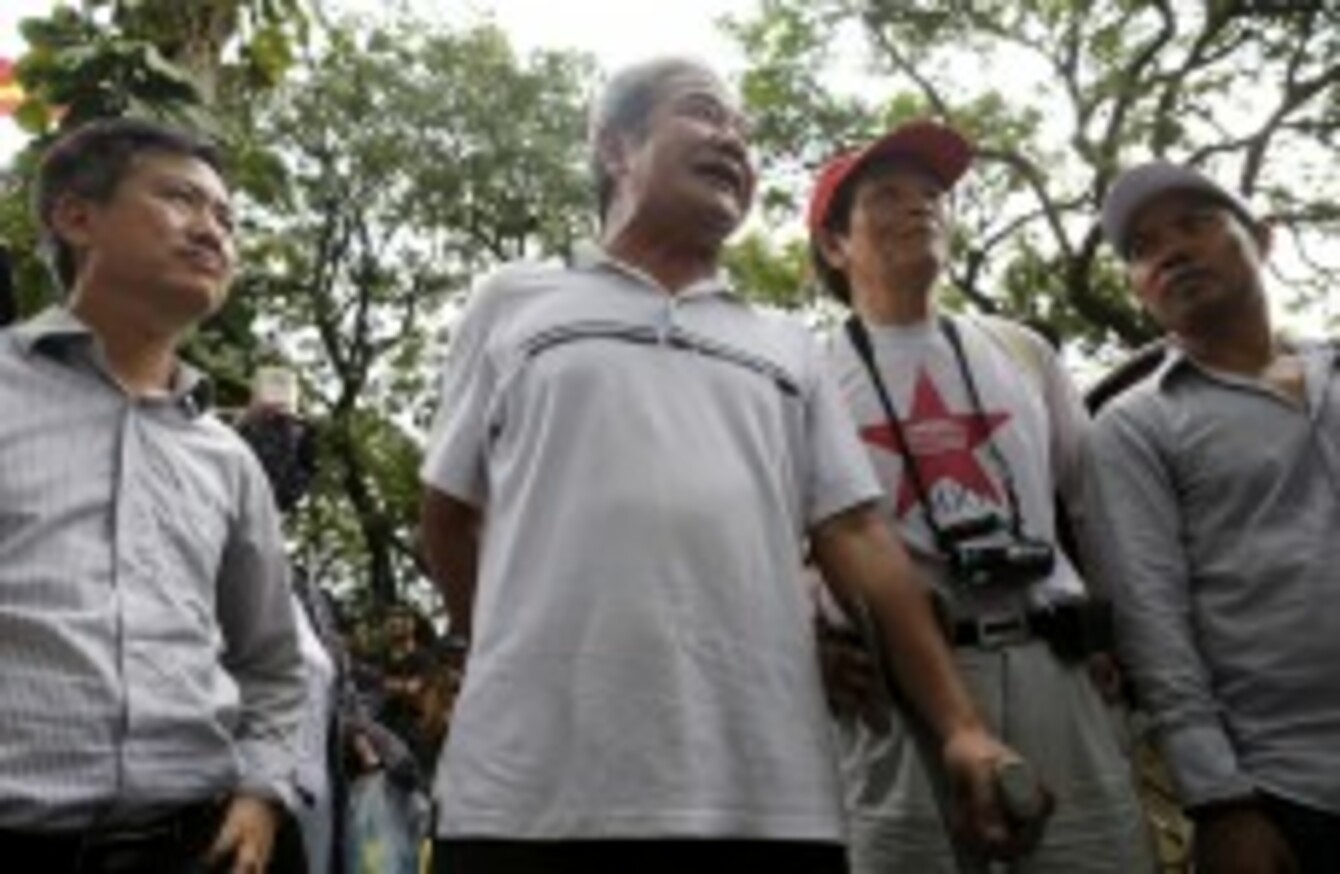 A small group of Vietnamese anti-China protesters stand near the Chinese Embassy in Hanoi, Vietnam today, before being ordered to leave the area by police
Image: Na Son Nguyen/PA Images
A small group of Vietnamese anti-China protesters stand near the Chinese Embassy in Hanoi, Vietnam today, before being ordered to leave the area by police
Image: Na Son Nguyen/PA Images
CHINA HAS EVACUATED more than 3,000 of its nationals from Vietnam following a wave of deadly anti-Chinese violence, state media said Sunday, as Vietnamese authorities imposed heavy security to thwart any further unrest.
Xinhua news agency said the evacuees included 16 Chinese who were "critically injured" last week in violence triggered by Beijing's deployment of an oil rig in contested South China Sea waters.
The chaos marked the worst anti-China unrest in Vietnam in decades.
Those victims left on a chartered medical flight, and China also was dispatching five ships to Vietnam to pluck more nationals to safety after vocal Vietnamese NGOs issued a call for fresh, but peaceful, protests around the country today against China's "aggression".
That call appeared to have fizzled, at least in Hanoi, where authorities deployed heavy security around the Chinese embassy and other suspected protest sites.
AFP could not immediately confirm whether any anti-China actions occurred elsewhere in the country, but the government yesterday had ordered authorities nationwide to ramp up security to nip any protests in the bud.
Oil rig
China's positioning of the oil rig in waters claimed by both sides has ignited long-simmering enmity between the two quarrelsome communist neighbours, who have fought territorial skirmishes in the past.
Worker demonstrations spread to 22 of Vietnam's 63 provinces in the last week, according to the Vietnamese government, with enraged mobs torching foreign-owned factories and enterprises linked to China or which employed Chinese personnel.
More than 400 enterprises were hit, Vietnam's government has said.
The government has in the past occasionally allowed protesters to vent anger at the country's giant neighbour for domestic political gain.
Damage control 
But developing Vietnam depends heavily on foreign investment, and the anti-China violence Tuesday and Wednesday has bruised the country's business image and sent the government scrambling to limit the damage.
"We will not allow any acts targeting foreign investors, businesses or individuals, to ensure that the regrettable incidents will not be repeated," Dang Minh Khoi, assistant to Vietnam's foreign minister, told reporters in a briefing Saturday.
"We ask countries to continue to encourage their investors and citizens to rest assured on doing business in Vietnam."
Officials told the briefing that the violence had left two Chinese nationals dead and 140 injured. More than 300 suspected perpetrators were being prosecuted, they said.
'Explosion of violence'
More than 3,000 Chinese nationals had been evacuated as of Saturday afternoon, Xinhua reported early today.
China's foreign ministry also advised its nationals against travelling to Vietnam for now, following what it called the "explosion of violence".
It also urged Chinese "citizens and structures in Vietnam to increase their risk-awareness, to strengthen their security prevention measures, and to avoid leaving (their premises)."
There was no immediate response from the Vietnamese government on the evacuations or the Chinese travel warning.
Xinhua said Chinese security chief Guo Shengkun had spoken to his Vietnamese counterpart, urging steps to quell the violence.