EVEN THE SMOOTHEST of operators, the slickest of Ricks in our midst, dread asking their mates for money they've borrowed back off them.
There's just something so awkward about the whole business.
We're all pretty bad at it (being, by our Irish nature, awkward as a default setting), but just how much do you struggle?
Let's find out… Answer all the questions to see your result!
You scored out of !
You got... Super awkward!
Yikes. You've gotten yourself into sticky situations before with money, haven't you? You need some help.
You scored out of !
You got... Very awkward!
You have your moments, but these days every sticky social situation can be sorted out with the wonder of technology. There's an app for that.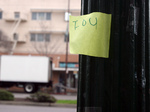 You scored out of !
You got... Cool as can be!
You're so slick with lending pals money that you probably already know there's an app for this, don't you? Clever.
Circle lets you send and receive money on your phone, for free – like a text or email filled with cash. You can fire money over to your friends, split bills, convert between currencies, and send requests for people to settle up. And all you need to do is sign up with your phone and debit card. Never suffer awkward interactions over money with friends ever again… Magic.