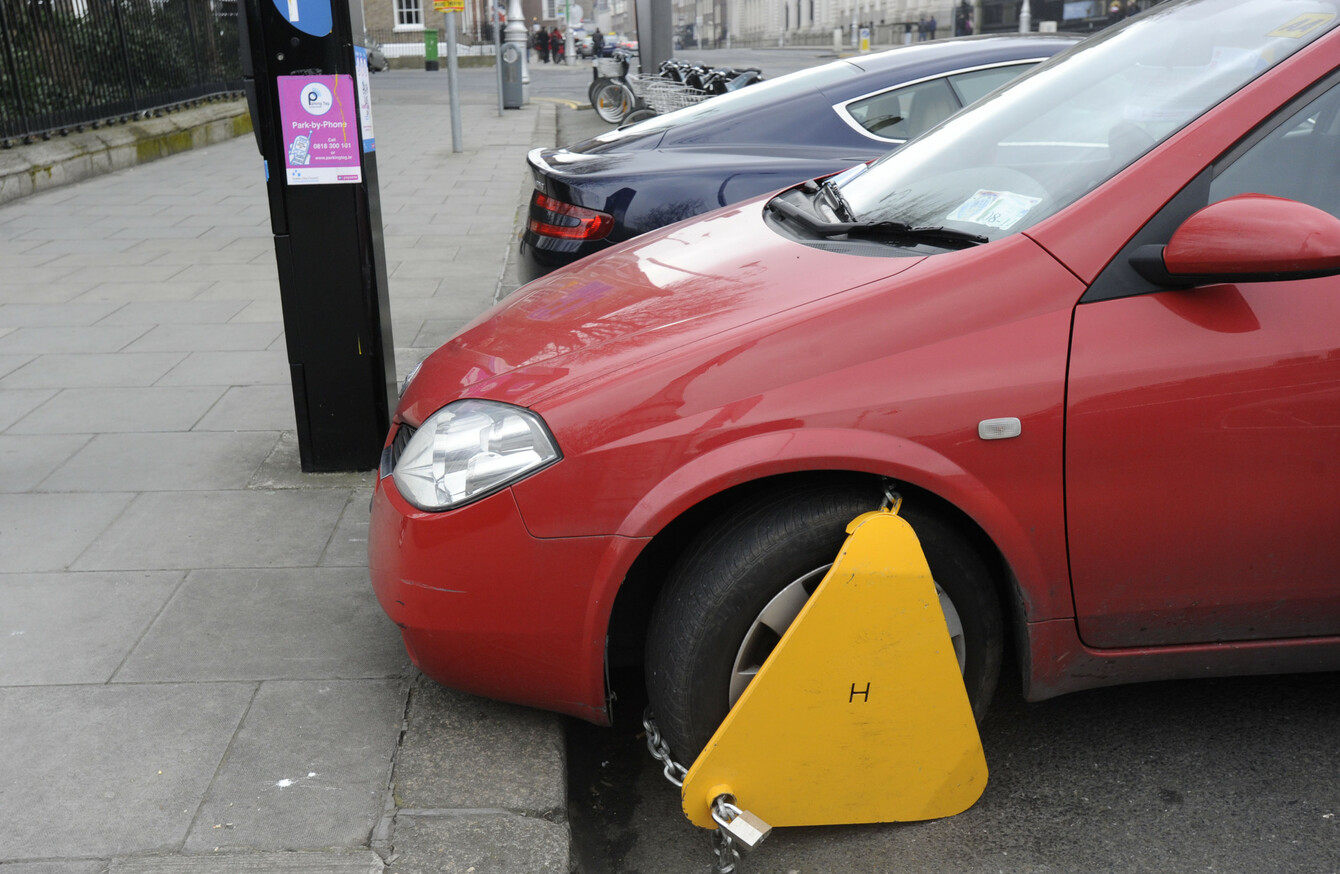 Image: Sasko Lazarov/Rollingnews.ie
Image: Sasko Lazarov/Rollingnews.ie
ONLY A SMALL number of drivers who have their vehicles clamped under the jurisdiction of Dublin City Council appeal the decision, but more than half of those appeals are successful.
The reasons for the appeals range widely, with most saying they had paid or had only just been too late back to their car.
According to documents released to TheJournal.ie under the Freedom of Information Act, the number of vehicles clamped this year to 30 September in Dublin city was 33,798.
And, of the 1,763 cases that were appealed, 992 were successful.
Here are some of the reasons why people appealed the decision to clamp their car,  seeking the €80 cost back.
Electric cars
One driver appealed on the basis that their car was parking at an electric car charging station on Merrion Square. 
However, as pointed out here, Dublin city is among a few places where people need to pay for parking even when charging electric cars.
The person wrote: "I wish to appeal this, because my car was not parked in a public parking bay – it was in fact in an ESB charging bay for electric vehicles and was plugged into the public charging station.
I applied to ESB for an access card to be able to use this service, and was issued with one, with the information that this service is free of charge at the present time. There was no notice or information on display in Merrion Square North to say that public parking fees must be paid when using the service. Indeed, any other time I have used a public electric car charging bay there have been no charges applied.
Another electric car user wrote: "On the ESB website it clearly states that 'access to the public infrastructure is currently available at no cost'. And I was accessing the charging point to charge my car.
I don't mind to pay the parking fee but that needs to be clearly stated as all over the country access to electric charging points are free.
Twice in a week
One of those appealed described how he'd been "caught out twice" in a week.
In the first instance, the person said they'd paid for their parking on a street in Dublin 2, until 11.16am. 
"I was a little delayed in a very sensitive meeting and rushed to my car at 11.28 to see the clampers driving away and find my car had been clamped at 11.27, exactly one minute after the 10 minute grace expiration period," they said.
I am appealing this on the ground that it is just plain unfair… I had no choice but to pay the €80 release fee. When they came to release me, I asked politely if they had been waiting and they denied it, naturally.
In another instance just a few days later, the same person parked in Dublin 1 and tried to secure 120 minutes parking via the text number.
When they arrived to find the car clamped, they said they were told "there was a problem with their system this morning and texts were not getting through". 
"If I feel I make a mistake I pay without complaint, but I really feel that both of these were hugely unfair," the driver wrote. "Please look favourably on my request."
Rotunda Hospital
Another complainant said she had parked outside the Rotunda Hospital in the city centre, for a scheduled scan.
"I am currently 37 weeks pregnant," she said. "I bought a ticket for what should have covered me for my routine scan.
Unfortunately on this day I was left waiting longer than normal and my scan ran over. My ticket was expired by 10 minutes and I was clamped. 
I'd like to appeal this as I have no control over how long I am left to wait in the hospital and if I leave to top up the meter I could miss my appointment.
Ticket issues
A number of the appeals made reference to actually having bought a ticket, but it not being visible when the clampers inspected them.
#Open journalism No news is bad news Support The Journal

Your contributions will help us continue to deliver the stories that are important to you

Support us now
One wrote: "Please find attached a copy of the pay and display ticket that I placed upside down on the car dash this morning and the incorrect notice ticket that was attached to the windscreen.
I never noticed that the ticket was upside down… One of your operatives was beside the vehicle when I returned and I showed the ticket to him to verify that I had a valid ticket.
Another said: "I had a lecture in DIT, had parked my car on Bishop Street when I returned at 11.24, I found it clamped. My car had a ticket, however I can only figure it turned when I shut the door."
Someone who regularly parks on Holles Street said: "Every week I pay for a parking ticket (see enclosed), on this occasion I had put the ticket on my front windscreen, but it had partially turned over when closing the door which I hadn't noticed."
Big contract
In September, Dublin City Council put out an invite to tender worth €45 million for a clamping operator.
The council is seeking a clamping contractor to carry out over 50,000 "successful clamps" each year.
Under the proposals, the clampers will have to pay the council a €150 penalty fee if a vehicle owner successfully appeals the decision to clamp them, as well as refunding them the money. That is an increase from the current fine of €100.
The council calls for a "balanced delivery" of service over five years, with a "close professional working relationship" between it and the contractor.
It comes after a previous tender worth €35 million was granted to Park Rite in 2011.