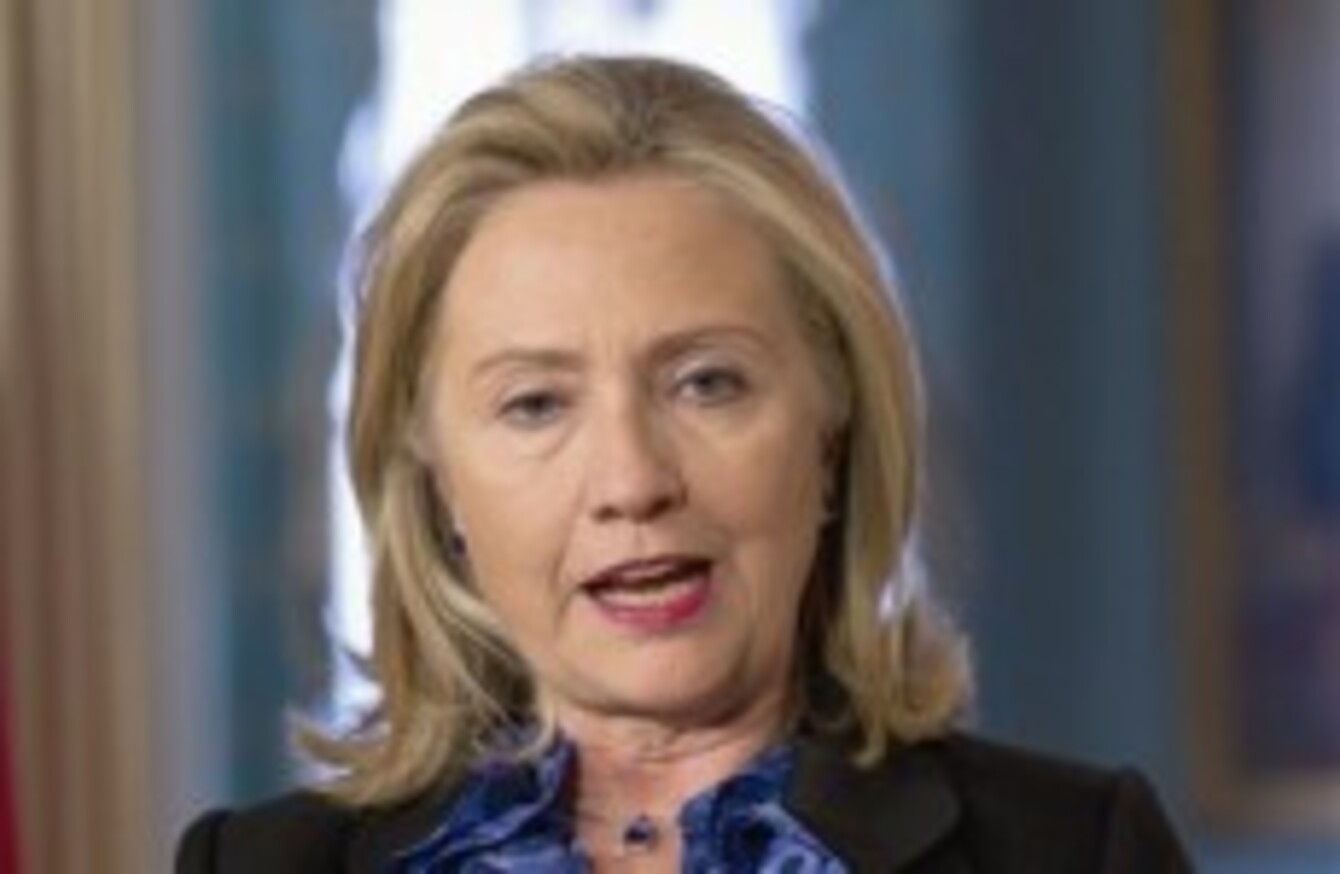 Secretary of State Hillary Rodham Clinton
Image: AP Photo/J. Scott Applewhite
Secretary of State Hillary Rodham Clinton
Image: AP Photo/J. Scott Applewhite
THE UNITED STATES has stepped up calls for a global trade embargo on oil and gas from Syria, warning even some of America's closest allies that they must "get on the right side of history" and cut links with a government that won't reform.
Secretary of State Hillary Rodham Clinton said international opinion was hardening against President Bashar Assad, noting a "crescendo of condemnation" from world powers and Syria's Arab neighbors. But she said tougher action was required, too.
"We urge those countries still buying Syrian oil and gas, those countries still sending Assad weapons, those countries whose political and economic support give him comfort in his brutality, to get on the right side of history," Clinton said.
Assad, she said, "has lost the legitimacy to lead and it is clear that Syria would be better off without him."
She stopped short of an explicit call for Assad to leave power, which the White House has been planning. A US official said the demand will happen "sooner rather than later," though the hesitation reflects some concern in the administration about adopting a more aggressive tone without adequate support from European allies and Arab partners.
Another factor has been Turkey, a key NATO ally that neighbors Syria, whose foreign minister visited Damascus this week. Its government has expressed fears about further destabilizing Syria and prompting massive refugee flows across its border in repeated conversations and a telephone call Thursday between President Barack Obama and Turkish Prime Minister Tayyip Erdogan, according to officials. They spoke on condition of anonymity to discuss internal planning.
Meanwhile, tens of thousands of Syrian protesters shouted for President Bashar Assad's death Friday in a dramatic escalation of their rage and frustration, defying bullets and rooftop snipers after more than a week of intensified military assaults on rebellious cities, activists and witnesses said.
Security forces killed at least 14 protesters, according to human rights groups.
The calls for Assad's execution were a stark sign of how much the protest movement has changed since it erupted in March seeking minor reforms but making no calls for regime change. The protests grew dramatically over the five months that followed, driven in part by anger over the government's bloody crackdown in which rights groups say at least 1,700 civilians have been killed.
In cities around Syria, protesters chanted, "The people want to execute the president!" during the now-familiar cycle of weekly demonstrations followed by a swift crackdown by the military, security forces and pro-government gunmen who operate on the regime's behalf.
Security forces broke up protests quickly around the capital Damascus, in the central city of Homs and elsewhere, firing bullets and tear gas. Some areas saw only limited demonstrations because soldiers deployed heavily in restive areas.
In a significant show of defiance, some of the largest protests Friday were on the outskirts of the central city of Hama and in the eastern city of Deir el-Zour, where government forces seized control in major military offensives during the past week. The fact that protesters still turned out was a signal that Assad's forces cannot terrify protesters into staying home.
However, within Hama, protesters struggled to turn out in great numbers after soldiers clamped down heavily in the streets, witnesses said. Snipers were stationed on rooftops, and troops surrounded mosques and set up checkpoints to head off any marches.
"There are security checkpoints every 200 meters (655 feet), they have lists and they're searching people … the mosques are surrounded by soldiers," a Hama-based activist told The Associated Press by telephone, speaking on condition of anonymity for fear of reprisals.
- AP