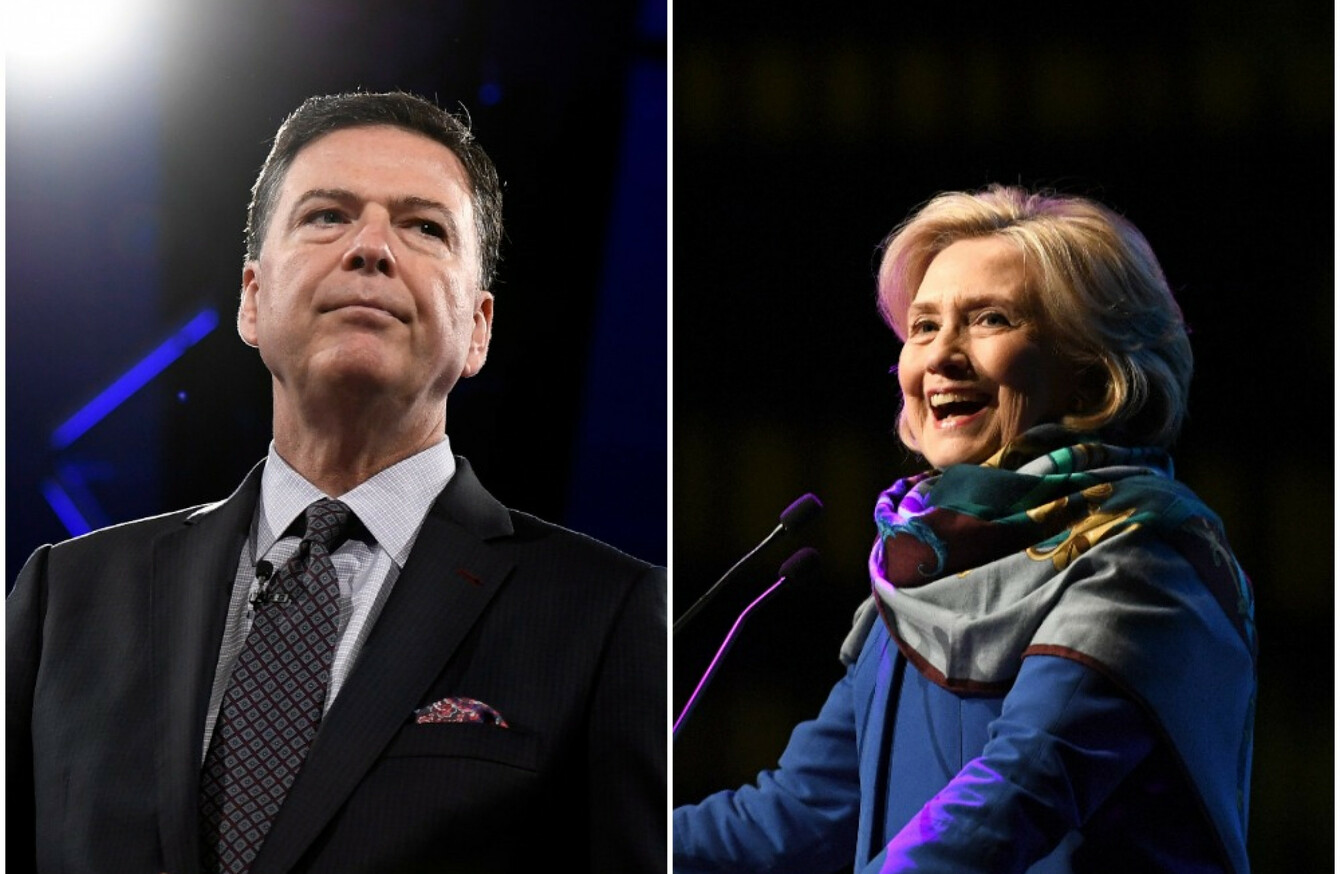 Image: PA Wire/PA Images
Image: PA Wire/PA Images
HILLARY CLINTON AND former FBI boss James Comey will both be in Dublin on the same day next week.
The two (both have books out at the moment, as you may have guessed) will be in the city for separate events on Friday 22 June.
Clinton, the former Democratic presidential nominee and US Secretary of State, will be awarded with an honorary degree at Trinity.
Earlier the same day she will also deliver a public lecture in the Edmund Burke Lecture Theatre. That will be followed by a public conversation with former Irish president Mary Robinson, who is the current Chancellor of the University.
Clinton will "explore her views on democracy, women in politics and the current challenges facing American society" according to Trinity's press notice.
Comey, who was sensationally fired by President Donald Trump just over a year ago, will be in conversation with Hugh Linehan of the Irish Times at 6pm the same day at the Irish Film Institute in Temple Bar.
The former FBI boss, who was also deputy attorney general under George W Bush, details his career highlights and spills the beans on his interactions with the current occupant of the White House in his recently published book A Higher Loyalty.
He's been on the media trail since its publication in April (appearing on pretty much every American media outlet you could possibly think of).
Don't expect the two US VIPs to be meeting up for pints in Mulligans during their visit or anything, however. They're probably not on the best terms these days. In fact, here's what the former First Lady had to say  about Comey in her own book, What Happened:
If not for the dramatic intervention of the FBI director in the final days we would have won the White House.
Comey, as you may recall, wrote a letter in the dying days of the 2016 election campaign informing Congress that he had reopened the investigation into the handling of classified material on Clinton's email server.
More details on Comey's IFI event can be found here. The Trinity event has just been announced this afternoon but you can expect more details on the university's website.