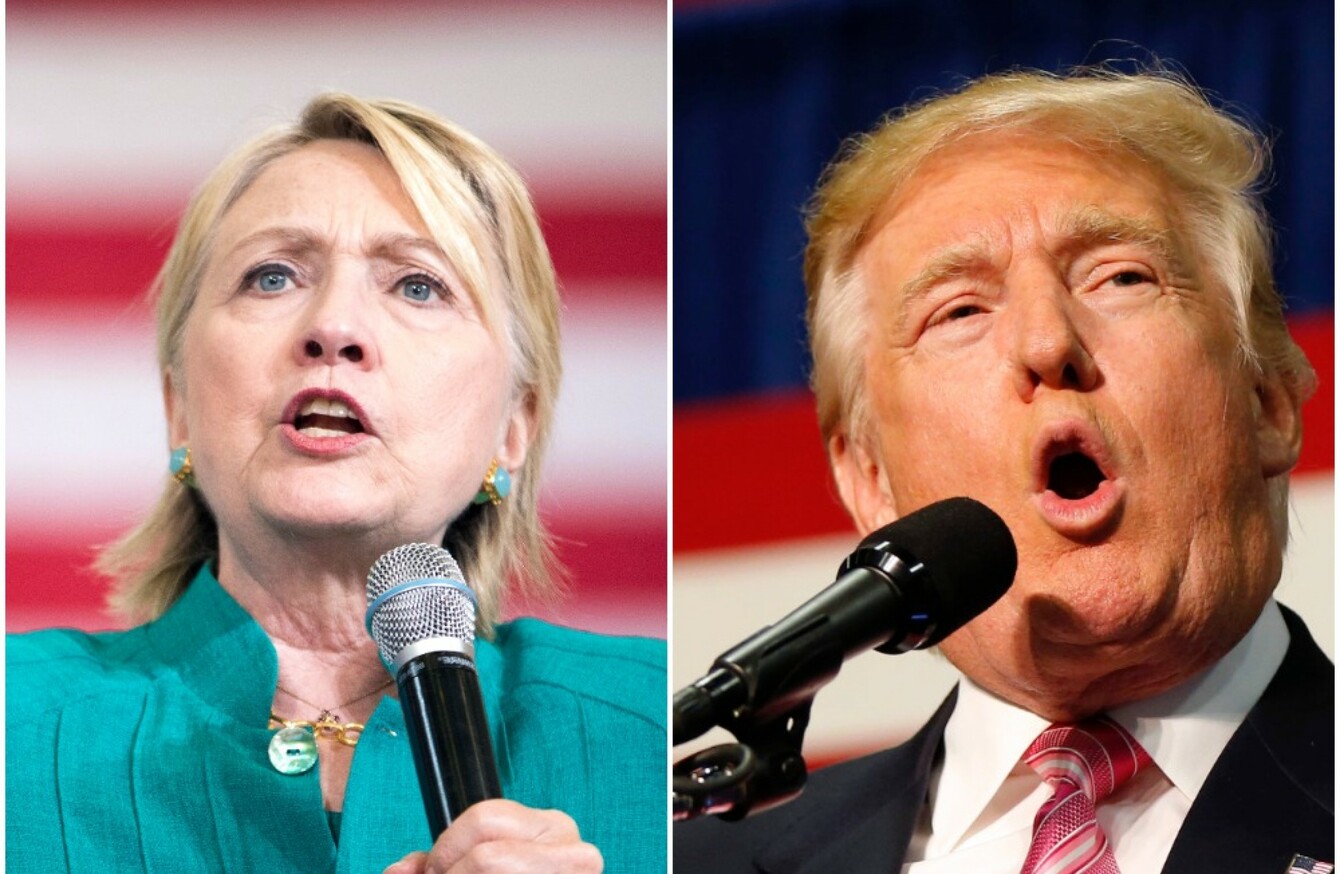 Image: PA/TheJournal.ie
Image: PA/TheJournal.ie
DONALD TRUMP AND Hillary Clinton square off tonight for their first presidential debate, an eagerly anticipated cage match between a political veteran and an inveterate showman that seems likely to set new US television records.
The 90-minute, prime time debate pits the two White House contenders – ideologically opposed on most issues, and separated by just a handful of points in most opinion polls — in a duel that could help sway the 8 November election.
Tens of millions of Americans are expected to tune in to the debate, held at Hofstra University outside New York City at 9pm tonight (2am tomorrow morning Irish time).
Experts say any slip of the tongue, even an errant look or gesture, could affect the opinion of legions of voters.
Some analysts say the bar is higher for the Democrat Clinton, who has decades of experience inside Washington's corridors of power as an ex-secretary of state and former US senator – but struggles to ignite enthusiasm, even in her own camp.
Trump's biggest selling point is his status as a Washington outsider, a business mogul and reality television star with a knack for the snappy soundbite – who few expect to master the nitty gritty of policy.
Clinton has prepared meticulously for the coming clash, carefully studying Trump's primary debate performances, and even consulting psychologists to get a better read on her Republican rival's vulnerabilities, according to one news report.
Following her Senate run in 2000 and two presidential bids, Hillary Clinton has appeared on the debate stage nearly 40 times.
Clinton's approach
Clinton's communications director, Jennifer Palmieri told reporters this week that the campaign is "preparing for the different Trumps that might show up".
The Democratic nominee opted for a fairly light schedule last week in order to practice for the debate. She only traveled to two battleground states — Pennsylvania and Florida — in order to accommodate enough prep time.
Clinton was expected to do at least one timed mock debate last weekend, mostly in New York. She is believed to have more than one person playing Trump.
Clinton occasionally takes notes while an opponent speaks, and looks directly at her opponent, which projects confidence. Her aim is to look steady and attentive and avoid being visibly repulsed by him too much.
Trump's approach
Complicating Clinton's task is that Trump has taken opposite sides of numerous policy positions. He also has a mercurial personality that can vacillate between combative and – under the influence of his new campaign manager – mellow.
"I do not know which Donald Trump will show up," Clinton, 68, told supporters at a recent fundraiser.
Maybe he will try to be presidential and try to convey a gravity that he hasn't done before, or will he come in and try to insult and try to score some points.
Trump, meanwhile, prefers not to a do a full-length mock debate, and has yet to choose someone to play Clinton or use a lectern for mock debating drills, according to the New York Times.
The newspaper also says Trump's advisors worry that he is unable to stand attentively for 90 minutes.
"He can't let Hillary get under his skin," said Newt Gingrich, the former House speaker and Trump adviser.
In an interview a week ago with Fox's Bill O'Reilly, Trump said he doesn't think he'll attack Clinton personally, despite his previous jabs at Clinton and her husband, Bill, for his marital indiscretions. "I don't know I'm going to do that exactly," Trump said.
It depends on what level she hits you with, if she's fair, if it's unfair, but certainly I'm not looking to do that.
The Republican nominee initially practised last weekend at his second home in New Jersey, but moved to Trump Tower in Manhattan due to distractions.
Going toe-to-toe against Trump means that the wonkish former first lady may have to toss aside her briefing books and don her boxing gloves.
"Her supporters… they want to see her fight this guy," Wendy Schiller, a political scientist at Brown University, told AFP.
"They want to see her take him on directly, and her challenge is to get out of that shell, and really be willing to take on Donald Trump, get under his skin, make him mad," Schiller said.
That's a winning strategy for her, but it is a challenge for her because that is not her style.
Clinton was forced off the campaign trail for a few days earlier this month while she recovered from pneumonia, ensuring that public concerns about her health – and her honesty about her health – will also play a role.
According to Jennifer Lawless, who teaches at American University in Washington, DC, Clinton will:
have to convey that she is healthy, that she is vibrant and that she is willing to run the final days of the campaign, in a transparent way that she has not up until this point.
Win the women
Given his role as an outsider who wrested control of the nomination from some of the leading figures in the Republican establishment, Trump has an entirely different set of challenges, Schiller said.
"Trump has to remind Republican voters that he is a Republican, that he supports Republican policies," she said.
He's got to remind his own party that he will be a Republican president.
He also has the task of proving, despite Hillary's frequent assertions to the contrary and his own track record, that he has the temperament to be president.
"People don't expect he will be able to keep his cool," Schiller said.
If he is rude to Hillary Clinton, if he is mean, if he is nasty, disparaging about women, he will lose whatever chance he has to win the women.

And if he cannot win the women he cannot win the race, because women are 53% of the electorate.
The real estate mogul will also have to delve into some detail on his policy proposals, Lawless said, which could land him in hot water.
But Trump has frequently described himself as a counter-puncher, and eviscerated his primary opponents with withering monikers coined at their expense.
His nickname for Clinton – "crooked Hillary" – is an oblique reference to the scandals and controversies that seem to swirl around the former first lady and her husband, former president Bill Clinton.
Trump told Fox News on Thursday that he intends to tread gently with Clinton, unless the debate takes a nasty turn in tone.
"I'm going to be very respectful of her," he said. "If she's respectful of me, that will be nice."
But we'll see where it all goes. You never really know exactly how it's going to turn out.
Moderator
Moderator Lester Holt, an NBC news anchor, could prove a key factor in the debate.
Trump, who accuses much of the media of liberal bias against him, has already taken aim at the anchor.
"Lester is a Democrat. Look, it's a phony system. Lester is a Democrat. I mean, they are all Democrats. Okay? It's a very unfair system," Trump said early this week on the conservative television network Fox News.
Holt is actually a Republican, registered as such in the state of New York – and Trump went on to soften his stance in the days building up to his duel with Clinton.
"I have respect for Lester," Trump said of the 57-year-old African American who became the NBC Nightly News anchor in 2015.
The programme draws an average of eight million viewers daily.
"I think that Lester Holt is going to be very fair," the real-estate tycoon told thousands of supporters Tuesday at a rally in Kenansville, North Carolina.
But a lot of people are going to be watching to see if that's true.
The journalist, a 35-year television veteran with 16 years under his belt at NBC, has selected three topics for the debate: America's direction, achieving prosperity and securing America.
The 90-minute debate will be organised into six 15-minute segments, with two dedicated to each of the topics.
Holt will be the only person on the set with the two candidates. The two remaining debates, on 9 October and 19 October, will be moderated by other journalists.
Known for his calm and courteous manner, and a bass player in his spare time, Holt probably will have uppermost in mind the recent flap caused by one of his NBC colleagues.
On 7 September Matt Lauer, a star of the morning news show, did separate interviews with Clinton and Trump at a live prime-time forum in New York focused on national security.
He was highly criticised for being ill-prepared, posing questions that were too easy on Trump, and for failing to challenge the Republican's erroneous assertions.
- © AFP, 2016. With reporting from AP.