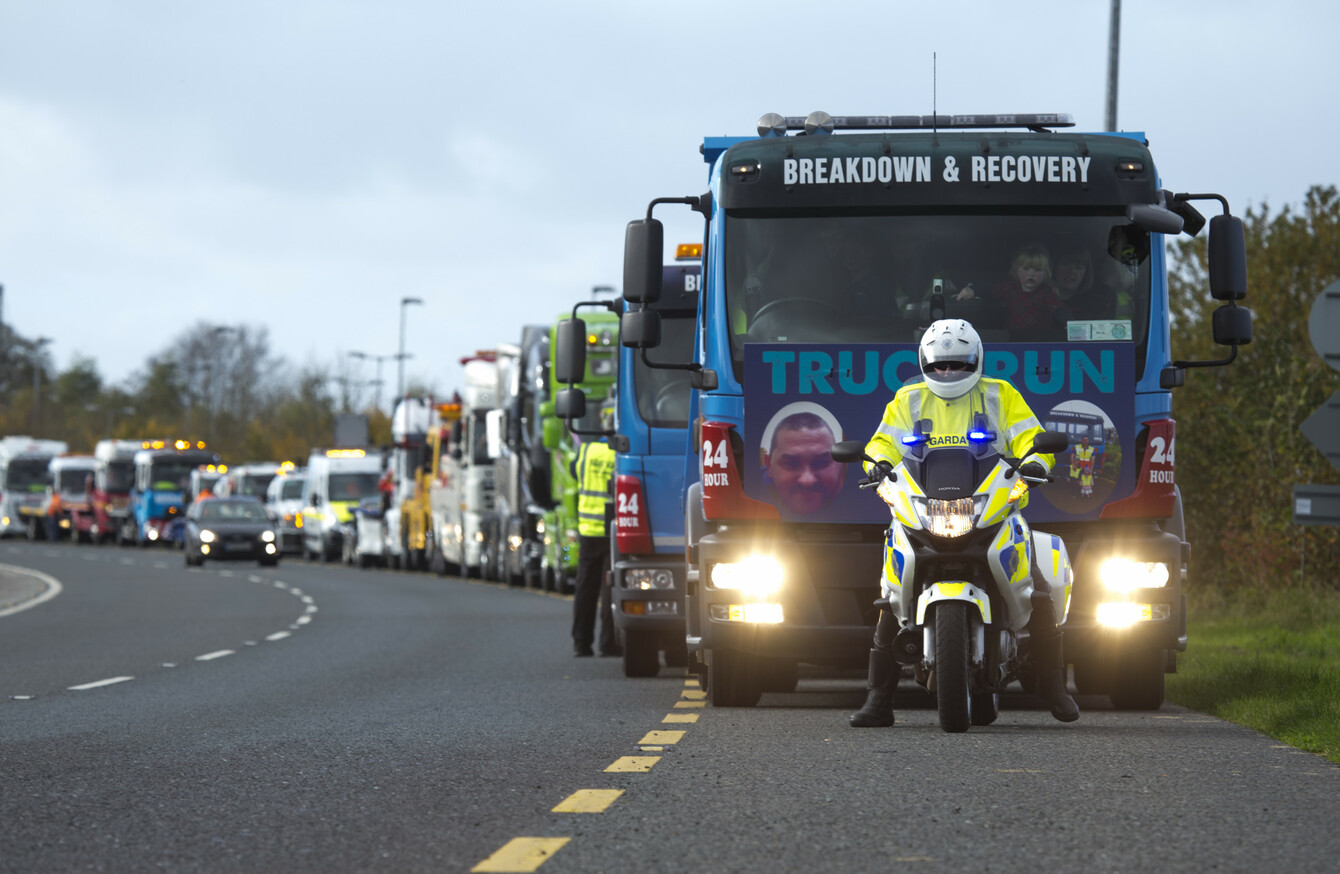 Dozens of trucks participated in the fundraising drive for Colm Eogan yesterday
Image: Ronan O'Sullivan
Dozens of trucks participated in the fundraising drive for Colm Eogan yesterday
Image: Ronan O'Sullivan
ON 12 JULY this year, Colm Eogan attended the scene of a car breakdown on the M3 motorway between Dunshaughlin and Navan.
The company he works for – JS Motors – would regularly be tasked with attending cars in Meath. He put the two people in his tow truck and went to tow their car, when he was hit by an articulated lorry.
Elaine Dixon is maintenance manager on the M3 and was one of the first on the scene. She told TheJournal.ie that Eogan suffered horrific injuries.
"The man should be dead," she said. "He lost one of his legs below the knee and another one below the ankle. He's doing so well now compared to how he was at the time."
Only 43-years-old, Eogan had recently bought a house with his partner and their two kids.
Dixon said: "It's just unbelievable that this happened. He has a house with no real room for extension downstairs. It will now have to be modified or sold."
Eogan has been in hospital since the incident, and will spend the next few months there.
Friends and family have rallied to try to do their bit to help Colm and his family. "His friends did a golf classic, a table quiz and other things," Dixon said.
There was a major fundraising event yesterday, with his employers JS Motors helping to organise a massive truck run down the M3.
"A garda there told me it was the biggest truck run he'd ever seen, Dixon said. "Colm even got out of hospital for the day to come and watch it. It was lovely to see him there."
At the time of writing, the GoFundMe page set up for Colm has raised just over €8,000 of its €25,000 goal.
"He's been through the mill, and we're just trying to do what we can," Dixon added. "Any donation would be greatly appreciated by Colm and his family."