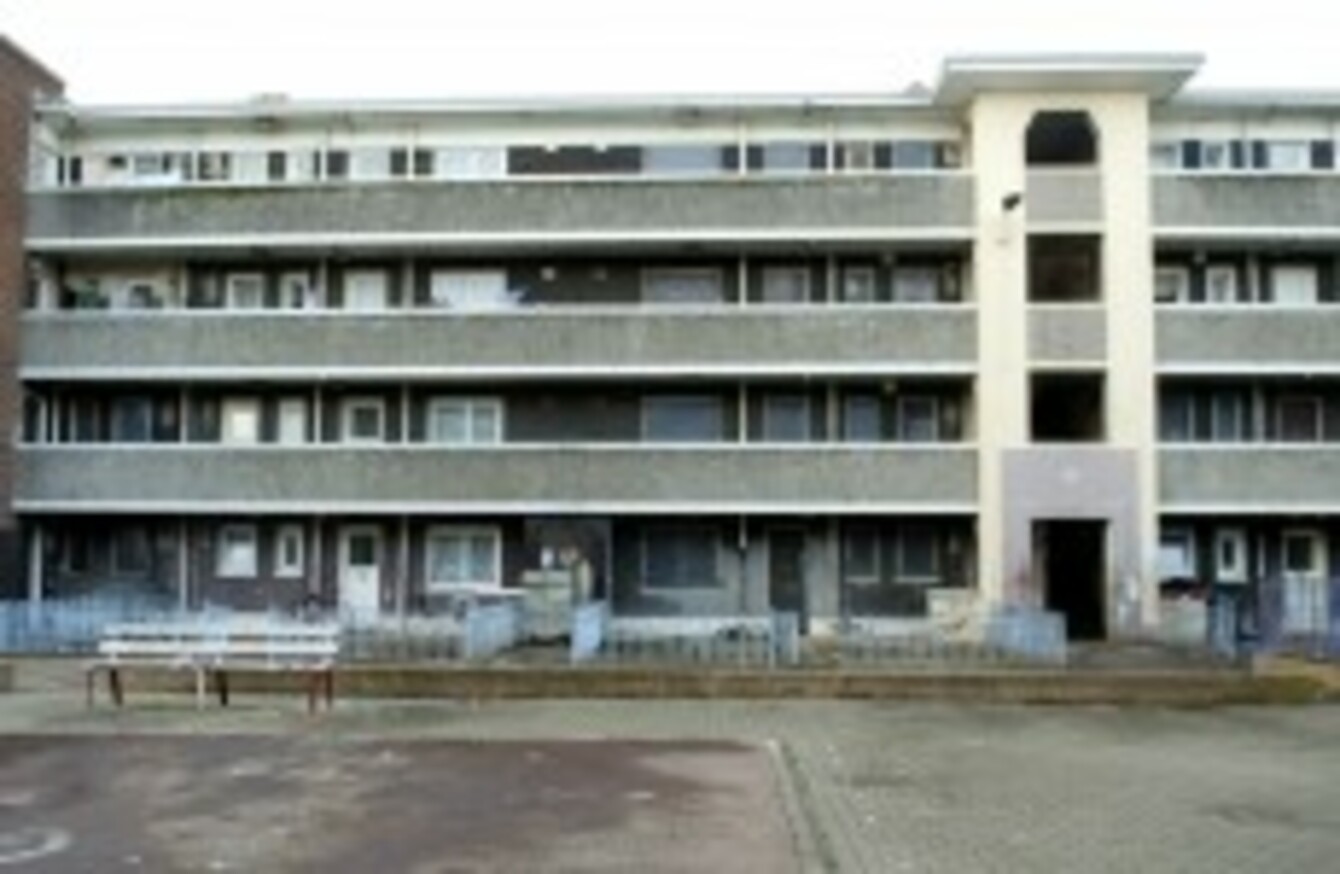 Fatima Mansions Flats which is part of the Social Regeneration Plan in 2005.
Image: Graham Hughes/Photocall Ireland
Fatima Mansions Flats which is part of the Social Regeneration Plan in 2005.
Image: Graham Hughes/Photocall Ireland
A REPORT PUBLISHED today by thirty leading Irish national organisations working against poverty and inequality highlights the Government's failure to protect the most vulnerable in society and warns that the dual attack of unemployment and cuts at national and local level has pushed individuals, families and communities into poverty.
The publication by Community Platform, aims to give a snapshot of some of the human stories behind the statistics, with a series of interviews with families, single people, community workers and marginalised groups on how the recession and resulting government policies have affected their lives.
Members
Community Platform members include Age Action Ireland, Irish Penal Reform Trust, Migrant Rights Centre and the Rape Crisis Network of Ireland, to name but a few.
Robin Hanan, speaking for the Community Platform said "as we move out of the recession we must also move away from austerity policies. The Government now has no excuse not to carry out poverty and equality impact assessments as a central part of all policy making. Too often the Government focuses on the bottom line and ignores the impact of persistent cuts on real people and communities".
The people quoted in the report volunteered to tell their stories because they "want the wider public to realise the impact that Government decisions are having on their lives and the lives of others like them," said Community Platform.
Impact
The interviews were carried out by Jamie Gordan and Jacinta Fay, who asked the simple question: "how is the recession, and Government policy, affecting your life?"
Community Platform members said the interviews confirm that the greatest impact of the crisis and austerity measures has been felt by people who are on the lowest incomes and most dependent on state supports and services, adding that services and supports are being cut and incomes have greatly reduced.
They added that many people are struggling to heat their homes or adequately feed themselves and their families, adding that members have seen a growth of people queuing for food parcels in our cities and towns.
One such interview from a community worker in Fatima Mansions states:
…Cuts to local services in Fatima have caused a rise in drug use and criminality in the complex.  I see gangs of young people we had working a few years back.

We had broken the cycle of people entering into criminality. But the biggest impact of the austerity of the last four years has been a rise in anti-social gang culture… Young people who may have been able to get a job a few years back are now drifting in to the drugs scene.

They end up in the criminal justice system or with a bullet. It's really that serious.
The publication of interviews has been given to its report to all members of the Government and opposition TDs.
Unemployed
Community Platform spokesperson Edel McGinley said the report shows that people on social welfare have been "vilified and stereotyped as work shy and idle" adding that "this is simply not the case".
She said the report shows that people do want to work, but austerity policies and lack of opportunity continue to trap them in unemployment and low-paid part-time work.
"It's time for our politicians to stand up for struggling families and communities," she said.