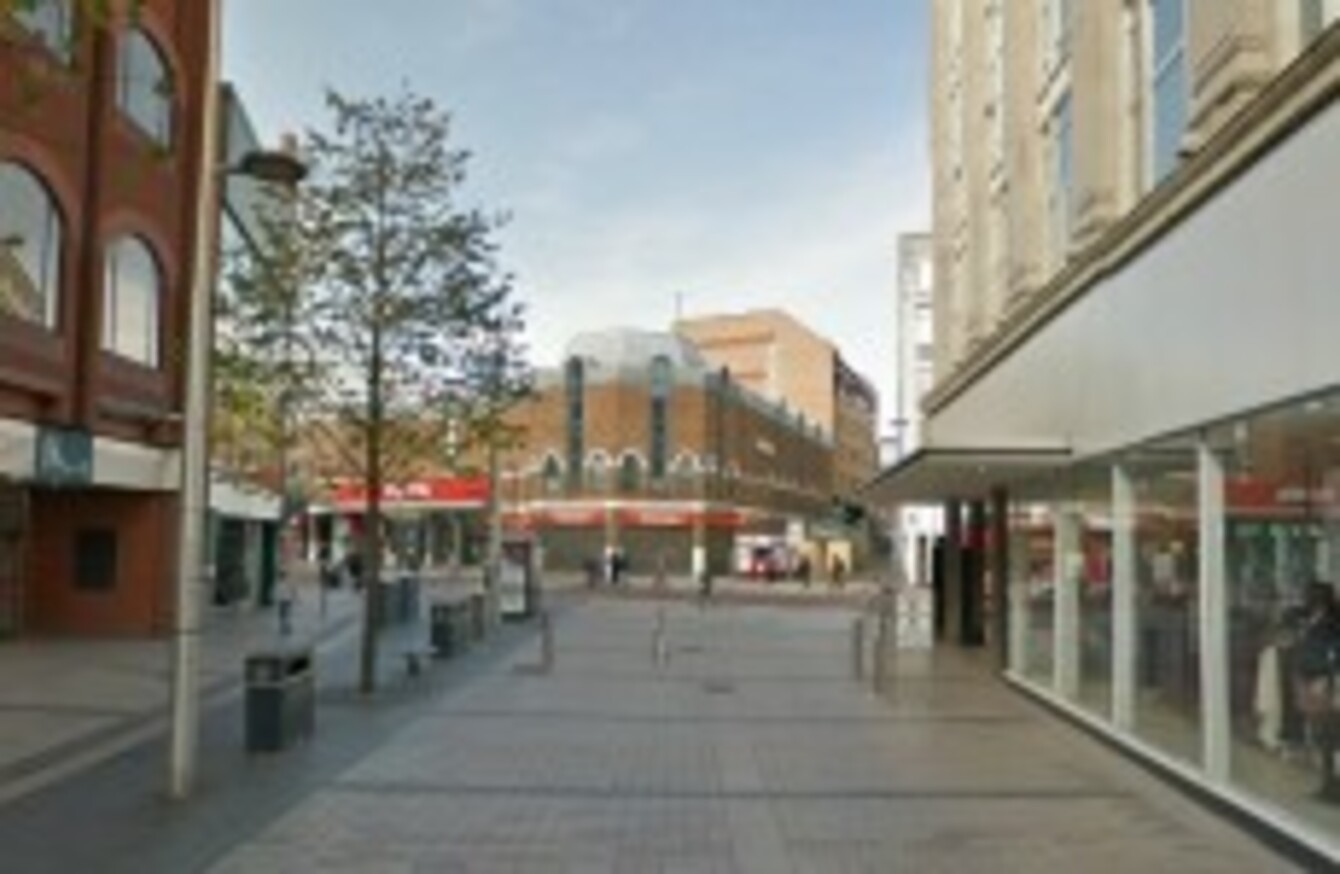 Part of the Corn Market, Belfast
Image: Google Street View
Part of the Corn Market, Belfast
Image: Google Street View
Updated 1.27pm
THE TÁNAISTE HAS condemned an incident in Belfast in which a man set himself on fire while attempting to leave what police suspect was a fire bomb in a shop.
"I condemn absolutely the firebomb attack," Eamon Gilmore said this morning on his way into the Cabinet meeting.
He described it as "criminal activity" and said that it was "particularly damaging to the economy of Belfast in the run up to Christmas".
"It is putting people in very serious danger," said Gilmore, adding that this type of activity "has got to stop".
He said the PSNI and Garda Siochána are cooperating in dealing with the situation.
The Cornmarket in Belfast city centre was closed by police following an incident at around 6.40pm yesterday evening, after a suspected incendiary device was left at a shop.
The device is believed to have ignited but was removed from the premises by staff and left outside, said the PSNI. It sealed off the area while the device was examined.
Speaking about the incident today, Chief Superintendent Alan McCrum, District Commander for South and East Belfast, said:
The suspect involved in this incident is believed to be aged in his mid 40s, approximately 6ft tall, of plump build and was wearing a dark coloured waterproof coat which was hip length with a drawstring at the bottom and dark jeans or tracksuit bottoms. He is believed to have entered the shop at around 6.30pm where staff became suspicious of him.
McCrum said the suspect was approached by staff in the shop and appeared to moving something under his jacket.
"Seconds later a large flame ignited inside the male's jacket and this engulfed his head and shoulders and he attempted to put the flames out with his hands," he said. "The male then ran from the shop in the direction of Ann Street and the device was kicked out of the door of the shop and ended up in Cornmarket."
Police believe that this man may require treatment for burn injuries to his neck or face and are appealing to any care provider who may already have been approached or who is approached today, by a male in his 40's with burns to the neck or face, to contact detectives directly at Musgrave station on 0845 600 8000.
McCrum commended the staff in the shop for their behaviour and said he would urge staff in city centre premises and the public to remain vigilant at this time. The suspected incendiary device has been taken away for further examination and police are currently trawling through CCTV footage as part of the investigation.
Police are now advising city centre businesses to check their premises for any suspicious objects.
Anyone who was in the area at the time and who may have noticed any suspicious activity is asked to contact detectives at Musgrave on 0845 600 8000.
Alternatively, they can contact the independent charity Crimestoppers and speak to them anonymously on 0800 555 111.
Originally posted 10am