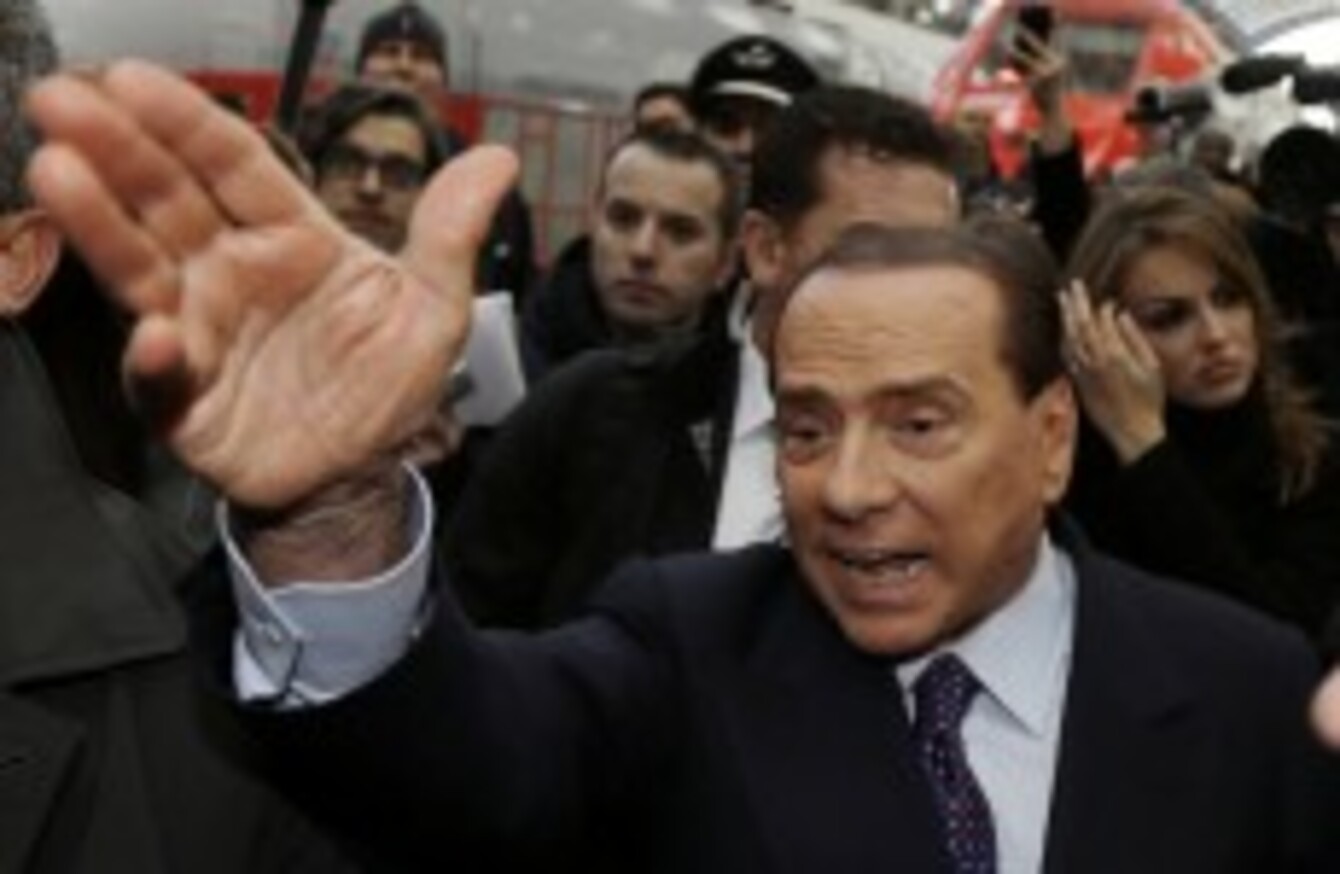 Image: Luca Bruno/AP
Image: Luca Bruno/AP
AN ITALIAN COURT has dismissed a request from former Italian prime minister Silvio Berlusconi's defence for his trial for underage sex to be suspended until after next month's general election.
A Moroccan-born exotic dancer at the centre of the case, however, will not be testifying after Berlusconi's lawyers said they were taking her off their list of witnesses for the defence.
Berlusconi, who has launched his sixth election bid in two decades, is accused of paying for sex with Karima El-Mahroug in 2010 at his mansion near Milan when she was just 17 and he was the prime minister.
The 20-year-old, who used the working name "Ruby the Heart Stealer", would have been testifying in court for the first time.
The curvaceous brunette arrived in a black coat looking demure amid a scrum of photographers and cameramen outside the courtroom in Milan.
Judges said her written testimony, in which she referred to wild 'Bunga Bunga' parties hosted by Berlusconi, will still be considered in the case.
Court attendance by El-Mahroug had been in doubt after she missed two previous hearings in December saying she was on a long holiday in Mexico.
The trial is only the latest in a series of legal proceedings against the irrepressible media tycoon, who has managed to avoid any definitive convictions.
Making his request for the trial to be suspended, lawyer Niccolo Ghedini said this was to avoid the proceedings being "exploited" for political ends.
But prosecutor Ilda Boccassini said: "I ask that this trial be allowed to go ahead because a trial cannot be suspended because of a campaign."
Elections "are not a legal question to be considered by this court," she said.
Italians take to the polls on February 24-25 and the trial is headed for a verdict next month.
Prosecutors accused of 'dragging out' trial
Prosecutors have accused the defence of deliberately trying to draw out the sex trial to avoid a verdict before the general election.
Berlusconi has risen in the ratings since taking to the airwaves with his campaign but some observers say a conviction could end his career.
He faces up to three years in prison on the sex charge as the age of consent in Italy is only 14, but sex with an under-18 prostitute is a crime.
He is also accused of abusing his official powers by pressuring police to release El-Mahroug when she was arrested for petty theft – a charge that carries a maximum prison sentence of 12 years.
His defence says Berlusconi thought El-Mahroug was a niece of then Egyptian president Hosni Mubarak and wanted to avoid a diplomatic incident.
The 76-year-old, who is also appealing a one-year prison sentence for tax fraud, is unlikely to go to prison even if convicted since sentencing guidelines in Italy are very lenient for over-70s.
Berlusconi denies having sex with El-Mahroug, saying he only gave her money so she could set up a beauty parlour and avoid prostituting herself.
"I never had an intimate relationship of any kind with her," he said in October in his second appearance at the trial which began in April 2011. "I was sure she was 24, as she herself said."
He said the soirees she attended were "burlesque contests" and "elegant dinner parties."
According to transcripts of her questioning by investigators leaked in the Italian press, El-Mahroug said Berlusconi enjoyed lap dances from naked girls at parties that he called 'Bunga Bunga' – a term that has since become notorious.
El-Mahroug has also denied a liaison with Berlusconi but was recorded in a leaked telephone wiretap telling a friend that he had said to her: "Ruby I'll give you anything you want, I'll turn you into gold, just hide everything."
El-Mahroug has said ran away from her immigrant family in Sicily when she was just 14 after suffering physical abuse at the hands of her father.
According to some reports she was then spotted by one of Berlusconi's ageing cronies at a beauty contest and was called to entertain the premier.