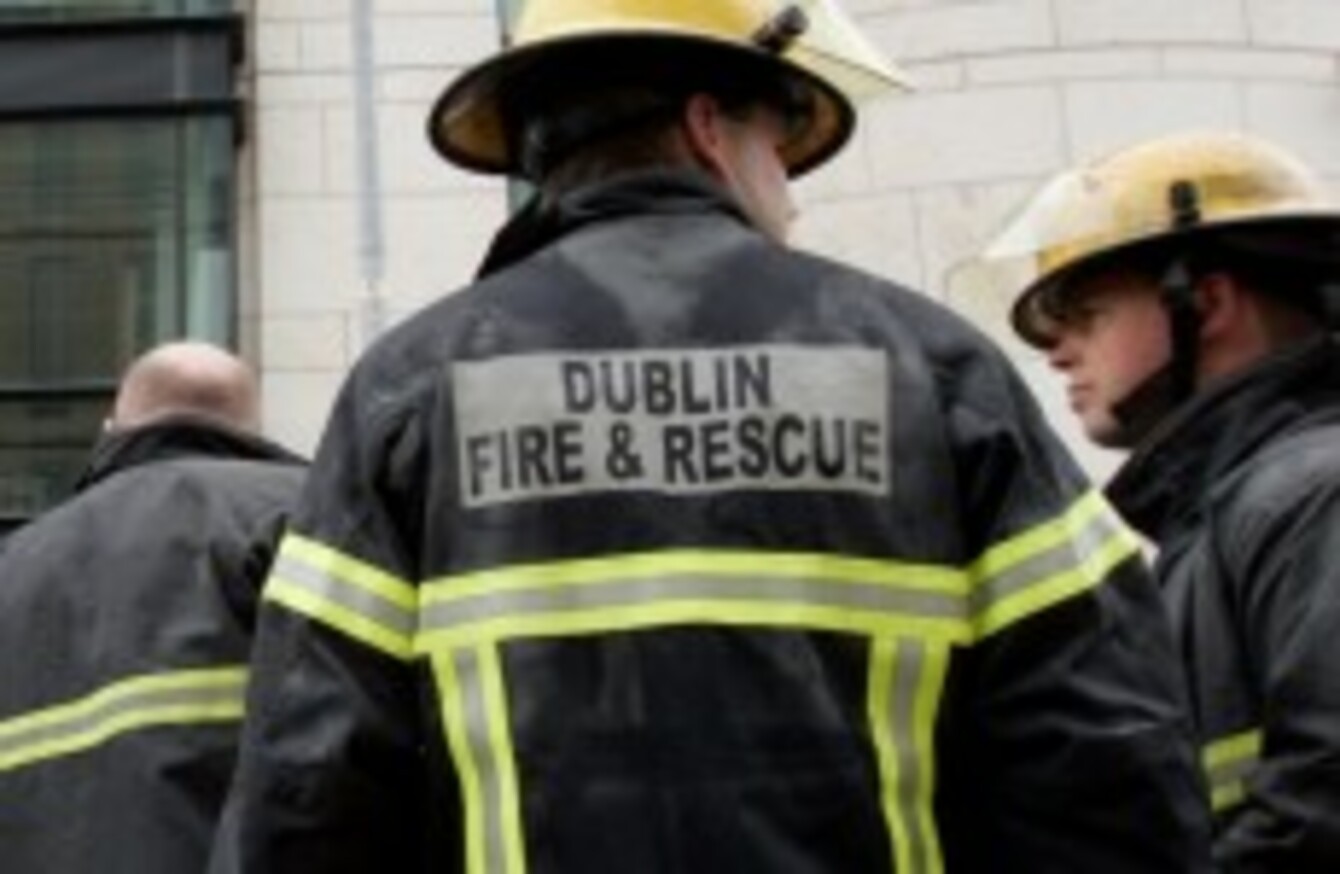 Image: Photocall Ireland
Image: Photocall Ireland
THE LABOUR COURT has ruled that Dublin Fire Brigade (DFB) cannot make anymore cuts this year beyond the €3.5 million already agreed with two unions but another group representing firefighters still plans to ballot members on possible industrial action.
Dublin City Council had been looking to cut a further €1.7 million from its fire brigade budget for 2011 by ending staff overtime, closing its training centre, and reducing annual leave, as first revealed by TheJournal.ie.
But the SIPTU and IMPACT trade unions, representing firefighters and paramedics in Dublin, argued that this was in breach of the Croke Park Agreement on public sector pay and conditions.
Their view was backed up by a Labour Court ruling yesterday following a hearing last Friday.
However, the Irish Fire and Emergency Services Association (IFESA), which claims over 500 firefighters and paramedics in Dublin as members, has said it still intends to ballot its members on possible industrial action because it believes the problem has not been resolved by this ruling.
A spokesperson for IFESA told TheJournal.ie today:
We still plan to begin a postal ballot of members next week as around the country cuts are still planned in the fire service. The problems haven't gone away, they've only been deferred.

We deem this problem to be of such a serious nature that the lives of firefighters and citizens of Ireland will be at risk until real reform takes place in Irish fire service.
Dublin Fire Brigade claimed €1.7 million worth of cuts were necessary in order to meet a budget shortfall this year but SIPTU and IMPACT, the only two unions to hold official negotiating rights with DFB, argued against this and brought the dispute to the Labour Court.
In its ruling, the court stated: "In these circumstances it is clear that the City Council are precluded by the terms of the (Croke Park) Agreement, which it concluded in June 2011 from unilaterally implementing additional employment related cost savings in 2011, beyond those provided for in that Agreement."
Dublin Fire Brigade has indicated that much deeper cuts must now be sought in 2012 as a result of the ruling.
SIPTU, which claims 406 firefighters and paramedics working in the capital as members, welcomed the decision but warned against "kicking the can down the road" :
We are prepared to enter talks on savings for 2012, but it would be unacceptable if Dublin Fire Brigade seek to merely kick the can down the road with regard to the €1.7m.

We also caution management in considering any reckless actions such as withdrawing fire appliances from circulation. This would only lead to a situation which would compromise the safety of both the population of the greater Dublin area and indeed that of fire fighters.

We are committed to the Croke Park Agreement and accept that the next number of years will be challenging for the public service including the Fire Brigade, but we must insist that fire fighters through their representative union are involved in shaping change.
IMPACT, which claims 212 members from DFB, also welcomed the decision and said "it proves how effective the Croke Park agreement is in solving what might otherwise have been an acrimonious dispute."
In concluding, the Labour Court chairman Kevin Duffy urged both sides to commence negotiations on savings to be achieved in 2012, "as soon as practicable."
IFESA anticipates a result from its ballot of members by the beginning of October. It has not ruled out possible strike action.