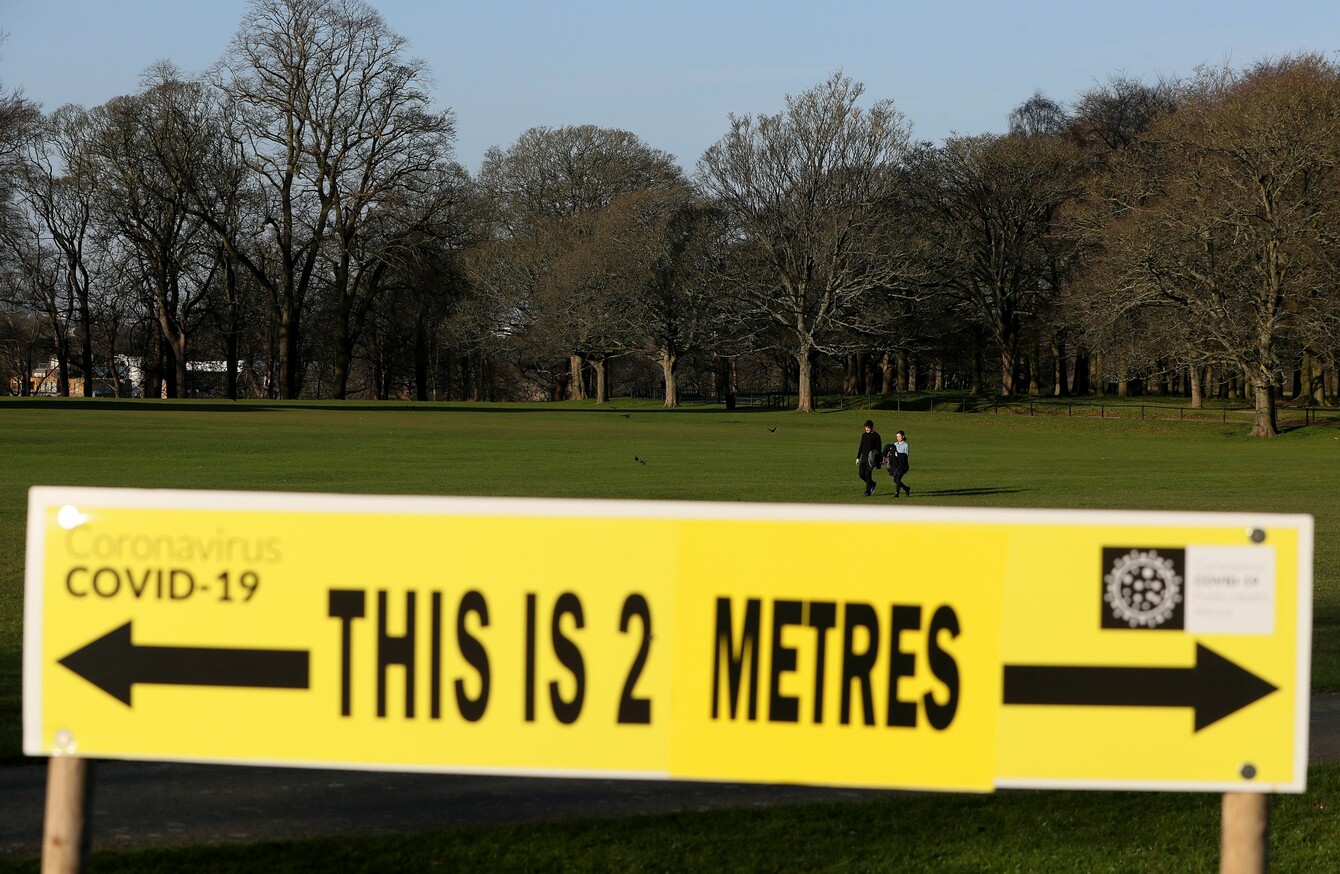 Image: PA
Image: PA
Updated Mar 30th 2020, 4:10 PM
THE NUMBER OF Covid-19 related deaths in Ireland has reached 46 after a further ten people were confirmed to have lost their lives as a result of the illness last night. 
The National Public Health Emergency Team also confirmed 200 new cases of the virus in Ireland, bringing the total number of cases here to 2,615.
On the international front, US President Donald Trump announced that the peak death rate from the coronavirus pandemic there is likely to hit in two weeks.
At an extraordinary press conference, during which he suggested healthcare workers were stealing protective equipment and clashed with journalists, Trump extended "social distancing" guidelines in the country until 30 April.
Here are today's main Covid-19 points:
A further 295 cases of Covid-19 were confirmed in Ireland, and another eight people have died.
Figures released by the Health Protection Surveillance Centre show that there are 17 clusters of cases in nursing homes across the country, prompting the CEO of Nursing Homes Ireland to say testing in homes is not happening fast enough.
ALONE has received more than 1,100 calls to their Covid-19 helpline for older people on Saturday following the introduction of the cocooning measures.
The number of people who have died in Northern Ireland after contracting coronavirus has risen by one to 22.
Leo Varadkar said that private hospitals will be leased for use as public hospitals for the duration of the Covid-19 outbreak in Ireland, treating both patients who have the virus and those with other non-related illnesses. Finance Minister Paschal Donohoe said that it's impossible to say how much it would cost to use private healthcare facilities for public use during the pandemic.
RTÉ presenter Ryan Tubridy has tested positive for coronavirus.
A flight from Peru carrying more than 100 Irish citizen has landed in Dublin.
Government ministers have called on employers affected by Covid-19 to reconsider redundancies because of new supports available to assist them.
Dr Paddy Mallon, a leading specialist in infectious diseases, has called on the government to consider closing Ireland's borders to stop the spread of coronavirus.
Retired prison staff from all grades are being asked to register their interest in temporarily returning to work to help during the coronavirus crisis.
SeniorLine, Ireland's only national dedicated peer-to-peer telephone service for older people, has reported a 180% increase in calls amid confusion over  coronavirus restrictions.
Minister for Health Simon Harris has told Dublin's FM104 that he is worried about peoples' mental health as a result of restrictions introduced by the government to combat the spread of Covid-19.
The Irish Educational Publishers' Association hhas reported a substantial increase in the number of users accessing online educational resources as pupils and teachers complete schoolwork while restrictions remain in place
Blanchardstown Library are trying to help children and parents by posting stories, craft videos and more on its social media channels
Radio Dublino has suspended live shows from the Near FM studios in Dublin from this week until further notice.
The WHO's Director General Tedros Adhanom Ghebreyesus said that healthcare still needs to be provided during the Covid-19 pandemic. He said that babies are still being born, and serious illnesses still need treatment.
To help with this, the WHO has published a list of guidelines for how to treatment for infections diseases, mental health conditions, etc, during the coronavirus outbreak. It's also published how to set up screening and triage at health facilities using a repurposed building or tents.
It's also important that governments keep their people informed about the intended duration of measures and to provide support for older people, refugees & other vulnerable groups.
Around $622 million has been donated to the World Health Organization, and Dr Tedros thanked those who have donated.
Dr Michael Ryan of WHO said that the issue of ventilation was a problematic one.
Oxygen is something we need to discuss – ventilators can be lifesaving, but what truly is lifesaving is fora patient to be given supplemental oxygen, because that's what patients suffer when then can't breath properly. When someone has Covid-19 your lungs struggle to put oxygen in their blood.
"These measures are not easy, they are hurting people – but the alternative is much worse," Dr Ryan said, but added that lockdown measures alone wouldn't work.
Referencing a tweet he sent that simply said 'Humility,' Dr Tedros said that "Covid-19 is reminding us how vulnerable we are, how connected we are, and how dependent we are on each other."
He said: "In the eye of a storm like Covid-19, scientific and public health tools are essential, but so are humility and kindness. With solidarity, humility and assuming the best of each other, we can – and will – overcome this together".
Here are the main Covid-19 points from abroad:
US president Donald Trump said that the peak death rate in the United States from the coronavirus pandemic is likely to hit in two weeks.
UK Prime Minister Boris Johnson has said the coronavirus has "proved there is such a thing as society" as he praised 20,000 former NHS workers for returning to the service to fight the pandemic.
Johnson's chief advisor Dominic Cummings is self-isolating after developing symptoms in line with those of the coronavirus over the weekend
Prince Charles is out of self-isolation after just seven days in isolation
The number of people who have died in England after contracting coronavirus is now 1,284, a rise of 159. The patients were aged between 32 and 98 years old and all but four had underlying health conditions
Hungary's parliament has passed coronavirus laws that mean Viktor Orbán can rule by decree; the measures don't have a clear time limit
A spike in Tokyo's coronavirus cases following the postponement of the Olympics has raised questions as to whether Japan purposely understated the extent of the outbreak in the hope the games would run as scheduled.
EasyJet has announced that it has grounded its entire fleet of aircraft as the crisis continues.
Ryanair's grounding of 90% of its fleet has been extended for another week to 9 April.
Mechanical engineers, doctors and the Mercedes Formula One team have developed a breathing aid that can help keep Covid-19 patients out of intensive care.
- with reporting from Gráinne Ní Aodha