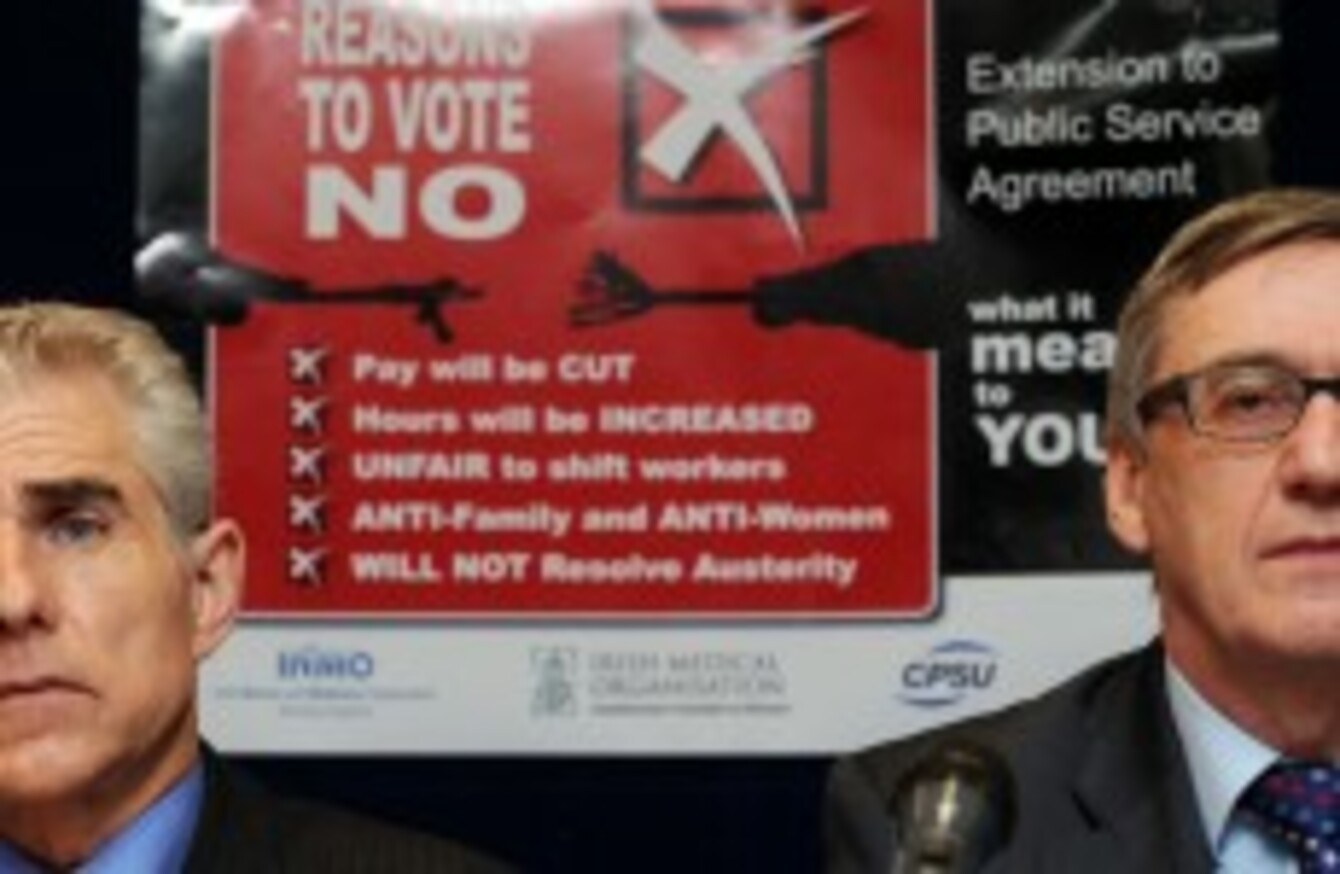 General Secretary of the INMO, Liam Doran and Director of Industrial Relations at the IMO, Steve Tweed
Image: Laura Hutton/Photocall Ireland
General Secretary of the INMO, Liam Doran and Director of Industrial Relations at the IMO, Steve Tweed
Image: Laura Hutton/Photocall Ireland
SENIOR FIGURES FROM four unions will address a large public meeting against the Croke Park proposals in Cork this Thursday.
The event will take place in the Cork City Hall, and senior figures from the Irish Nurses and Midwives Organisation (INMO), the Irish Medical Organisation (IMO), the Civil Public and Services Union (CPSU) and Unite will all speak at the event.
The four unions announced last Thursday that they had launched a joint national campaign for a No vote against the Croke Park extension talks proposals.
Speaking today, the four unions said that the proposals to extend the Croke Park Agreement would unfairly penalise workers on lower incomes and women in particular:
The more people study what is in these proposals, the more they are coming out against them.  The impact of these proposals will be to penalise workers on lower incomes who can least afford further cuts.
They said that if the proposals are accepted, "it will mean that members of one union will be voting for pay cuts for members of a different union", and described this as an unprecedented development in Irish trade union history that no union member should accept.
The unions said their key objections to the proposals for an extension to Croke Park focus on:
The significant cut in pay for lower paid workers
The impact of proposals to freeze and delay normal increments
The imposition of longer working hours
Loss of shift pay and reduction of Sunday pay
The redeployment arrangements which they say "will facilitate involuntary redundancies for the first time in a national agreement"
Proposals to change flexible arrangements for shift working
The meeting will take place in Cork City Hall at 8pm this coming Thursday.