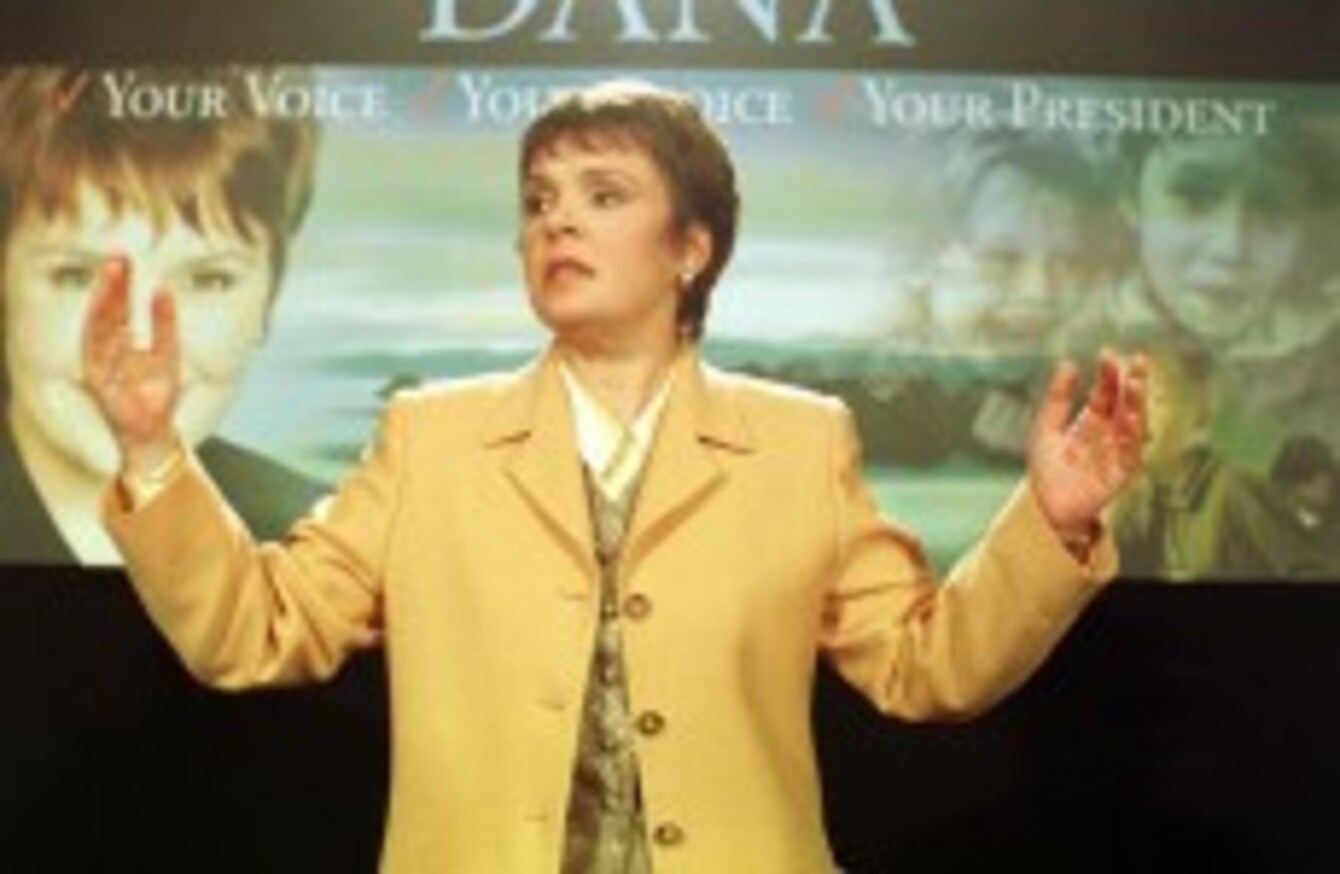 Dana Rosemary Scallon launching her first presidential bid in 1997
Image: Photocall Ireland
Dana Rosemary Scallon launching her first presidential bid in 1997
Image: Photocall Ireland
RTÉ HAS PULLED Dana Rosemary Scallon from its Celebrity Bainisteoir television programme as if she ran for President it would be "impossible" to broadcast the series.
Scallon said in today's Irish Daily Mail that she is "considering" running and that she would hold a press conference in Dublin "today or tomorrow" about her role in the presidential race.
This would be the second presidential bid by the former MEP. In 1997 she launched her first campaign, in a race that was won by current president Mary McAleese.
Scallon was due to take part in RTÉ Television's 8-part entertainment series Celebrity Banisteoir, which begins on Sunday 18 September.
Despite the fact she has not officially entered the race, she has been asked to leave the show by RTÉ in case she does run for President.
RTÉ has said that the issue lies with the fact the programme would be broadcast right through the Presidential election campaign.
It released a statement saying:
Dana Rosemary Scallon has been cast as one of the bainisteoiri (managers) for the series. If Dana decided to run in this election, it would be impossible to broadcast Celebrity Bainisteoir as it runs throughout the election campaign and results period. In order to ensure RTÉ is unequivocally in a position to comply with our obligations for fairness and balance under broadcasting legislation, Dana has been asked to stand aside.
However, Dana will appear in the first episode that launches the series and episode two, which features her first match against rival bainisteoir, Brenda Donoghue, and both of these programmes will air prior to the close of nominations for the Presidency.
It is not yet known who will replace Scallon as manager of Co Derry club Lissan in subsequent episodes, with RTÉ saying it will be "another well known figure" whose name will be announced shortly.