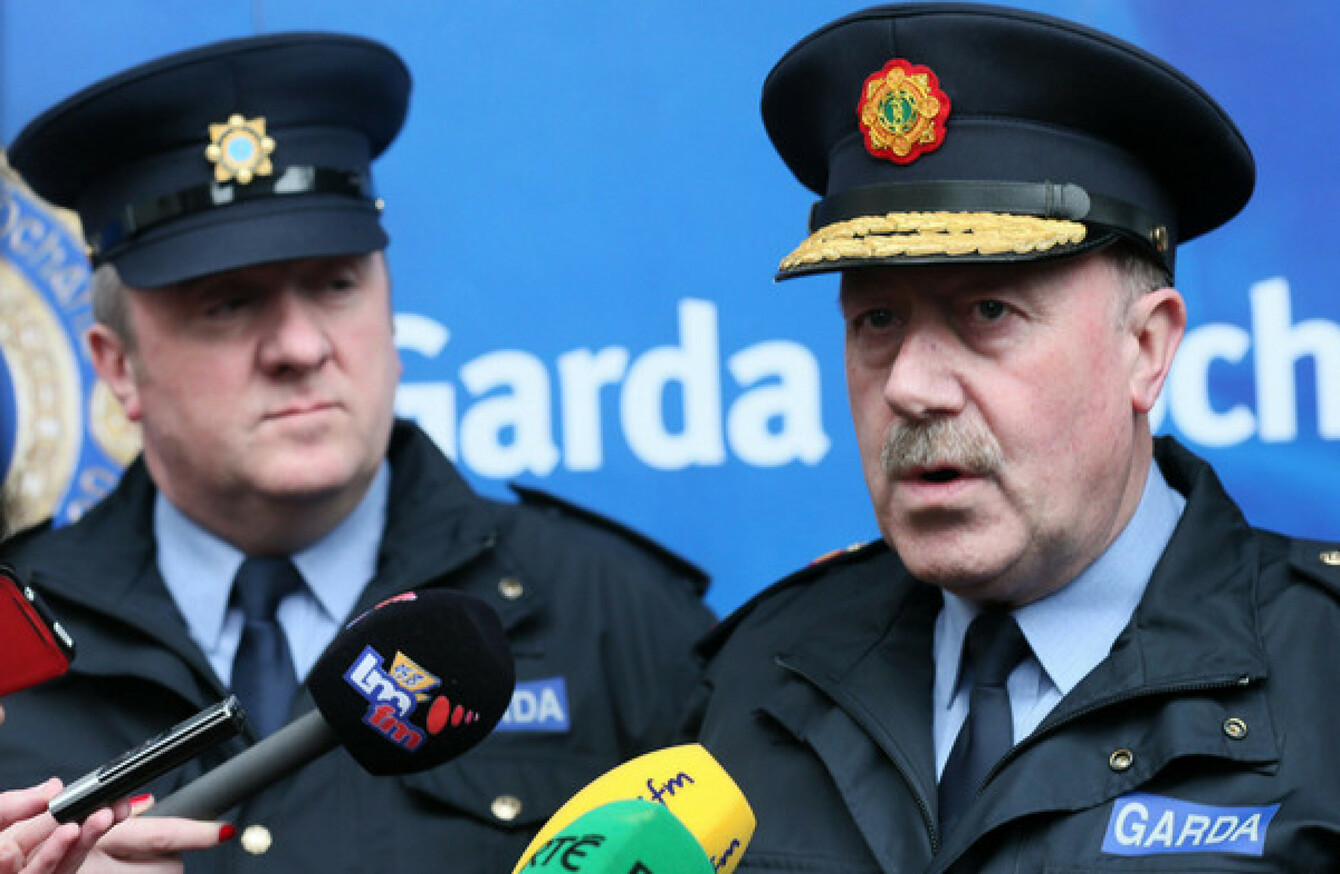 Taylor (left) was giving evidence about his former boss Martin Callinan (right) today
Image: Laura Hutton/RollingNews.ie
Taylor (left) was giving evidence about his former boss Martin Callinan (right) today
Image: Laura Hutton/RollingNews.ie
Updated 5.02pm
THE FORMER HEAD of the garda press office has told the Disclosures Tribunal that former commissioner Martin Callinan instructed him to brief the media negatively about Maurice McCabe, and say the whistleblower was "motivated by revenge".
Superintendent Dave Taylor was giving evidence for the first time in Dublin Castle this morning, and also claimed that he heard Callinan call McCabe a "kiddie fiddler" in the presence of a TD.
Taylor is one of the Tribunal's chief protagonists, given that he made a protected disclosure in 2016 alleging he was directed to conduct a smear campaign against McCabe at the behest of Callinan. He held the role of head of the press office from early 2012 to June 2014.
The Tribunal has already heard evidence from former Public Accounts Committee chair John McGuinness TD that Callinan told him that McCabe had sexually abused members of his own family during a car park meeting in January 2014. McGuinness also said that, just a day prior, Callinan made a comment about a man who "fiddles with kids", that the TD took to refer to McCabe.
These allegations come against the backdrop of what was happening within the gardaí at the time.
McCabe had made a number of allegations of misuse and malpractice within the penalty points system. The PAC had listened to his allegations and were actively pursuing them, putting severe pressure on Commissioner Callinan in 2013 and the beginning of 2014.
Today, Taylor told the Tribunal that – sometime in the middle of 2013 – he was instructed to begin briefing the media negatively about McCabe.
He said that Martin Callinan told him about an allegation of sexual abuse that was made against Maurice McCabe. An allegation had indeed been made against McCabe in 2006 but, after it was investigated by the DPP, McCabe was exonerated of wrongdoing and told that, even if what was alleged had happened, it wouldn't have constituted a crime.
Taylor said: "I was given specific instructions by Callinan to take every opportunity I had with the media, when they'd bring up Sergeant McCabe… to say 'well, there's a backstory here'."
The former press officer said that he was told by Callinan that McCabe was motivated to raise these issues over the mismanagement of penalty points within An Garda Síochána and get them into the public domain because he was "motivated by revenge".
He said that Callinan was "deeply frustrated that this issue had been raised and raised and raised again".
"It was causing discomfort to senior garda management, and discomfort to him," Taylor said.
In his protected disclosure, Taylor said: "I can confirm there was a campaign at the highest level in An Garda Siochána involving [Callinan] and [O'Sullivan] to discredit Maurice McCabe."
Today he clarified: "Callinan directed it. O'Sullivan was aware of it."
He corroborated – to a certain extent – the testimony of John McGuinness. While McGuinness had said Callinan told him about a "fucking headbanger" who "fiddles with kids" after a PAC meeting in January 2014, Taylor said today that he heard Callinan directly refer to McCabe as a "kiddie fiddler" in the presence of McGuinness.
Taylor said that, at the time, he respected Commissioner Callinan. When Callinan resigned in March of that year, Taylor sent him a text message saying: "I feel so sorry for the way you have been treated – it's despicable. You will always be the boss to me and I am proud to have served under you and worked with you."
He went on to make his protected disclosure, however, following his suspension from the force in September 2016.
When asked why he had changed his view of the situation, Taylor said: "I was away from the hot house, and the influence of An Garda Síochána. I could see in a more clearer light things that I didn't see when I was part of the force."
Text messages
Taylor told the Tribunal that he would always brief journalists negatively about McCabe over the phone or in direct conversation, and never through text.
This differs from testimony already given by Maurice McCabe. McCabe has claimed that Taylor told him he sent "hundreds", possibly "thousands", of negative messages about the whistleblower to journalists at Callinan's behest.
Taylor refutes this, and says that he did send hundreds of texts but that they were to Commissioner Callinan and Nóirín O'Sullivan to provide updates on commentary about McCabe in the media, in the Dáil and on social media.
In his protected disclosure in September 2016, he said that much of what he was saying would be backed up by the messages on his phone. Last week, however, the Tribunal heard that a number of phones had not been recovered and that no evidence to back up Taylor's claims about his text messages to senior garda management could be found.
Taylor told the Tribunal that he had assumed that the phone and the phone records could be recovered at the time he made his protected disclosure.
He also denied any knowledge of the car park meeting between Callinan and McGuinness, contrary to evidence already given by McCabe.
Journalists
In the afternoon at Dublin Castle however, the Tribunal heard that a number of journalists to whom Taylor said he gave negative briefings about Maurice McCabe denied being given such briefings.
The names of nine journalists were furnished in a document last year, including reporters and correspondents for RTÉ, the Daily Star, the Irish Examiner, the Irish Times and the Sunday Times.
Taylor maintained at all times that – from the middle of 2013 onwards – he would have briefed a number of people in the media with the narrative that McCabe was motivated by revenge, but could not recall details of specific dates when he would have done so.
He also said he was "opportunistic", in that he would drop McCabe into conversation with journalists at crime scenes, at press conferences or over the phone when the chance presented itself.
However, many of the journalists said that they never received such briefings from Taylor or any other senior garda.
In a statement to the Tribunal, RTÉ's Paul Reynolds said: "I was not negatively briefed by anyone in relation to Sergeant McCabe verbally, by text, email or any other form of communication."
His RTÉ colleague John Burke gave a statement to a similar effect. The Irish Examiner's Juno McEnroe was also named and, as Mr Justice Charleton put it, "he's saying as far as I can see that David Taylor never said 'boo' about Sergeant McCabe to [him]".
The Star's Mick O'Toole, in a statement to the Tribunal, said he wanted to claim journalistic privilege on a number of correspondences with David Taylor but also said that "nobody in any position of An Garda Síochána" had smeared Maurice McCabe to him.
A number of other journalists claimed privilege over their contacts.
One journalist named by Taylor in his original protected disclosure is journalist Paul Williams, who met with the woman who'd made the 2006 allegations about McCabe in 2014.

Taylor acknowledged giving Williams a negative briefing but disagreed with a number of aspects of testimony already given to the Tribunal by the journalist.
Conflicting with Williams' testimony, Taylor said he only became aware that Williams was interviewing Ms D on the day that he was doing it in 2014.
Taylor also denied confirming details about the Ms D case to Williams after a series of follow-up questions.
He did, however, say that he was "glad" at the time that Williams was following the story because it would "feed into the narrative" that McCabe was not to be trusted.
Taylor also said he aimed for the journalists he had named to come forward and give evidence to the Tribunal on the briefings he said he gave them.
The superintendent will continue giving evidence at Dublin Castle tomorrow.