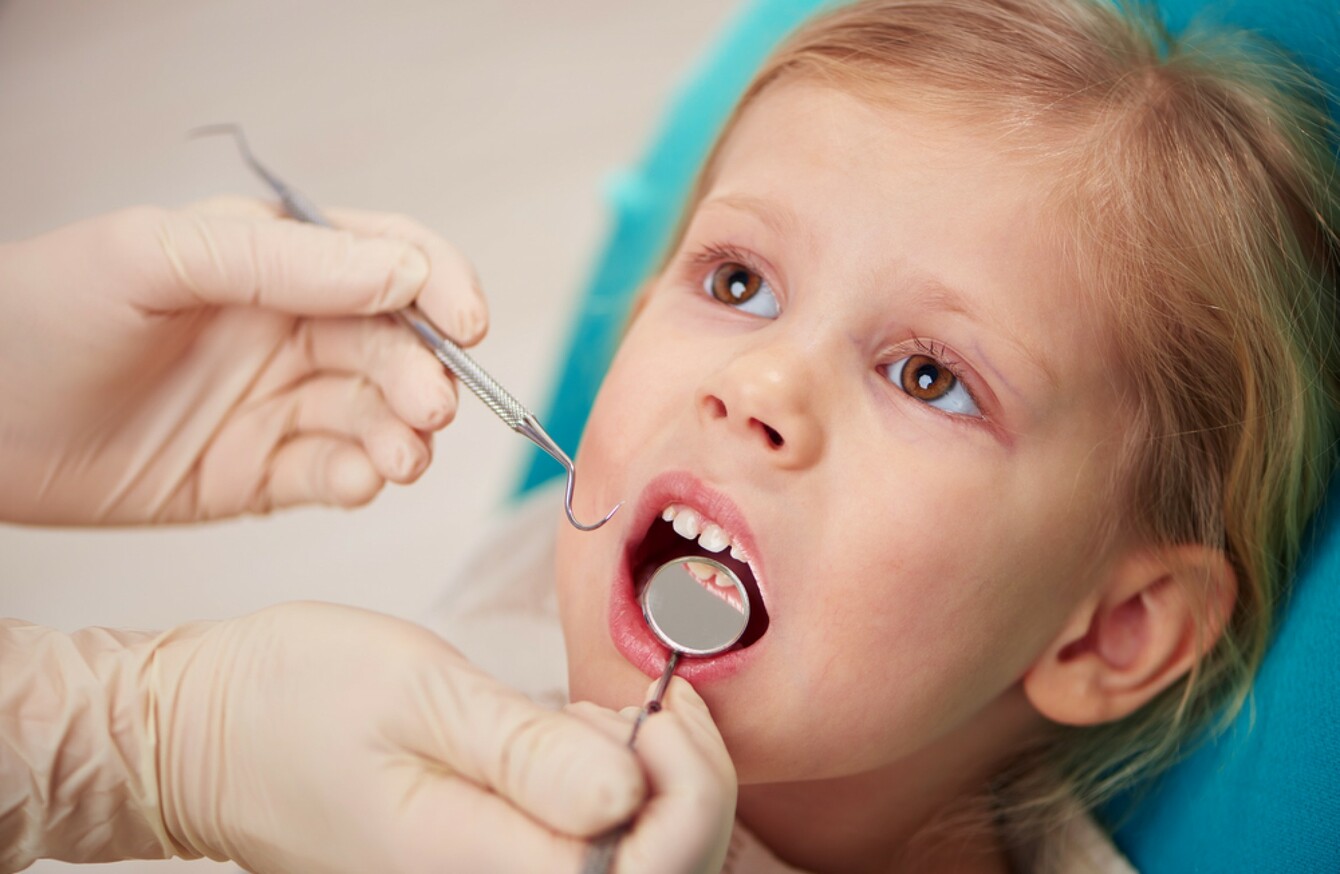 File photo
Image: Shutterstock/Stasique
File photo
Image: Shutterstock/Stasique
THE IRISH DENTAL Association has called for the introduction of a better-funded oral health programme for preschool children and the restoration of regular school screenings for primary school children nationwide.
The call follows the publication of a new study that shows a considerable number of children under the age of five require extractions under general anaesthetic and some children are having as many as nine teeth extracted.
The study found that the cost of treatment – €819 per patient – could be as much as eight times the cost of a preventive oral health promotion programme for the same group.
TheJournal.ie has been highlighting deficiencies in the State's care for the health of its citizens' teeth. Over the weekend, we revealed that cuts to dental check-ups in primary schools has led to children getting multiple teeth extracted.
Earlier this month, we also reported on neglect of pensioners in nursing homes where people who have had their own teeth for most of their lives are losing them because of basic lack of dental care once they enter the care system.
Now, a study of 347 preschool children in Cork, which has been published in the latest edition of Journal of the Irish Dental Association, has again highlighted the issue.
10,000 children 
Dr Michaela Dalton, President of the HSE Dental Surgeons group of the Irish Dental Association, said the findings showed prevention is not just a better option for patients, it is also much more cost-effective.
"The first and most important point to make is that too many children in Ireland are having teeth extracted under general anaesthetic (GA). We believe the number is well over 10,000 every year.
This study shows that the problem starts at a very young age for many children and that economically disadvantaged children are at a greater risk of requiring treatment. The study also found that children who underwent extractions under GA at an early age demonstrated poor oral health into adolescence.
The Irish Dental Association is calling on Health Minister Simon Harris to introduce preventive programmes targeting preschool-aged children and to provide a comprehensive preventive dental health programme for every child under 12.
Previously, Irish children received free dental check-ups in second, fourth and sixth class. However, austerity measures in the wake of the 2008 crash have seen massive cuts in services.
When asked about dental screening programmes in schools and the frequency with which dentists visit schools, Harris last week said this is a service matter for the HSE.
In a statement to TheJournal.ie, the HSE said it "provides all children with a check-up and primary dental care at least once between the ages of 11 and 13 (sixth class)".
It said the Public Dental Service (PDS) provides pain emergency treatment to all children under 16 years of age and "routine dental examinations and care for school children at key stages of development".
"The majority of HSE dental services also provide for children between the ages of six and eight years of age and the HSE is currently endeavouring to ensure equity of access to this age group in every area," the statement added.
Staff shortages
Dalton said having teeth extracted under GA is "a very traumatic event for a young person".
"In the vast majority of cases it is preventable. The HSE often says it cannot introduce programmes due to lack of funds, but this study shows clearly that prevention is far more cost-effective than treatment."
"While the problem begins in preschool, it doesn't end there. In many parts of the country school screenings which should happen in second, fourth and sixth classes are just not happening due to chronic staff shortages in the Public Dental Service.
"In 2015, 16,000 [children] who were due to be screened did not receive an examination. Unless the staff shortages are addressed as a matter of urgency our young people and other vulnerable groups will continue to suffer the consequences of this neglect," Dalton said.