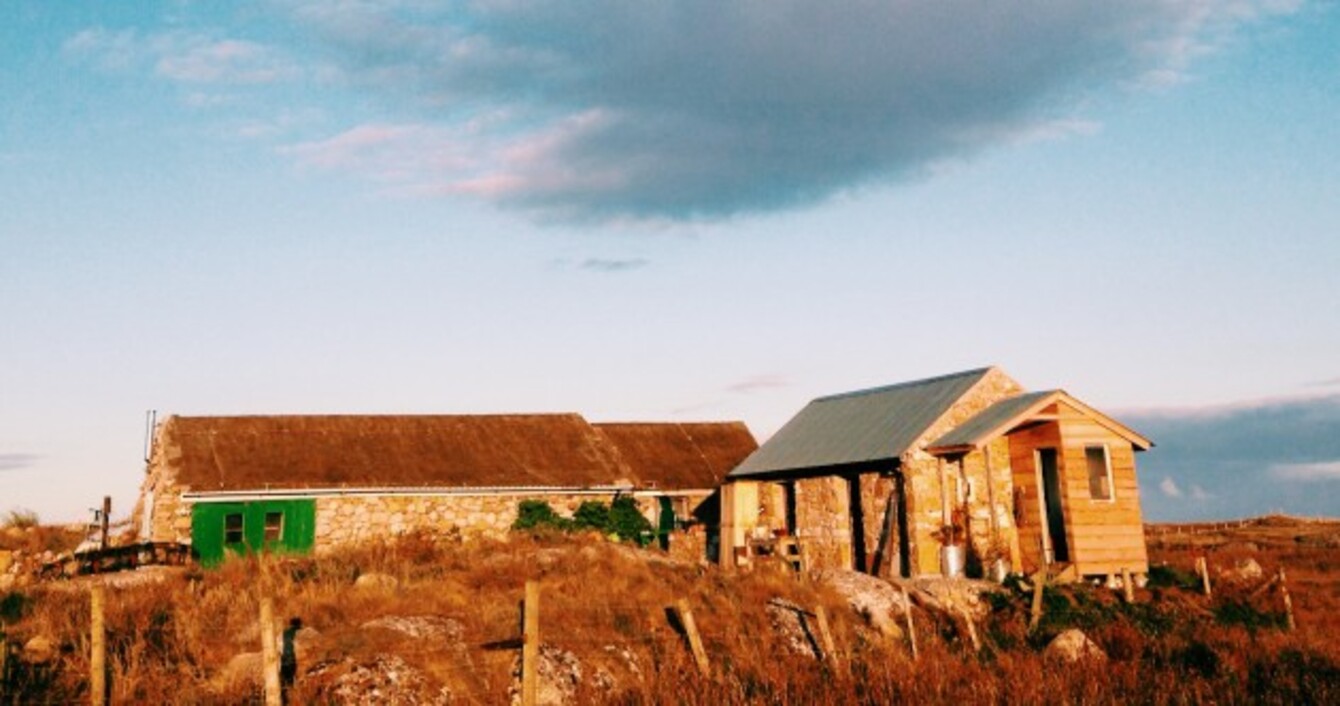 IT COULD BE described as the anti-restaurant concept: white tablecloths swapped for meals consumed elbow-to-elbow alongside strangers in a converted boat shed clinging to the edge of civilisation.
Over the past two summers, young chefs Katie Sanderson and partner Jasper O'Connor have convinced diners to pay months in advance and travel to the westernmost parts of the Connemara coastline for their seasonal Dillisk Project.
While the pop-up eatery could evolve into a more permanent food fixture, it began as a simple plan to escape Dublin for the couple, who first met working in the city's Fumbally café.
"We originally thought we would rent a house in summer and cook dinner parties there and invite people to come along," Sanderson told TheJournal.ie.
However, during a visit to O'Connor's parents' house, near Aughrusbeg Lough in Galway, the pair settled on a different plan.
We walked down to an old boat shed just by the sea. There was a little table so we sat down, had a glass of wine and said 'we can do it here'."
After cleaning out 10 years of rarely-used farming and maritime equipment, kicking the donkeys out of the neighbouring shed and knocking through a wall to join the two, the venue took shape.
They also laid garden beds on-site for some of the vegetables to be used in the dishes at Dillisk, named after a sea vegetable commonly found on the Atlantic-facing coastline in summer.
Other ingredients, like seaweed from the nearby shore, were to be found in foraging expeditions, or sourced from local suppliers: seafood from the fishermen at nearby Cleggan Harbour or lamb from the region's renowned meat producers.
The end result was a communal table of 30-odd customers in the stone shed, where diners tried tasting menus featured dishes like elderflower pickled mackerel and braised lamb neck with bog mint.
The nights began with gin and tonics on arrival and a walk on the beach, Irish weather permitting, while many would end with sing-songs and whiskey.
A matter of trust
While neither the concept of the pop-up eatery nor locally-sourced food is anything new, the location, almost two hours from Galway, required a different level of commitment from clients, especially those taking a leap of faith on the initial round of bookings.
I had some people that were willing to trust me on things," Sanderson said. "When we first put tickets up there was a surge of friends and family, and names I could recognise from other projects I had done."
With another of her initiatives, Living Dinners, Sanderson took a menu made exclusively with uncooked vegetables to venues like derelict Georgian homes in Dublin and a Wicklow forest.
"From that first weekend (at Dillisk) and the initial three nights in a row, they went back and told people; the word spread. You can social media until the cows come home, but word of mouth will always be the strongest thing.
One of the best comments I got from last year was when one of the B&B owners said it was the best summer she had ever had because there were so many people coming for Dillisk. That was cool to hear."
Returning
The pair initially planned to run the restaurant for only one summer, but Sanderson said both she and O'Connor couldn't stomach staying away this year.
However, earlier commitments meant the first year's four-month season was trimmed to only five weeks this time around, putting the squeeze on pent-up demand for bookings.
"It was pretty insane. We put the tickets up and I was kind of watching them – I knew I had to be near the computer because we run everything ourselves – and within two hours had sold out all the nights. Even just reading emails from people saying how much they wanted to come; it was really great."
When it comes to next year, Sanderson remains non-committal, although it appears likely Dillisk will either return to the boat-shed or find a more permanent home.
"It's an intense thing to do with your partner, to run a project together where you work in the same kitchen. I think it's more a matter of tuning in to what makes sense for us, to make sure we're not killing ourselves.
The boat shed is really idyllic and romantic but it's also on Jasper's parents' lands. I would foresee it being the last year at this location and after that we will have to find a new home for Dillisk or whatever it would become."
Blind naivety
Sanderson said the only negative reaction had been towards Dillisk's online booking system, which required patrons to buy tickets up to four months in advance to secure their places – something most restaurants could only dream of attempting.
People said that's mad, everyone said no one's going to buy those. But we're only feeding 30 people a night and our margins are so tight: if six people decide not to come, that's everyone's pay for the night. We couldn't have a walk-in system."
And if Sanderson is worried that others would copy the concept and a crop of Dillisk-wannabes would appear around the country, she does an excellent job of hiding it.
"I would love if someone did something like this, even if it was really similar," she said.
"Now it's so fashionable for everything to be foraged and locally sourced, they've become buzzwords, and it's really good that that has come about. At the end of the day, the ideas that you have need to have your personality to it. But I think anyone can do it; maybe all you need is a bit of blind naivety."
This month, as part of TheJournal.ie's ongoing startup and small and medium enterprise (SME) focus, we are looking at innovation in rural Ireland.
To read previous stories from our collection click here.