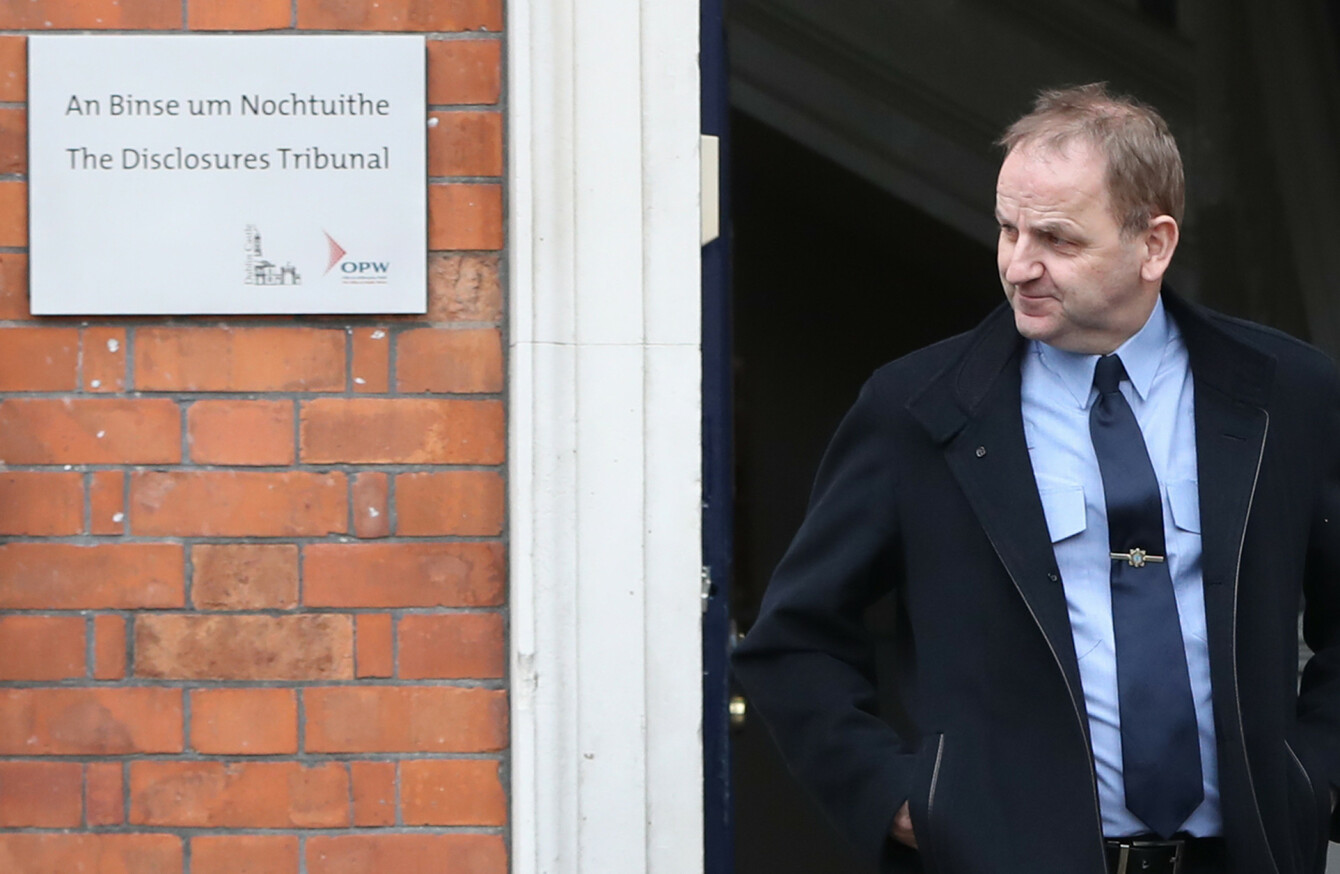 Maurice McCabe leaving the Tribunal at Dublin Castle.
Image: Niall Carson/PA Images
Maurice McCabe leaving the Tribunal at Dublin Castle.
Image: Niall Carson/PA Images
THE CHAIRMAN OF the Disclosures Tribunal could be set for a showdown with members of the media when they give evidence in the coming weeks over journalistic privilege.
The issue of journalistic privilege at the Tribunal has come to prominence in recent weeks, as former garda press officer David Taylor gave evidence that he gave journalists negative briefings about Sergeant Maurice McCabe.
Taylor has named more than 10 journalists that he has alleged he told them that McCabe was driven by revenge against the gardaí after an allegation of sexual abuse was made against him by the daughter of a colleague back in 2016.
McCabe was exonerated at the time, but it's Taylor's account that he would attempt to drive home the narrative that McCabe was only making his allegations about garda wrongdoing now because of a grudge he developed against the gardaí.
Taylor has also waived his own privilege to be named as the confidential source who passed on these details to the particular journalists involved.
However, as has been seen, there is a lack of detail and corroboration to Taylor's account.
Furthermore, this lack of corroboration comes from the journalists, themselves.
For most of those named by Taylor, they have either denied he told them anything negative about McCabe in this way or are claiming journalistic privilege.
Tribunal chairman Mr Justice Peter Charleton has already made clear his desire to be given the full story from those involved, remarking last week that "if there's something else out there, I do need to know about it".
With a number of journalists due to give evidence in the coming weeks, the issue of privilege is set to sit atop the agenda during proceedings at Dublin Castle.
What is journalistic privilege?
Simply put, it is the claim of a journalist to not be compelled to reveal confidential sources, because their stories are in the public interest.
There is not strictly a provision for journalistic privilege under Irish law, but there is some precedent.
In his opening statement to the Tribunal in early 2017, Mr Justice Peter Charleton directly questioned the role of journalistic privilege, pre-empting its appearance at the Tribunal.
He pondered at the time: "Is there a privilege against giving evidence, including relevant records, where someone communicates in confidence, or off the record as the phrase goes, to a journalist? If that privilege exists, does it exist because of the public interest in protecting investigations by the media?
Does journalistic privilege attach to communications to a journalist where that communication by the source may not be in the public interest but, instead, where the source is perhaps solely motivated by detraction or calumny?
Mr Justice Charleton said he would have to hear submissions on this topic, and make a ruling if necessary.
If a situation arose where the judge made a ruling where the journalist had to disclose a source for a particular story, the matter could be appealed by the legal teams for these journalists and, in that, there is already quite a lot of legal precedent in Ireland.
Another Tribunal of Inquiry, the Mahon Tribunal became embroiled with the Irish Times and its journalist Colm Keena over a confidential document that had been furnished to the journalist by a confidential source.
An initial High Court order told the paper's then-editor Geraldine Kennedy to appear before the Tribunal and answer questions about this source.
A Supreme Court judgement, however, overruled it because a journalist can only be asked to answer questions that could reveal the identity of a confidential source if it's justified by "an overriding requirement in the public interest".
As the documents which had led Keena to write his article, which referenced investigations by the Tribunal into payments made to Bertie Ahern, had been destroyed, the attempt to compel the paper to answer questions on the source were deemed "speculative at best" by the Supreme Court.
The results of that landmark case could have a direct effect on the ongoing Disclosures Tribunal, and on the provision for information to be given due to an "overriding requirement in the public interest".
Another case where journalistic privilege played a key role was one presided over by then-High Court judge Gerard Hogan in 2012.
In that case he said that there is, "in strictness, no such thing" as journalistic privilege.
However, he also said that journalists are "central to that entire process" and cited a part of the constitution that recognises "their rightful liberty of expression", albeit that the media should not use this liberty to undermine "public order or morality or the authority of the State".
'In practice' 
The issue of privilege is complicated further by the stance of David Taylor. The former head of the Garda Press Office has waived all privilege to be named as the source for the journalists in question regarding Maurice McCabe.
So, if these journalists were briefed by David Taylor, he's saying that he can be named as the source.
But it's not that simple. A number of journalists, in statements to the Tribunal, have denied that Taylor ever briefed them negatively.
In this case, any articles or broadcast pieces that they may have done around the McCabe issue did not come from Taylor.
In the case of journalist Paul Williams, for example, he has told Tribunal that he conducted an interview with Ms D in March 2014. Ms D is the woman who'd made the 2006 allegation of sexual abuse against Maurice McCabe.
Williams would subsequently publish an article about her case with the names anonymised. But he has categorically stated to the Tribunal that he did not pursue the story because of a negative briefing that Taylor has given.
He said last July: "I was never briefed by Dave Taylor or Nóirín O'Sullivan or Martin Callinan or any of them. It's not the way it would happen with me."
A number of the journalists are claiming privilege over the sources of their stories. This way, they're not explicitly saying it wasn't David Taylor who gave them info regarding Maurice McCabe.
But this is where it gets complicated. If the journalists claiming privilege were given information on this matter by Taylor, his waiving of privilege means that is likely they would be compelled to say so.
If Taylor wasn't an anonymous source for the stories in question, then the argument could still be made for the claiming of privilege.
'I need to know why'
This topic cropped up earlier this month during Taylor's evidence, when he was being cross-examined by the Oisín Quinn SC, for the Irish Examiner.
Mr Justice Charleton, interjecting, said: "Certainly if any question were to be asked which would reveal a different source, privilege could be asserted.
I'm not saying you'd assert it successfully, but I'm not sure I understand how you're in a position to say the source who has revealed himself to be a source [Taylor]… I do not understand how that gives rise to any claim of privilege. I just don't understand it.
This is a public Tribunal and people have to explain themselves publicly as to what they are doing and what their legal basis for doing it is. So I'm mystified as to what your basis for this assertion is. Is it simply that if you talk to a journalist it's like talking to some kind of sacerdotal individual or what is your basic submission on this?
Charleton added that he was "urgently required to inquire into matters of public moment and to report, and I am desperately trying to do that and I'd like people's help".
Quinn replied that he was choosing not to cross-examine Taylor over his claims that he negatively briefed a number of Examiner journalists because it was felt "it would compromise the entitlement of those three journalists to maintain journalistic privilege".
He said: "I would strongly submit that it doesn't pierce or demolish the privilege simply because an alleged source says I'm waiving it.
The journalist is entitled to hold on to it because there can be any number of reasons why an alleged source might claim to be a source, why either confirming or denying that the source is or isn't a source could be problematic.