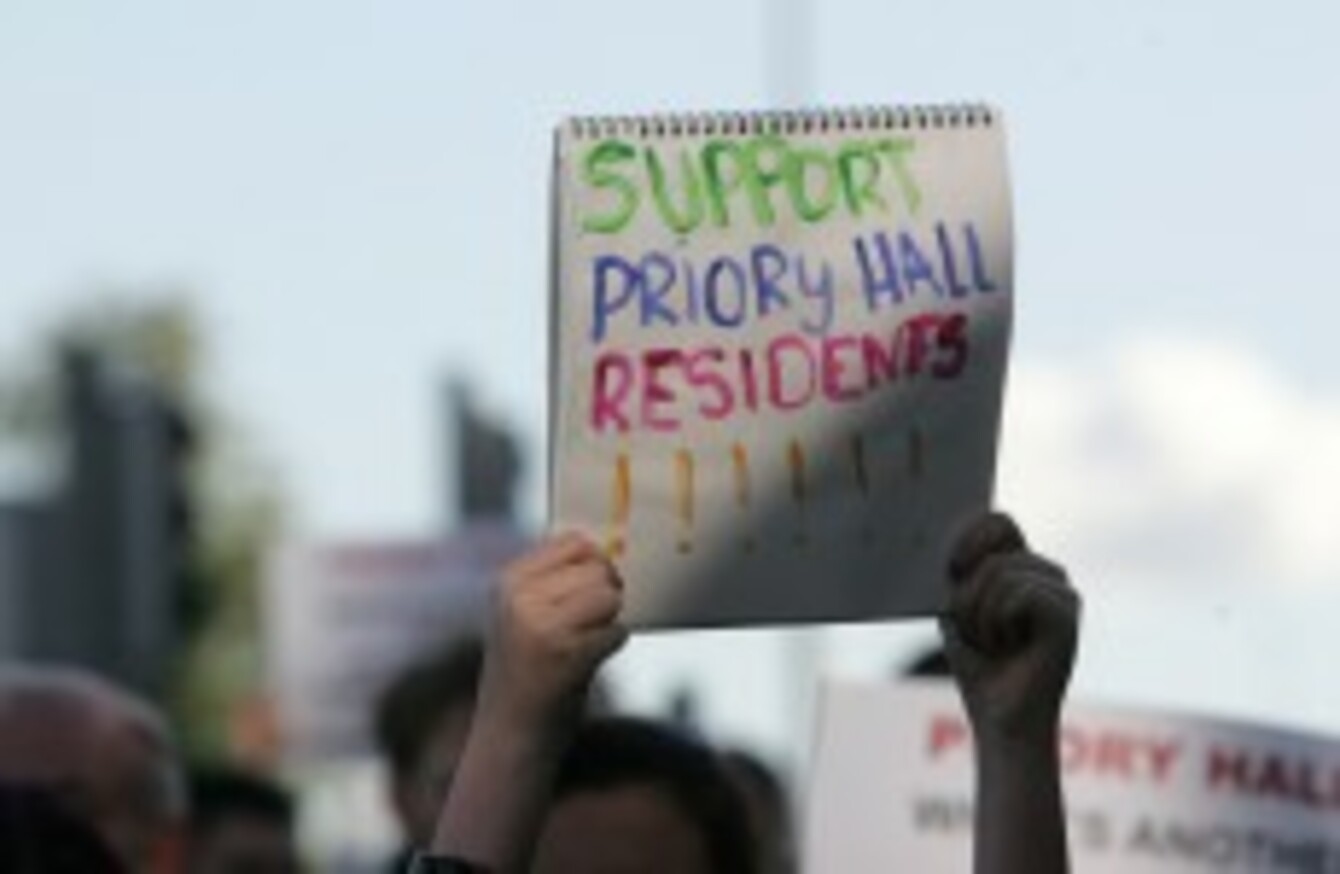 Image: Sam Boal / Photocall Ireland
Image: Sam Boal / Photocall Ireland
THE SUPREME COURT will hear arguments from Dublin City Council this week for why it should not be forced to pay for the temporary accommodation for all 256 displaced residents of Priory Hall.
The High Court had ordered the local authority to cover the costs while the homeowners were unable to return to their properties but DCC wishes to absolve itself of the responsibility.
The Donaghmede complex was completely evacuated in October 2011 over severe fire safety concerns. No remedial works have been carried out since. The developer Tom McFeely has claimed he cannot afford to fix the defects, while Dublin City Council – which owns 26 of the apartments – believes it should not be responsible for all buildings.
The appeal is due to be heard on Thursday.
The residents' support group say parents with small children face the prospect of uprooting their families "because the system failed them".
"As the President of the High Court Mr Justice Nicholas Kearns put it at the time, Dublin City Council had 'put a torpedo into Priory Hall and the collateral damage was the dislocation of 250 people who lived there'," the group said in a statement. "He stated that he 'did not understand how the city council could say they had no responsibility for them' and that it 'beggared belief that they could wash their hands of the consequences'.
For the past 18 months Dublin City Council has attempted to do just that and the appeal on 9 May will be the culmination of a year and a half of sleepless nights and a constant limbo for families who cannot plan for their futures.
Residents also criticised Environment Minister Phil Hogan for "sitting on the sidelines" while they are "dragged through the courts again".
"This Government has turned its back on the entirely blameless families, who were the victims of a building regime that protected developers instead of homeowners and enabled rogue builders to construct death traps like Priory Hall. The local authority failed to do its job and Minister Hogan appears to believe that this failure falls outside his remit."
Residents have been working with their mortgage lenders and other stakeholders to examine possible solutions but as the resolution process continues, there is some despair about a perceived lack of urgency.
One proposed solution would be for the banks to move home loans from Priory Hall properties to other habitable houses or apartments.
Spokesperson Graham Usher said that would be "certainly something the residents would look at".
"It is now highly unlikely that anyone will return to Priory Hall," he told TheJournal.ie. "We need to find a permanent solution as we cannot pay mortgages on homes we cannot live in."