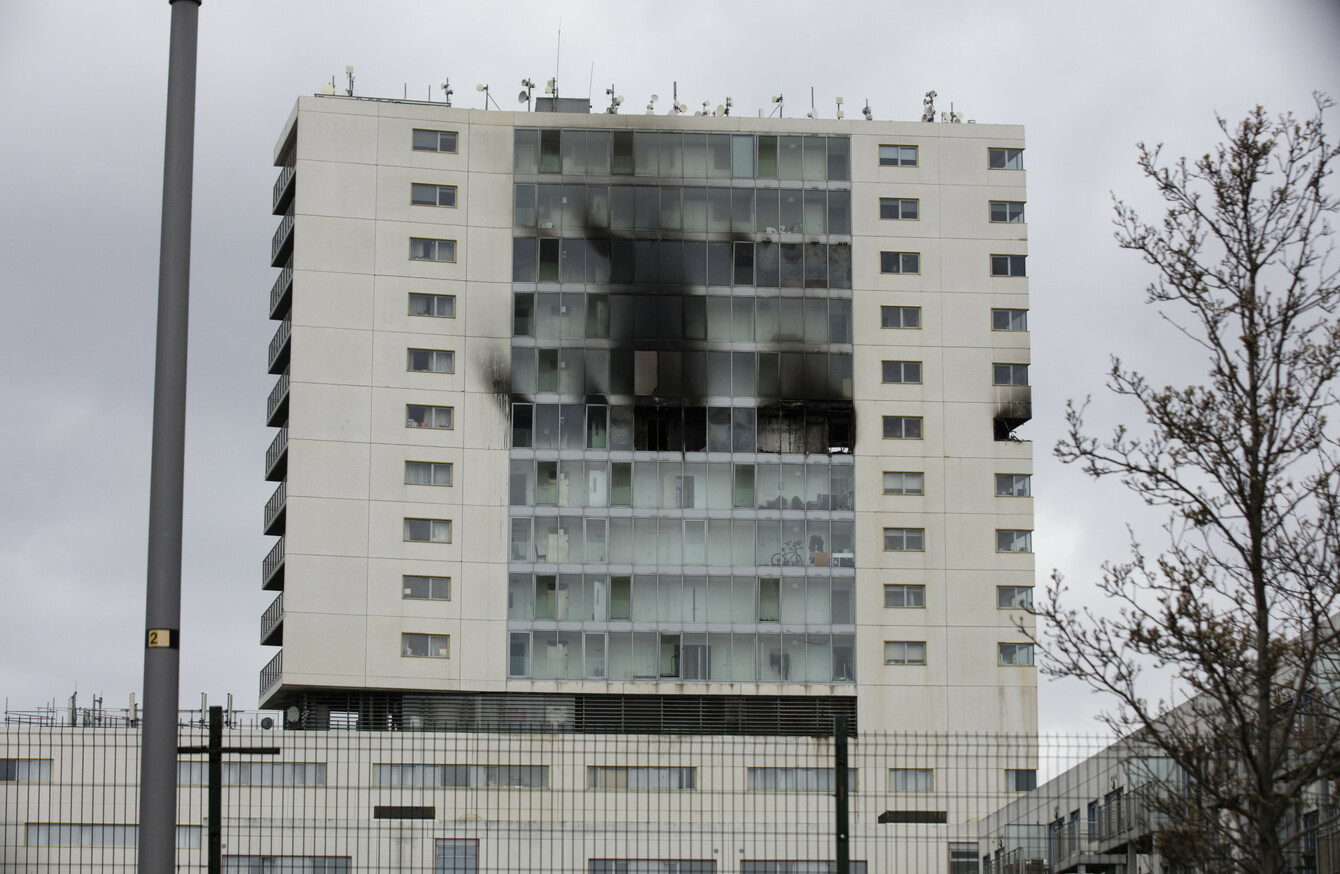 The Metro Hotel in Ballymun pictured after the fire
Image: Eamonn Farrell via RollingNews.ie
The Metro Hotel in Ballymun pictured after the fire
Image: Eamonn Farrell via RollingNews.ie
AN EMERGENCY MOTION calling for Dublin City Council to carry out a renewed risk assessment report on the city in light of last month's Ballymun fire is being brought forward tonight.
On Wednesday 21 March, a fire ripped through the top part of Ballymun's 16-floor Metro Hotel – which is made up of 88 hotel rooms and 30 private apartments on the upper floors.
At least 12 units of Dublin Fire Brigade (DFB) and more than 60 firefighters attended the scene at the peak of the fire. Luckily, the building was successfully evacuated and no one was injured.
In light of the fire, local Independent councillor Noeleen Reilly is calling on Dublin City Council to carry out a comprehensive risk assessment on Dublin City as she said the current report is "alarmingly outdated".
Dublin City Council's Area Risk Categorisation Report was last updated in 2014.
In a statement to TheJournal.ie, Dublin City Council said: "Dublin Fire Brigade has carried out an Area Risk Categorisation in line with the national policy document Keeping Communities Safe issues by the Department of Housing.
"This process has been validated by the National Directorate for Fire and Emergency Management. This is supplemented by pre-incident planning. Dublin Fire Brigade is not aware of any issues with respect to risk assessment and the fire in Ballymun.
This matter is the subject of ongoing discussions at national level between staffing interests and national management representatives.
Ballymun in the assessment
Under the Finglas Fire Station section of the report, which covers the Ballymun area, Dublin City Council states that "Ireland's only high-rise / high-density public housing project was built in Ballymun in 1966 with tower blocks ranging from eight to 15 stories".
"As part of the Ballymun regeneration, this high-rise housing stock is being replaced with a mix of both traditional housing and apartment-like scheme," it said.
The report does not mention the Ballymun hotel.
Commenting on the lack of acknowledgement of the hotel in the report, Reilly said: "The current risk categorisation for Dublin City is alarmingly outdated so much so that it makes no mention of any existing high-rise in Ballymun nor does it mention any hotels.
"There needs to be an urgent comprehensive risk assessment for Dublin City so the Dublin Fire Brigade are informed of what buildings exist in each area and what equipment is needed."
#Open journalism No news is bad news Support The Journal

Your contributions will help us continue to deliver the stories that are important to you

Support us now
Emergency motion
Reilly is bringing forward an emergency motion at tonight's Dublin City Council meeting calling for this review to take place immediately.
The motion asks that the council acknowledges "the fantastic response of the Dublin Fire Brigade, as a result of their bravery and quick response".
It also asks that the council "recognises that a comprehensive risk assessment on the city now needs to be completed which should highlight the deficiencies in manpower, equipment and training".
Finally, it asks that Dublin City Council "acknowledges the kindness and generosity shown by the community in Ballymun and Glasnevin towards the victims".
Dublin City Council contacted TheJournal.ie on Friday 13 April to include the following statement: "We do not agree that the document is alarmingly outdated."