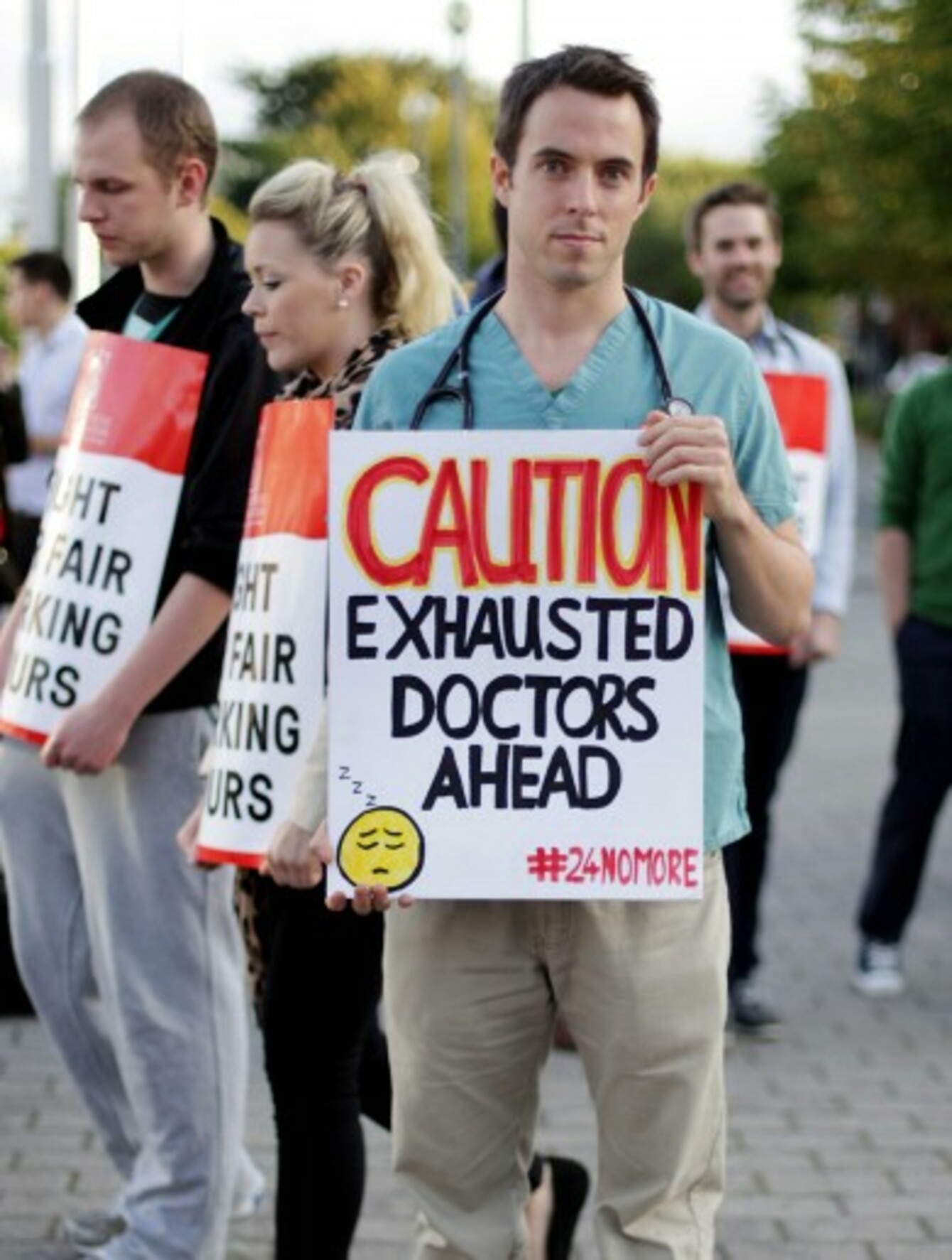 Image: Mark Stedman/Photocall Ireland
Image: Mark Stedman/Photocall Ireland
EUROPE'S HIGHEST COURT looks set to rule that Ireland has breached the European Working Time Directive in relation to Non-Consultant Hospital Doctors (NCHDs).
An Advocate General at the European Court of Justice published an opinion on the matter this morning, noting that the government is incorrect in thinking that some aspects of the junior doctors' roles – namely training – are outside the scope of the rules.
The Irish Medical Organisation (IMO) complained to the European Commission in March 2012 over the excessive hours worked by NCHDs. Although today's decision is not a ruling, the AG's opinions lead to final judgements in 80% of cases that come before the ECJ.
The EU Working Time Directive governs the number of hours that EU citizens can legally work, and also outlines minimum rest periods. Today's opinion makes clear that the hours of training undertaken by junior doctors should be included in their 'working hours', even if they are not on call while it is taking place. The opinion explained:
Irrespective of whether training takes place at a hospital or on the premises of the training body, what is important is that NCHDs are required to remain during those training hours in a place that they are not free to choose, but which depends on the training programme that they are required to follow. That obligation for NCHDs to be physically present in a particular place for their training hours constitutes a constraint which prevents them from freely engaging in their personal activities.
The opinion has been welcomed by the Irish Medical Organisation, which organised a strike of NCHDs in 2013 to protest against shifts that lasted longer than 24 hours.
Assistant Director of Industrial Relations at the IMO, Eric Young, says the decision is a wake-up call for the Irish government.
For years they have forced NCHDs to work excessive hours and that has caused immense hardship and helped create the morale crisis which is forcing young doctors to emigrate from Ireland.
"One of the difficulties we've had is that it has been very, very difficult to get the government to implement its responsibilities on the European Working Time Directive," he told RTÉ. 
"We had to organise a strike in 2013 to press it into action. When the strike was concluded, we put an agreement in place which provided for full implementation of EU WTD by the end of 2014. Sadly, we've fallen very short of that.
The difficulty from our point of view now is that there are 230 doctors working more than 24 hours. In terms of a 48-hour working week, a lot of improvement has been made but a third of doctors are still over the legal limit.
"There is substantial progress but under the agreement, they were mean to be eliminated by 2014. They still haven't been eliminated."
Overworked
The IMO believes there are still 230 NCHDs in over 21 hospitals working over 24 hours and there remain some who are forced to work 32 hour shifts.
"Up to 33% of NCHDs are routinely required to work in excess of the legal 48 hour limit which must be urgently addressed. Removal of the protected training time will make this situation worse," Young added.
"Nobody can defend a doctor working multiples of hours, late into the night and early morning, little or no sleep, no food, no rest. That's not sustainable and not a model of healthcare that I can support," Oireachtas health committee chair Jerry Buttimer told TheJournal.ie today, noting that the EU Working Directive must be adhered to.
#Open journalism No news is bad news Support The Journal

Your contributions will help us continue to deliver the stories that are important to you

Support us now
Source: Video TheJournal.ie/YouTube
A recent study found that 90% of Irish medical students are considering emigration after they qualify with career opportunities, working conditions and lifestyle cited as the main reasons.
A full judgement is expected before the summer. If it upholds the opinion, fines of millions of euro could be imposed on the State, according to the IMO. Sinn Féin has put this figure at anything as high as €100 million.
In a statement issued this afternoon, the Department of Health acknowledged that the EWTD has not been fully implemented.
However, it claimed that "good progress" had been made.
"We are committed to the full implementation of the EWTD," Minister Leo Varadkar said. "As a demonstration of that commitment, we have hired 400 additional NCHDs in the last two years and are close to eliminating shifts of longer than 24 hours. Reducing average working times to 48 hours or less per week remains a challenge, particularly in smaller hospitals.
"It's important to acknowledge that this is an opinion, not a final judgment. Agreement was reached with the IMO in the High Court settlement of 2010, that protected training time did not count as working time.  However, that position is now in question pending the final judgment by the European Court of Justice."
The Department claims that data from the HSE shows that the average number of working hours for NCHDs has reduced from 60 hours in 2009 to 51 hours at the end of last year.