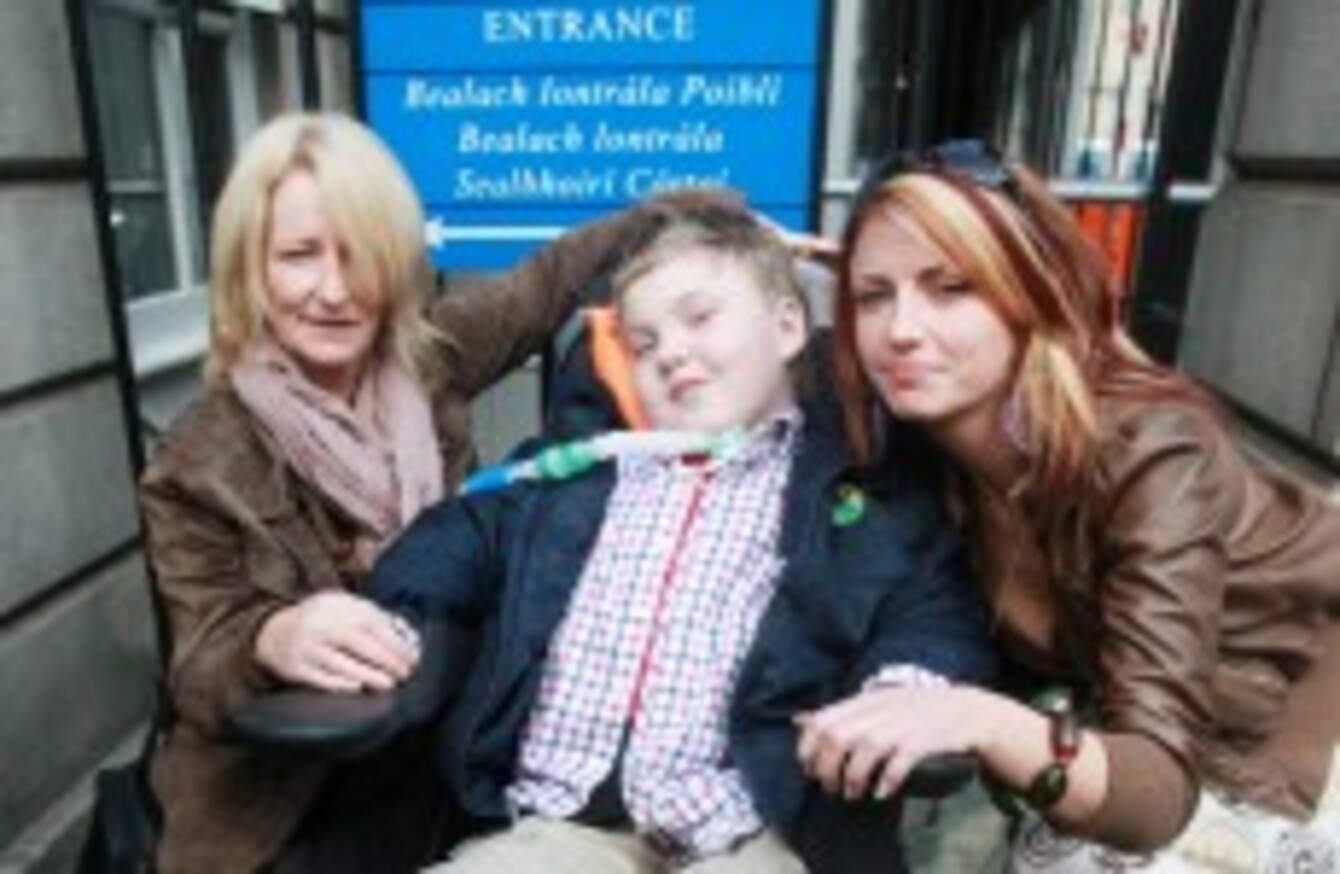 Cullen Kennedy outside the High Court today, with his grandmother Monica (left) and mother Margaret (right).
Image: Leon Farrell/Photocall Ireland
Cullen Kennedy outside the High Court today, with his grandmother Monica (left) and mother Margaret (right).
Image: Leon Farrell/Photocall Ireland
A 10-YEAR-OLD BOY has been awarded the largest settlement in a personal injury claim in the history of the State today, after being awarded €11.5 million by the High Court.
Cullen Kennedy was 6 in June 2008 when he was involved in a car crash. The court heard that Cullen was being driven to school by his mother when he distracted her, causing her to cross the road and strike another car head-on.
Cullen was sitting in a back-seat restrainer, and was thrown into the windscreen of the car, knocking him unconscious. He incurred brain and spinal injuries, and is now permanently in a wheelchair and dependent on 24-hour care.
His mother Margaret was uninsured at the time of the accident, leading to an unusual legal situation where Cullen's legal action was taken on his behalf by his grandmother Monica against Margaret and the Motor Insurers' Bureau of Ireland (MIBI), which meets claims taken against uninsured or unidentifiable drivers.
The €11.5 million settlement agreed this morning will be lodged in court and managed for Cullen's benefit by the courts. The Irish Times quoted Justice Mary Irvine as saying the courts were "gambling" in circumstances like these as there was no legislation ensuring that the life-long care needs of injured parties could be met.
Justice Irvine had sat on a working group established by the President of the High Court which recommended that parties being awarded money in this way be paid on an annual basis. She also noted, Mary Carolan reports, that the absence of legislation meant a "windfall" for a next of kin if the party was to pass away.
In a statement read outside the court, the Kennedy family thanked the courts for the "respectful manner in which Cullen and we have been treated, and for the ongoing services they will provide to us in managing this settlement".
Separately, the MIBI secured a judgment against Margaret Kennedy for the full amount of the settlement.
John Casey, chief executive of the MIBI, said the settlement was in proportion to the injuries Cullen had sustained.
Casey said the MIBI would seek "all available action, and all available legal means" to recovery any of the settlement which was not ultimately used for the medical treatment, as it did in all cases.
In 2010, the last year for which figures are available, MIBI incurred costs of some €58.9 million meeting claims against uninsured and untraceable drivers.
Because the MIBI is funded by the commercial motor insurance companies, this is then passed onto drivers' premiums – with the Irish Brokers' Association estimating that the costs add approximately €30 to the price of each motorist's insurance premium each year.