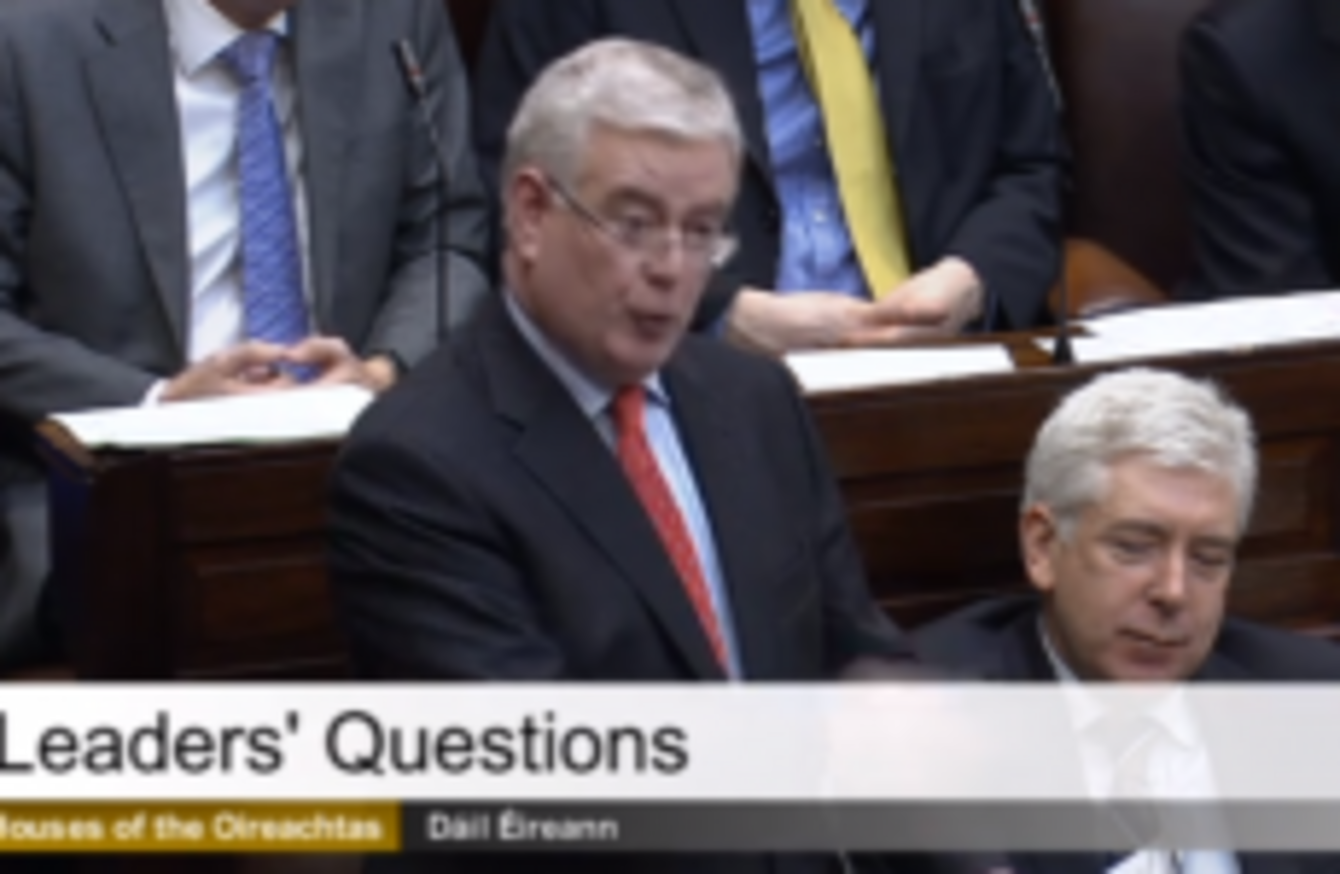 Tánaiste Eamon Gilmore in the Dáil this morning
Image: Screengrab via Oireachtas TV
Tánaiste Eamon Gilmore in the Dáil this morning
Image: Screengrab via Oireachtas TV
TÁNAISTE EAMON GILMORE has said that the government's approach to the old promissory note arrangement "has delivered results for Ireland".
Speaking in the Dáil this morning, Gilmore insisted that it was "never an option to renege" on the promissory note deal as "non-payment would be akin to sovereign default" and would create "substantial threats to our reputation".
The government replaced the promissory note deal – which required a €3.1 billion payment every March for the next ten years – with long-term government bonds that eased Ireland's immediate debt burden.
The Tánaiste was asked about the matter by the United Left TD Joan Collins, who earlier this week lost a High Court case in which she argued the €31 billion promissory note deal, supporting the former Anglo Irish Bank, was unconstitutional as it was not approved by the Dáil.
Collins quoted Gilmore's colleague, Social Protection Minister Joan Burton, when she was Labour finance spokesperson saying that the legislation that the allowed for the promissory deal could fall foul of the "law of unintended consequences".
"The extraordinary powers given to the Minister for Finance remain in place," Collins said this morning, calling on Gilmore to ask the Cabinet to consider repealing or amending the law in question.
Gilmore said that the approach Collin is advocating "would, I believe, undermine the 250,000 jobs directly and indirectly supported by foreign investment" adding it would increase the cost of credit and undermine the bailout exit.
"It's important we don't put that progress at risk," he said during Leaders' Questions.
Gilmore later said that the government had "resolved" the promissory note issue and added that "we succeeded in saving the taxpayers €20 billion in the process".
The Tánaiste earlier clashed with Fianna Fáil's Billy Kelleher over mortgage arrears. Kelleher said that more needed to be done to address the problem and prevent repossessions.
Gilmore said that figures published today show "some progress" and said that it is important for consumers to engage with their lender.
Sinn Féin's Brian Stanley raised the issue of electricity pylons being built as part of the Grid Link project and called for cabling to be placed underground.
The Tánaiste encouraged people to contribute to the extended consultation process for the project, which is now open until 7 January.