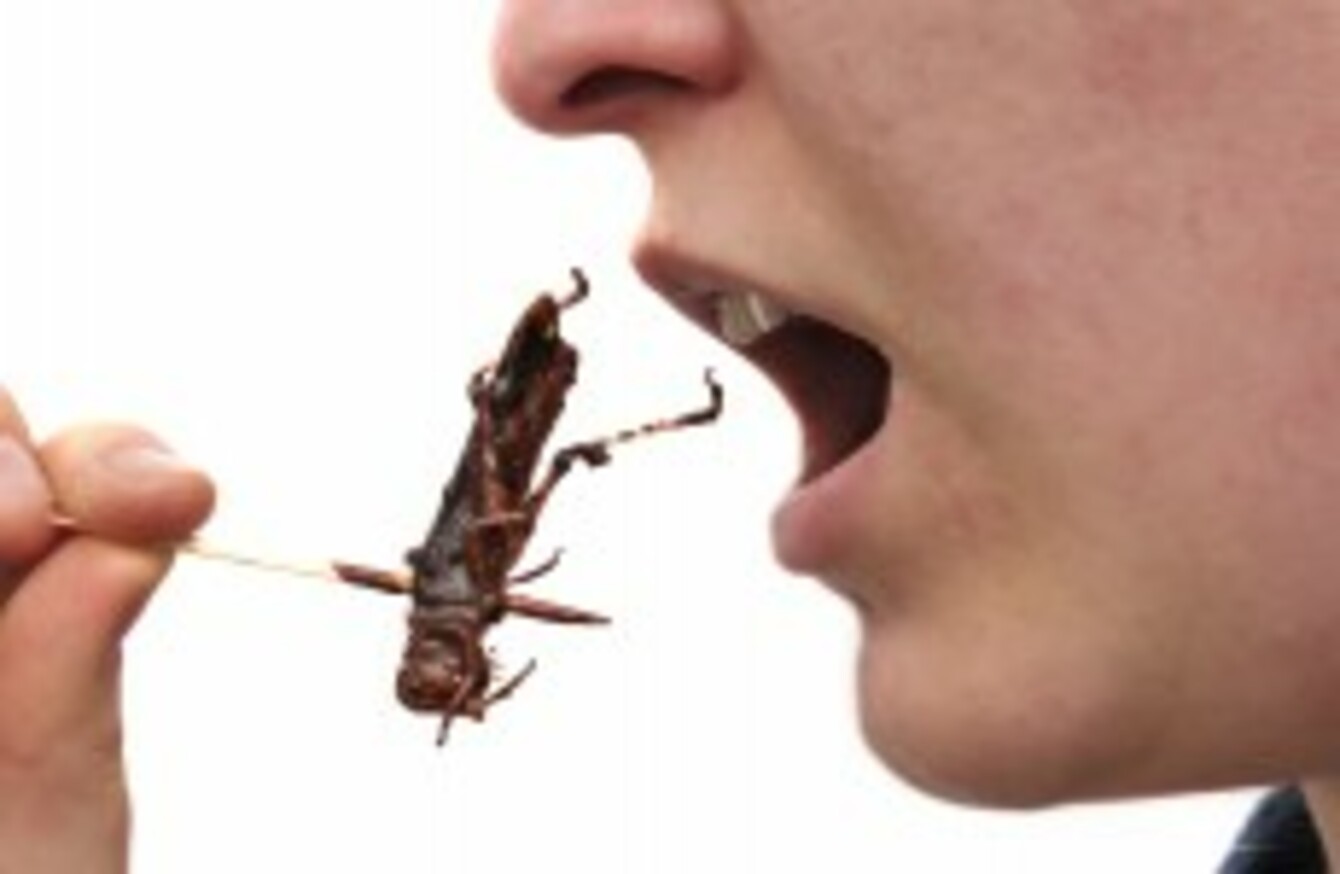 Image: insects via Shutterstock
Image: insects via Shutterstock
WOULD YOU LIKE to try a new snack? Apparently insects are a valuable source of food.
The UN's Food & Agriculture Organisation says people need to get their heads around eating insects as many are rich in protein, zinc, calcium and iron whilst also being low in fat.
It reckons that they're an ideal solution for the world's rapidly growing population.
Europe is the only continent that doesn't eat insects but maybe we're missing out…
Not convinced yet?
Brave journalist here at TheJournal.ie Nicky Ryan tried out the little creatures to show you just how much fun it can be…
Source: Video TheJournal.ie/YouTube
See that's not so scary. Over two billion people worldwide already supplement their diet with insects so they can't all be wrong.
Here are some great reasons to get stuck in:
100g of crickets contains just 121 calories, compared to 288 calories in the same amount of beef
Common house crickets contain four times as much protein as the same weight of chicken
Cattle require twelve times more feed to produce the same amount of protein as crickets
Many insects contain substantial levels of macro-minerals such as magnesium, sodium, potassium and chloride
They are good sources of the trace minerals of iron, zinc, copper, manganese and selenium
They also have a high 'feed conversion rate', meaning that they can be farmed using relatively little land, water and energy compared to livestock.
Pestaurant 
Are you feeling a bit more open minded now? Well here's your chance to entomophagy (the correct term for eating insects, don't you know.)
Ireland's first 'pop-up pestaurant' will open this Sunday at Muckross Road, Killarney, Kerry.
Rentokil will be serving up an array of exotic cuisine including edible insects such as salted weaver ants, BBQ mole crickets and chocolate-dipped worms.
The pest control company says "it's all to celebrate the hard work that goes into keeping Irish pests under control".
Pestaurant Menu in full:
Drumroll please! 
Savoury:
Plain roasted locusts
Plain roasted mealworms
Plain roasted crickets
Mexican spice mealworms
Curry crickets
Sweet
Chocolate-covered mixed bugs
Chocolate bug bars
Scorpion lollipops (assorted flavours)
Mealworm lollipops (assorted flavours)
Cricket lollipops (assorted flavours)
Ant candy (Cherry flavour)
Ant candy (Apple flavours)