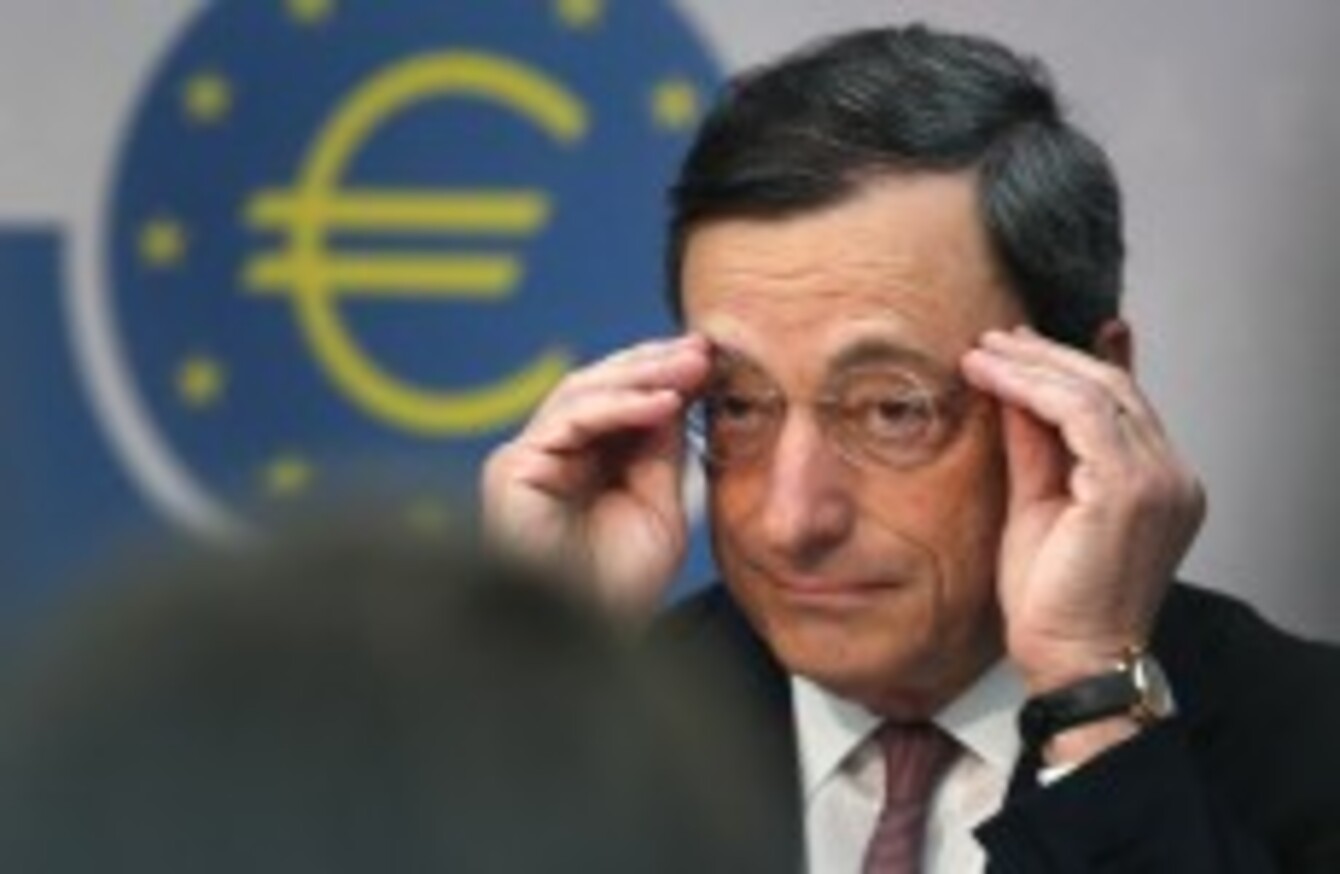 Image: Michael Probst/AP
Image: Michael Probst/AP
THE PRESIDENT of the European Central Bank has insisted that the single European currency is "irreversible" – but said the bank cannot step in to replace the role of politicians in doing what is necessary to save it.
Mario Draghi's comments came after the monthly meeting of the European Central Bank's governing board, at which the bank left its its main interest rates unchanged after its monthly governors' meeting.
While Draghi said the governors had been unanimous in agreeing to take new measures to shore up the euro, he did not divulge exactly what measures had been agreed – and said the bank could not act in lieu of political impetus.
"Monetary policy cannot fill the vacuum caused by lack of political action," Draghi said, throwing down the gauntlet to political leaders to take their own actions.
Many had expected Draghi to announce firmer details of a scheme to rescue the single currency after he remarked in London last week that he would do "whatever it takes" to ensure the stability and survival of the euro – a pledge he repeated today.
Draghi asserted that the ECB had received legal advice to the extent that the European Stability Mechanism – the new permanent eurozone bailout fund, due to take effect in September – would not qualify for a banking licence, and therefore could not access the ECB's infinite supply of funds.
Countries in need of financing would, in the first place, have to apply for funds from the current bailout fund the EFSF.
Earlier, Draghi had said the governors believed economic growth in the eurozone remained weak, "with the ongoing tensions in financial markets and heightened uncertainty weighing on confidence and sentiment".
"The euro is irreversible," he said, adding:
In order to create the fundamental conditions for such risk premia to disappear, policy-makers in the euro area need to push ahead with fiscal consolidation, structural reform and European institution-building with great determination.
He added that the bank could "undertake outright open market operations of a size adequate to reach its objective" – a statement interpreted by reporters afterwards to mean that the ECB will be resuscitating its programme of buying bonds from its member governments.