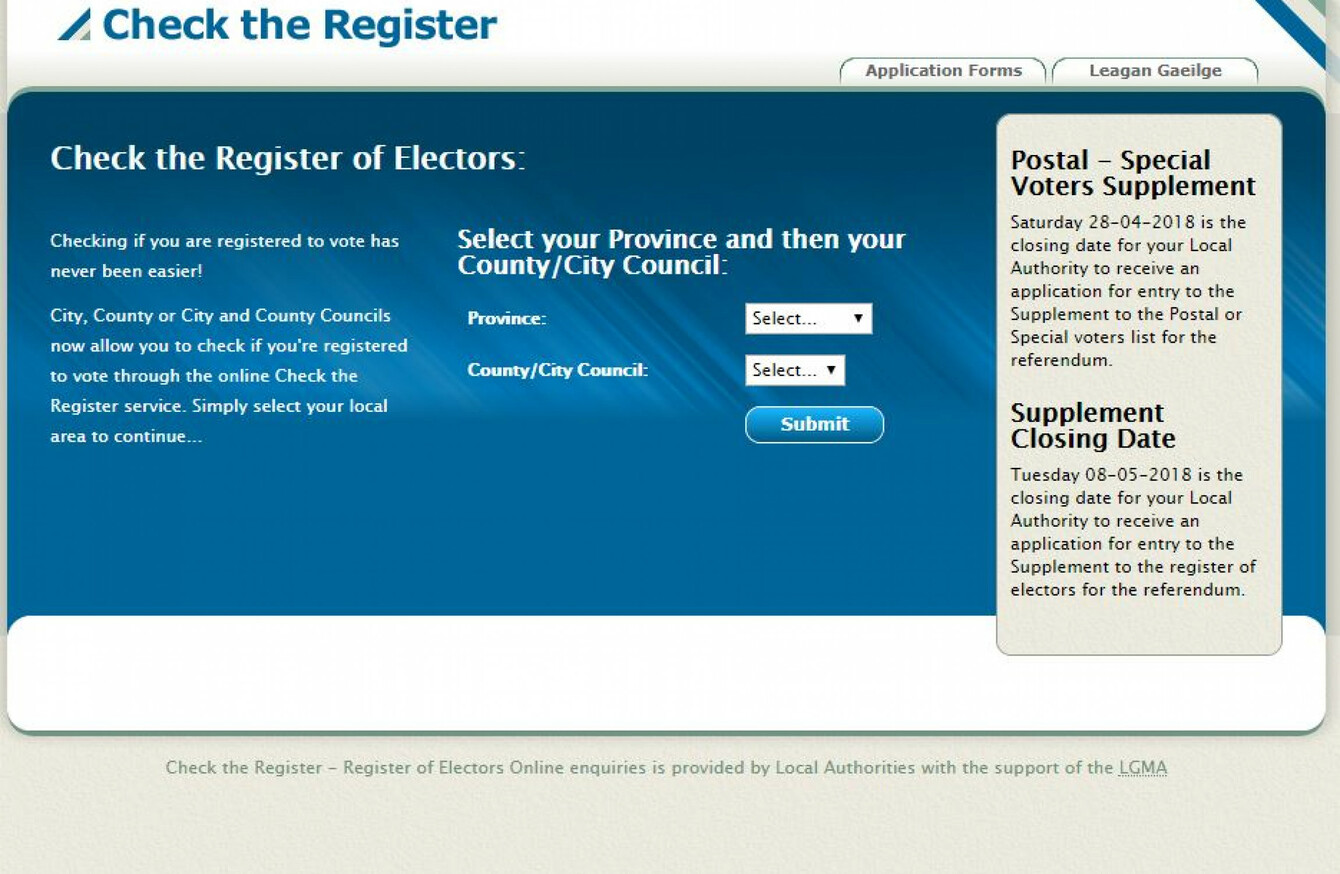 Image: checktheregister.ie
Image: checktheregister.ie
AS THE EIGHTH Amendment referendum draws closer, a number of people have been concerned about not being able to find themselves on checktheregister.ie.
The website is a service provided by local authorities so people can check their entries on the Electoral Register online.
As TheJournal.ie confirmed earlier this week, it is not possible for voters to be removed from the register over the phone by others, but people have still reported not being able to find themselves on the register online, despite having voted before.
For a variety of reasons, people have been unable to find their details on the register when typing in their details.
Amnesty's Colm O'Gorman was one who took to Twitter about not being able to find his details on the register, and this generated numerous responses from people who had found themselves with similar problems.
People have also brought their concerns to local representatives, with Sinn Féin TD for Limerick Maurice Quinlivan saying that a number of constituents had been in contact over the issue.
Details are crucial
Information is provided to checktheregister.ie - which is run by the Department of Housing, Planning and Local Government – by local authorities.
Based on their location in the country, people have been having issues finding themselves on the register with inputting eircodes working for some, but not others.
In a statement to TheJournal.ie earlier this week, a spokesperson for the Department said it is not possible to remove a third party from the register in advance of the referendum, and that "many of the doubts being cast online are unfounded".
Similarly, a spokesperson for Dublin City Council told TheJournal.ie that a large majority of people registered by 15 February this year will remain so until the referendum, unless it's in the case that a person has died or sends a written request in to have themselves removed.
"The onus is on the elector to check their status and that their details are correct when the draft register is published each year," the spokesperson said.
But, in many cases, people have found difficulty confirming that status either through their name or the address they provide.
The instances of this vary based on local authorities.
Following up with the Department again, a spokesperson told us that there are a few reasons why people might not be able to find themselves on the online register.
The spokesperson said: "The checktheregister.ie website requires a certain amount of precision when people are checking their details.
Therefore people need to be accurate in entering their details so fadas, apostrophes and other punctuation is important.
They added that if anyone had any doubts over whether or not they were on the register, they "should contact their local authorities directly".
#Open journalism No news is bad news Support The Journal

Your contributions will help us continue to deliver the stories that are important to you

Support us now
So if, for whatever reason, you cannot find yourself on checktheregister.ie, the department advises to ring your local authority. Once you are put through to the appropriate section, they will be able to tell you if you are registered to vote.
'Highest degree of accuracy'
Responding to a query from TheJournal.ie, South Dublin County Council said that local authorities work to "ensure the highest degree of accuracy" in the register and that it would be unlikely for someone to disappear from the register entirely.
And, if someone does happen to be deleted from the register in error, local authorities act to rectify the error immediately.
A spokesperson said: "Another reason for deleting a person is when an RFA form (to be included on the Register of Electors) is submitted with names and an address of all occupants in the household and on examining the database it is noted that another person not included on the form is currently registered at that address, they are deleted.
Every effort is made to ensure each person eligible to vote can vote. There are provisions in place where a person is deleted in error to be re-registered and publicity campaigns advising people to check the register to make sure they are registered. We also use the online deps systems to delete those people who have passed away.
So, if you have registered before, it's highly likely that you're still on the register.
If you can't find yourself using the online site, the best way to know for sure is to ring your local authority who can verify for you if are you on it.
And, if for any reason your are not registered to vote, you still have time. The deadline to register to vote in next month's referendum is 8 May.
With reporting from Paul Hosford