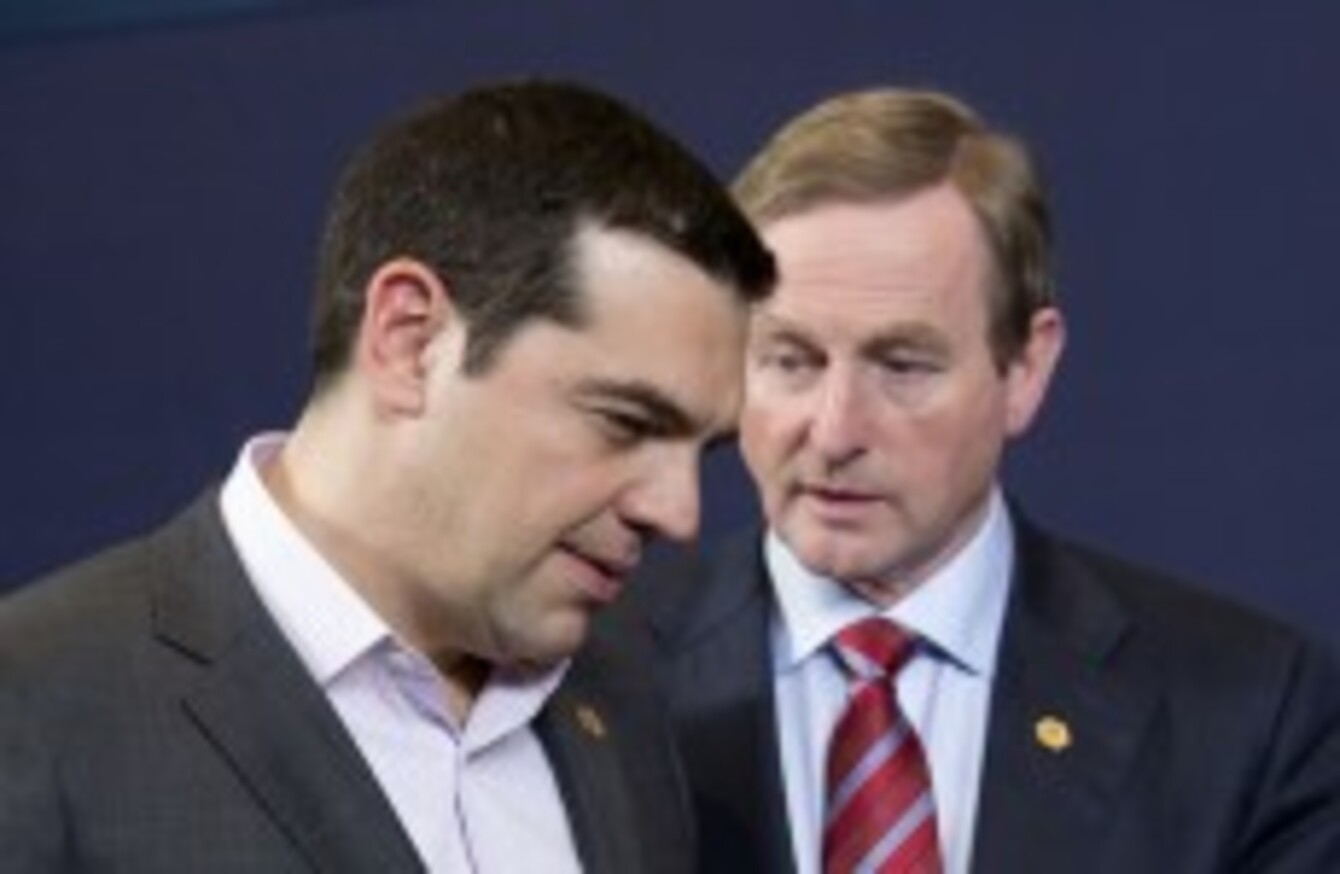 Alexis Tsipras with Enda Kenny (File photo)
Image: Francois Mori via PA
Alexis Tsipras with Enda Kenny (File photo)
Image: Francois Mori via PA
ENDA KENNY HAS revealed that he told Greek prime minister Alexis Tsipras that some European leaders didn't trust him prior to marathon talks on the debt-stricken country's bailout deal earlier this week.
The Taoiseach has defended Ireland's stance in negotiations on a third bailout for Greece in the face of criticism from opposition politicians that the government failed to stand in solidarity with the Greek people.
In an interview with the New Statesman magazine earlier this week, former Greek finance minister Yanis Varoufakis claimed that other indebted eurozone countries were "energetic enemies" of his government's efforts to negotiate a better deal for Greece.
Speaking to Today with Seán O'Rourke, Kenny revealed the advice he gave to Tsipras: "I actually spoke to prime minister Tsipras myself before the meeting started and I said to him:
'Alexis, let me give you a piece of advice here, if I may. There are people around the table who don't trust you.
'You have got to show them that you're serious about what you say here because you won't build trust the way it's been happening.
'You've got to have a step-by-step demonstration and proof of your conviction and you've got to go back to your parliament.'
Kenny said that during its programme Ireland's finance ministers had sought to build a relationship with the Troika and put forward alternative measures to those being proposed that would not tax work or create barriers to employment.
He rejected claims that Tsipras had been "thrown under the bus" by his fellow European leaders last weekend.
The Fine Gael leader said that Tsipras' predecessor Antonis Samaras had overseen a primary budget surplus and one per cent economic growth.
"In the run up to the [last] election in Greece, which was triggered after the presidential election, the rise of populism brought about all of this instability.
There was a pattern of growth and a pattern movement in the right direction but Syriza came along and said: 'You don't have to pay for this, we're going to re-employ all the people who've lost their jobs and everything.'
While consistently expressing his support for the Greece to stay in the euro and sympathy for its people, the Taoiseach bluntly opposed the idea of debt relief when asked about the matter during crisis talks on 25 June.
Finance Minister Michael Noonan also reportedly insisted that emergency ECB funding for Greece's banks be reduced until it retracted demands for debt writedown. Noonan later told the Dáil his comments had been misrepresented.
The government has since insisted as recently as last week that it "fully and wholly supports radical debt re-profiling for Greece" as distinct from debt write off.