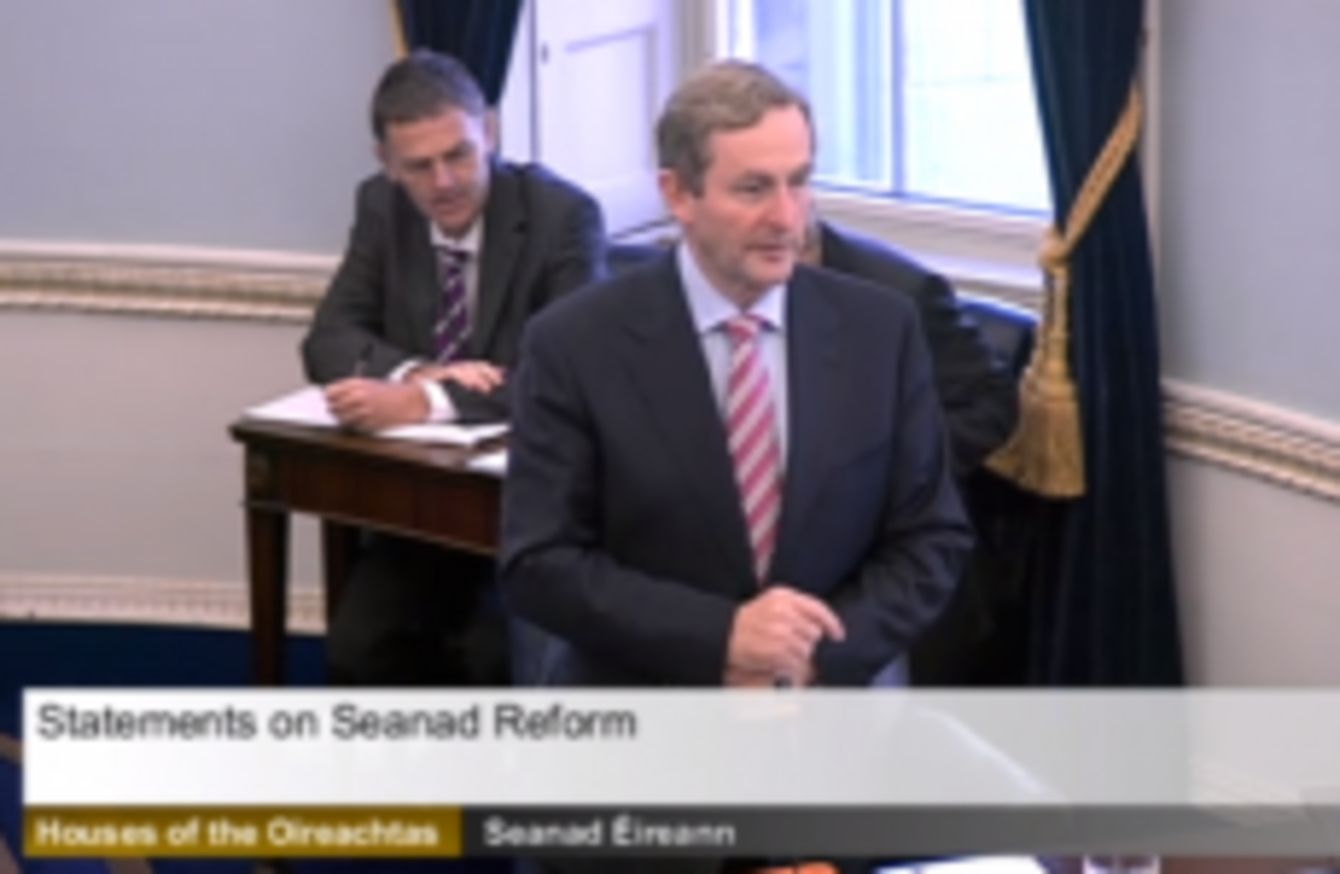 Enda Kenny in the Seanad this afternoon
Image: Screengrab
Enda Kenny in the Seanad this afternoon
Image: Screengrab
Updated 4.09pm
TAOISEACH ENDA KENNY has been hearing senators' ideas for reforming the Seanad in the wake of the defeat of a referendum to abolish it earlier this month.
"Well, I come in peace, not in war," Kenny told members this afternoon, saying he wanted to hear senators' ideas "on how this house can be made as effective as possible".
Senators called for their chamber to be given a chance to scrutinise EU legislation and statutory instruments as well as for more time for private members' time.
Several senators called for the implementation of the Seanad reform bill put forward by two independent senators, the Quinn-Zappone Bill.
The Taoiseach reiterated his intention to enact the 1979 referendum result to widen the electorate for the university panels so as that all third level graduates can vote, and said he wanted "input and advice" on how this can be achieved.
He said that suggestions on reform needed to be "workable, legally and constitutionally sound".
Before hearing from senators, Kenny said that he did not have "any interest in some of the bombastic triumphalism" he heard during the campaign.
"The question was put, the decision was made and I've moved on from that," he said.
Fianna Fáil's Darragh O'Brien said senators should be able to scrutinise statutory instruments and called for the opposition senators to be allowed additional time in the Seanad for private members' bills. He also called for the relaxation of the whip system.
Independent senator Jillian van Turnhout, who was nominated by the Taoiseach, said that all parties, and not just the government, use the whip system with "equal vigour".  She criticised the delay with a bill she introduced in the Seanad last year to ban smoking in cars with children.
The Fine Gael leader in the upper house, Maurice Cummins, called for the creation of a task force to look at all aspects of the Seanad and said there should be greater public consultation.
He also suggested that there be a dedicated committee week where TDs and Senators focus on their Oireachtas committee work.
Labour's Seanad leader Ivana Bacik broadly called for the implementation of the reforms outlined in the bill put forward by senators Feargal Quinn and Katherine Zappone, both of whom also spoke in favour of their bill.
Sinn Féin's Trevor Ó Clochartaigh said that the country has a very weak local government and complained that both houses of the Oireachtas "are not fit for purpose in 21st century Ireland".
Referring to the recent referendum, Fianna Fáil senator Labhrás Ó Murchú noted: "Nothing focusses the mind like knowing you're going to be hanged in the morning."
One senator, Marc MacSharry, apologised to the Taoiseach if he took offence to the "intemperate" language he used earlier this year when he said Kenny was acting like "a clown".
Responding to senators Kenny said there had been a lot of diverse opinions expressed in various reports on Seanad reform that have been published over the decades.
He said that no analysis had been done as to what the proposals for reform would mean if followed through. Kenny said he intended to consult with party leaders on the best way forward.
"We need to engage further," he said.
First published 3.19pm