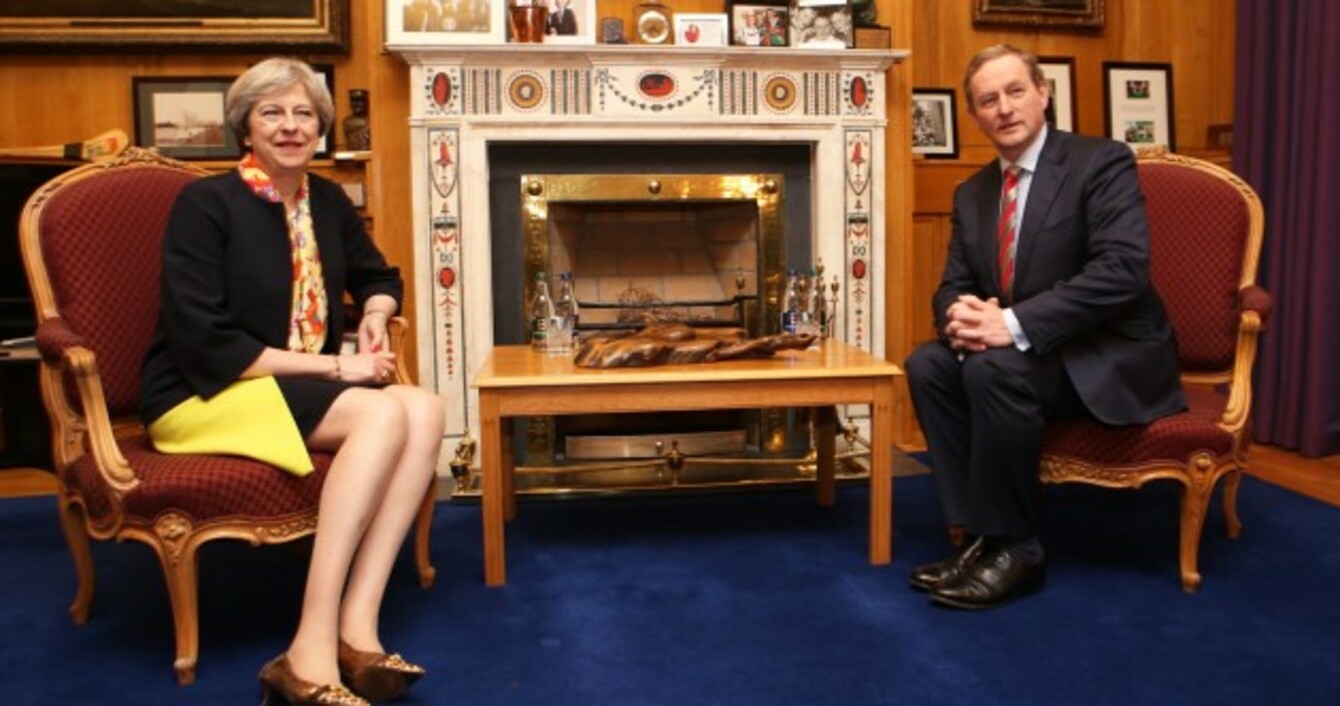 Image: Chris Bellew Fennell Photography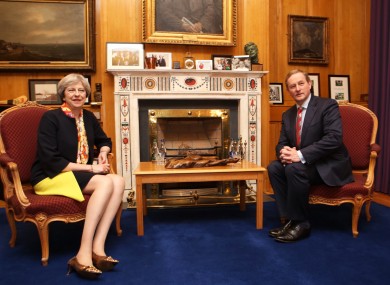 Image: Chris Bellew Fennell Photography
TAOISEACH ENDA KENNY has said he disagrees with US President Donald Trump's immigration travel ban and said he will tell him that to his face when he meets him during his St Patrick's Day visit.
In a joint press conference with UK Prime Minister Theresa May in Government Buildings this afternoon, the Taoiseach said he intended to accept Trump's invitation to the White House in March for various reasons.
Pressure has been mounting on the Taoiseach over the weekend to snub the invitation, with over 30,000 people signing an online petition calling on him not to visit.
But at today's press conference, he reiterated that he would not be cancelling the visit.
"First of all, I think it is really important that I get to say face-to-face to the president the issues that are important to us," said Kenny, adding that he disagreed with Trump's latest immigration policy which has caused confusion and protests around the globe.
"I don't agree with it – I will obviously say that to the president and vice president when I meet with them."
Kenny explained that it has been tradition for the Taoiseach to travel to the White House for St Patrick's Day. He said that it offers opportunities to speak to senators, congress people and mayors about issues that matter to the Irish.
I think it's really important that I be able to say face-to-face to the President the issues that are of importance to us.I don't want a situation where the 35 million Irish-Americans who sign on for connections with this country or the 50,000 undocumented Irish that are in the States are left without contact or connection.
During the press conference, Kenny also announced that the US pre-clearance policy at Dublin and Shannon airports will be reviewed. This afternoon it emerged that one person was turned away at Dublin Airport since Trump's immigration ban.
"I have asked for a complete review of pre-clearance facilities here in Ireland," said Kenny.
The Taoiseach pointed out that pre-clearance at Irish airports has been an enormous convenience in terms of efficiency and economics over the years.
While he said he did not agree with Trump's immigration policy, he said it was "important to keep contact very much alive" between the two countries.
We have had a great influence in the US over the years, we still have that influence and we intend to use it.
So I think it is more important now than ever before that we speak face-to-face with the American president and explain to him the issues and the matters of  importance to us here.
Source: TheJournal.ie/YouTube
On her first visit to Dublin as UK prime minister, May was also asked about Donald Trump.
While there have been calls for Kenny to boycott the St Patrick's Day trip to the White House, May is feeling the heat over a planned trip by Trump to the UK announced for later this year.
"The US is a close ally of the United Kingdom. We work together across many areas of mutual interest," she said.
Thousands of people have signed a petition calling for the Trump invitation to be revoked. However, when asked about it today, May said:
That invitation stands.
Northern Ireland
In relation to Brexit and Northern Ireland, May said they were both she and Kenny were "personally committed to strengthening the relationship" between Ireland and the UK.
"I know for the people of Ireland and Northern Ireland, the ability to move freely across the border is an essential part of daily life, which is why the Taoiseach and I have both been clear that there will be no return to the borders of the past," said the UK Prime Minister.
Both leaders said any manifestation of a hard border in the North would have "very negative consequences".
May and Kenny reiterated each other's points about the border issue, stating they wanted it to be as "seamless", "friction free" and as "trouble-free" as possible.
Describing their earlier private discussion as "frank" and "constructive", Kenny said both countries were in agreement that the trading ties between the two countries should be "recognised and facilitated" as negotiations go forward.
He said this was an "absolute priority" for the Irish government.