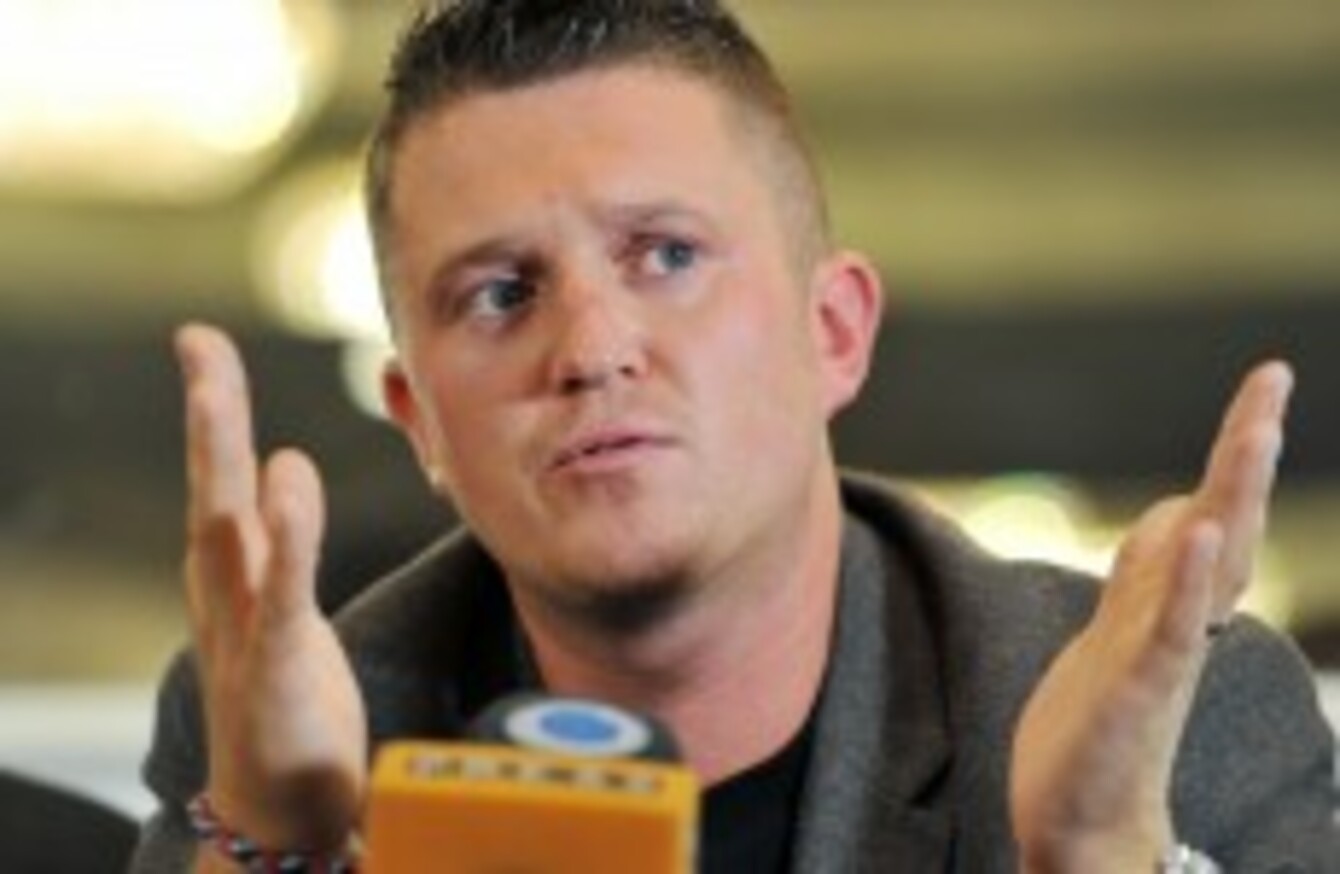 Tommy Robinson at a press conference announcing his decision yesterday
Image: Nick Ansell/PA Wire/Press Association Images
Tommy Robinson at a press conference announcing his decision yesterday
Image: Nick Ansell/PA Wire/Press Association Images
THE LEADER OF the far-right, anti-Islamic English Defence League (EDL) has quit the group, saying that he has been unable to keep its extremist elements at bay.
The surprise move by Tommy Robinson, whose real name is Stephen Yaxley-Lennon, was confirmed yesterday in a statement issued through the anti-Islamic extremism group, the Quilliam foundation.
Robinson and his deputy Kevin Carroll left the EDL because, the Quilliam statement said, "they feel they can no longer keep extremist elements at bay".
Robinson set up the group in Luton in 2009 as a response to protests against British forces arriving home from Afghanistan. In the four years since then the EDL has become notable for a number of protests it has held in a number of English cities.
The EDL has no formal membership structure but by some estimates has up to 35,000 supporters.
The 30-year-old, who has an Irish mother, said he had been considered the move for some time because he increasingly believed the protests were no longer working.
He said: "I have been considering this move for a long time because I recognise that, though street demonstrations have brought us to this point, they are no longer productive.
"I acknowledge the dangers of far-right extremism and the ongoing need to counter Islamist ideology not with violence but with better, democratic ideas."
Robinson (right) with English Defence League supporters outside the Old Bailey in central London last June. Pic: Gareth Fuller/PA Wire
EDL protests have frequently sparked clashes with anti-fascist protesters.
Both Robinson and Carroll are facing trial later this month for allegedly attempting to defy a ban on marching to the scene of British solider Lee Rigby's violent death in Woolwich last May.
Speaking to BBC Radio 5 Live, Robinson shed more light on his decision to leave the EDL:
"When some moron lifts up his top and he's got the picture of a mosque saying 'boom' and it's all over the national newspapers, it's me, it's when I pick up my kids from school the parents are looking at me, judging me on that."
In a statement on its website the EDL said that it understood and respected the decision of Robinson and Carroll to leave the group.
"The EDL will continue its ideological struggle against Militant Islam and we collectively will not Surrender!," the statement concluded.
Quilliam was founded by Maajid Naawaz, a former Islamic extremist, in a bid to discourage British Muslims from turning to fundamentalism.