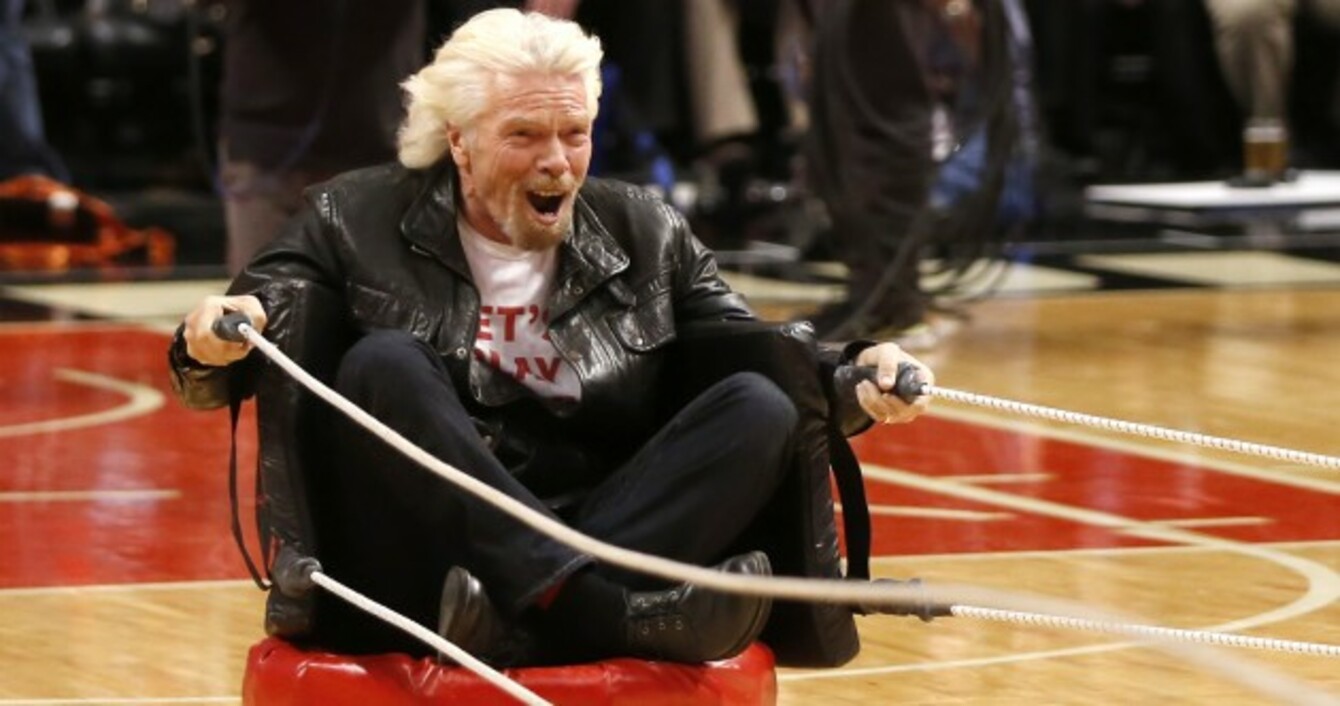 Virgin founder Sir Richard Branson
Image: AP Photo/Charles Rex Arbogast
Virgin founder Sir Richard Branson
Image: AP Photo/Charles Rex Arbogast
ASK THE AVERAGE punter to name an entrepreneur and there's a good chance they would nominate self-made billionaires like Virgin's Richard Branson or Facebook's Mark Zuckerberg.
But those unrealistic role models could be turning Ireland's would-be company founders off choosing entrepreneurship as a "viable career choice", according to the head of Startup Ireland.
"I think the role models we need to celebrate more are those who have grown businesses successfully to €5 million or €10 million and to start looking at how that is achieved," the group's CEO, Eoin Costello, told TheJournal.ie.
"Setting the very extreme examples like the Alan Sugars and the Richard Bransons, for a lot of people that is a deterrent – they don't feel motivated by someone who is a billionaire, they just think 'I can't see the pathway for me to achieve that goal'."
In 2008 Costello sold his own web-hosting company Novara to Digiweb for an undisclosed seven-figure sum before taking over the startup programme at the DIT Hothouse.
More recently, he launched Startup Ireland, an independent group with the backing of both the government and the Bank of Ireland, as one of its co-founders.
Cracking startups
Costello said encouraging more entrepreneurs to build startups was vital to Ireland as they were the companies that were most often growing their operations, creating "disproportionate" innovation and recruiting workers as they expanded.
"While the very big players and the multinationals are important, a lot of large businesses excel in optimising their business processes and looking at ways of reducing costs," he said.
So all modern economies now realise they've got to crack this whole startup ecosystem agenda, because that's where the jobs and innovation in the future are coming from."
Central Bank research has shown startups, or companies that are five years old or younger, are responsible for two-thirds of all new jobs created in Ireland.
I think at the moment where we are at in Ireland, compared to say Silicon Valley or Tel Aviv, is that being an entrepreneur is a vocation," Costello said.
For building a company to be seen as a valid profession there needed to be a far higher success rate, he added, with more "exits" like Colm Lyon's recent €115 million deal to sell his Dublin-based Realex Payments.
"The more people who see that the trajectory for success is there, the more people see role models that are successful in creating jobs and wealth, the more people will feel this a definite profession that I can pursue."
Startup Ireland will hold its first "Startup Gathering" in October to promote the sector and Costello said from an early age students should be introduced to the possibility of careers as company founders.
If I was to look at the educational system, the more opportunities there are for learning by doing in entrepreneurship – like sport – be it through boot camps or startup weekends, to enable people to see what's involved," he said.
Despite some local firms complaining it was difficult to find skilled staff because the big multinational employers were sucking up most of the talent, Costello said the presence of companies like Google and Facebook was a "huge help" to startup networks.
The talent pool, the mobility of labour between those firms and startups is very important, there are the opportunities for 'breakouts' … that's the kind of thing we need to see more of if Ireland is going to become a global startup hub."
However he said the country did need to "crack" the concept of share options in a tax-effective way for employees to offer more incentive for those willing to take a pay cut to join a startup.
There was also the issue of high capital gains taxes for people who sold out of early-stage businesses.
Startup Ireland has complained the Republic's 33% rate acted as a disincentive to investment, particularly when compared to the UK's 10% tax under its Entrepreneur Relief Scheme.
This month, as part of TheJournal.ie's ongoing startup and small and medium enterprise (SME) focus, we are looking at recruitment and building your career.
To view other stories from our collection, click here.