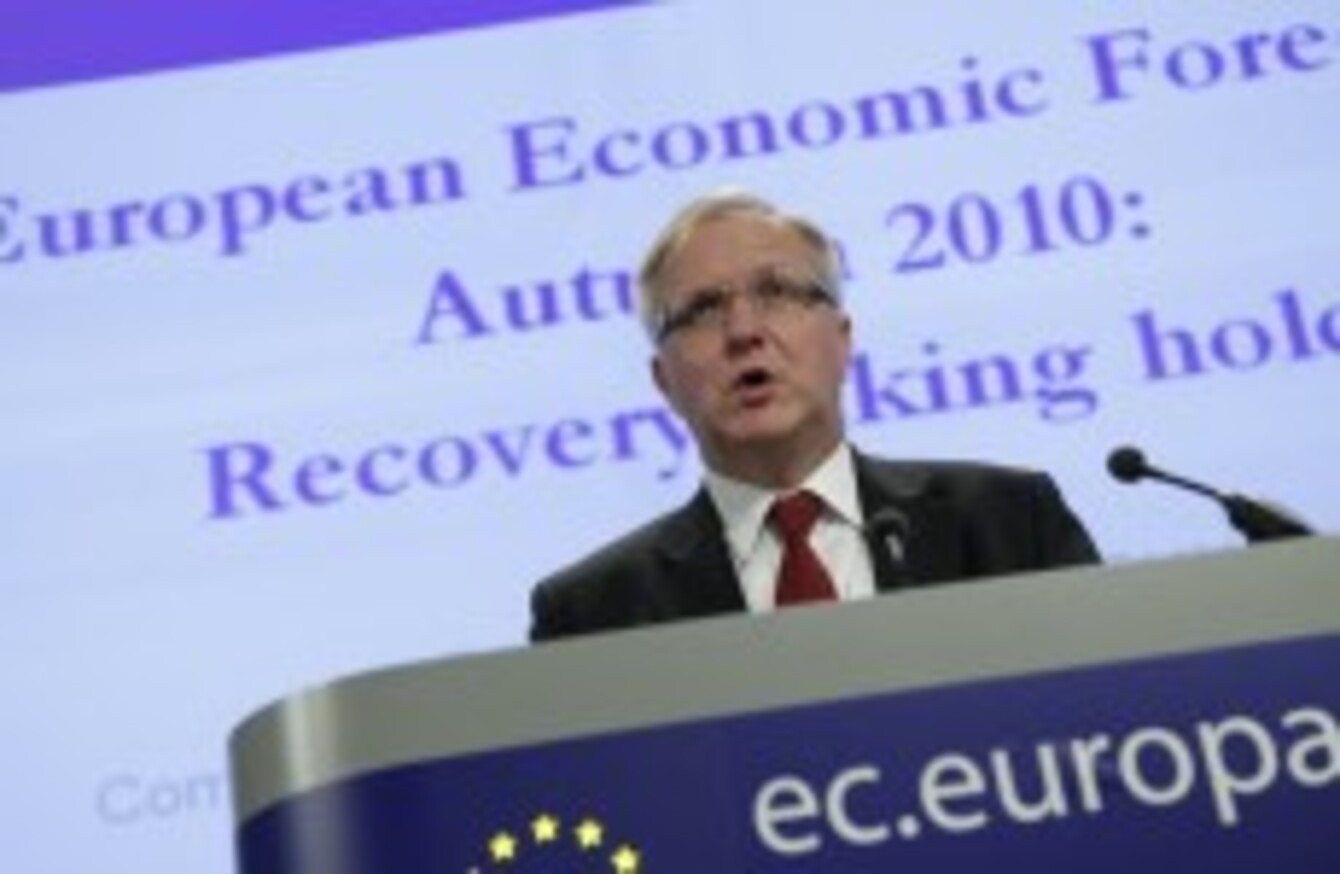 Image: Virginia Mayo/AP
Image: Virginia Mayo/AP
THE EUROPEAN COMMISSION has issued new estimates for economic growth within the EU in the coming years – and has put itself on a collision course with the Irish government by halving Dublin's projections for growth.
The latest edition of the European Economic Forecast, published this morning, estimates Ireland's economic growth for 2011 to come in at 0.9%, with 1.9% the following year.
By comparison, however, Ireland's four year National Recovery Plan – published only last Tuesday, with the apparent blessing of European economics commissioner Olli Rehn – based its budgeting projections on a planned 1.75% growth in GDP next year, and at 3.25% in 2012.
If the European forecasts are taken to be more accurate than those upon which the government's four year plan is based, the measures of the plan could turn out to be far less effective than the Irish government had hoped.
The Irish Times reports that the forecast for average growth across the European Union is given as 1.5%, meaning that the Irish government's estimate for the size of Ireland's economic growth next year exceeds the projected average growth of the entire 27-nation bloc.
By comparison, the EC forecasts suggest that Germany's economy would grow by 2.2%, France's by 1.6%, and Italy's by 1.1%. Only Greece and Portugal were on course to see an overall contraction of GDP in 2011.
Olli Rehn, in a statement, said Ireland's was nonetheless a "flexible and open economy which has the capacity of rebounding relatively rapidly from this recession."
Ireland is likely to find out in the week before Christmas if it has fallen into a 'double dip' recession, with the economic stats for the third quarter of the year due for publication then. Ireland recorded negative growth in GDP in the second quarter.