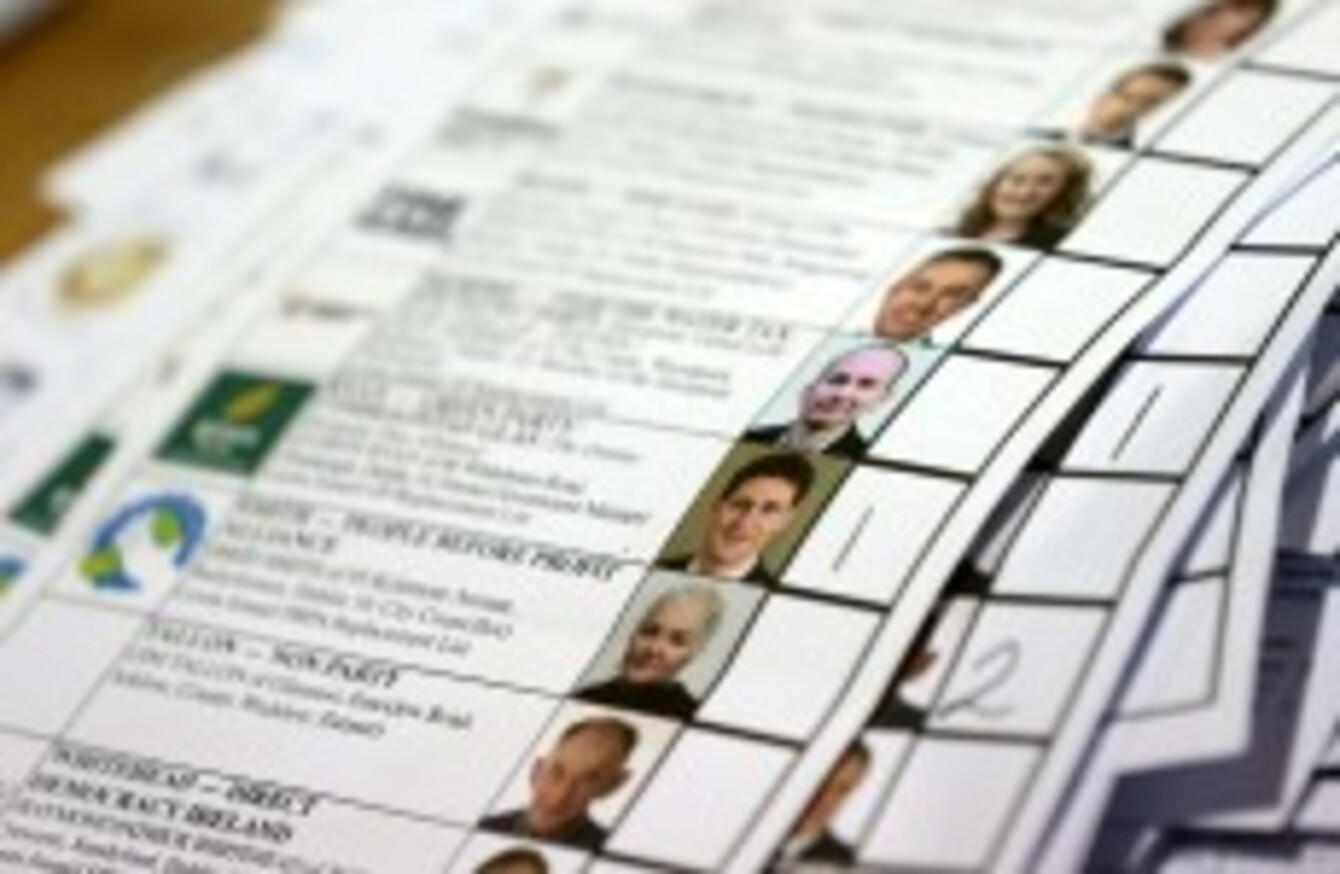 Image: Laura Hutton/Photocall Ireland
Image: Laura Hutton/Photocall Ireland
DUBLIN HAS ELECTED Lynn Boylan of Sinn Féin as Ireland's first MEP of 2014.
She was close to the quota on the first two counts (83,264 and 84,289) but was elected on the third count, with 89,764 votes. The quota had been 88,144.
It looks very likely that Brian Hayes (FG) will take the second seat, while Eamon Ryan (Greens) and Mary Fitzpatrick (FF) could be battling for the third and final seat there. There is also a slim chance that Nessa Childers (independent) could challenge those two.
Emer Costello (Lab) was knocked out in the third count, where she had 27,194 votes. Brid Smith (PBP) went out in the second. These four candidates were knocked out in the first round: Tom Darcy (DDI) 4,022, Raymond Whitehead (DDI) 3,133, Jim Tallon (Ind) 2,244, Damon Wise (Fís Nua) 1,147.
The South constituency will not be able to reveal a first count tonight. It will call a halt to counting at 11pm and restart at 9am tomorrow.
There were 15 candidates in the South and the ballot paper is apparently very difficult to handle, thereby slowing down the count.
It appears there that Brian Crowley (FF) will do a sweep of the top spot, and tallies are indicating Liadh Ní Riada (SF) and Seán Kelly (FG) will take the second and third seats, although Deirdre Clune (FG) might still be in with a shout for the fourth and last seat. There is a small suggestion that Grace O'Sullivan (Greens) could challenge her for that.
Midlands-Northwest is also not going to bring home a first count tonight – in Castlebar, it is likely they too will call a halt to the count at 11pm and restart at 9am.
This is a massive constituency, spanning parts of 15 counties, and returning four seats.
Ss much reported,  Luke 'Ming' Flanagan (ind) is in the top polling spot there according to tallies and exit polls.
The second seat should go to Mairead McGuinness (FG). The third seat could be a fight between Matt Carthy (SF), Pat 'the Cope' Gallagher (FF) and Marian Harkin (ind).