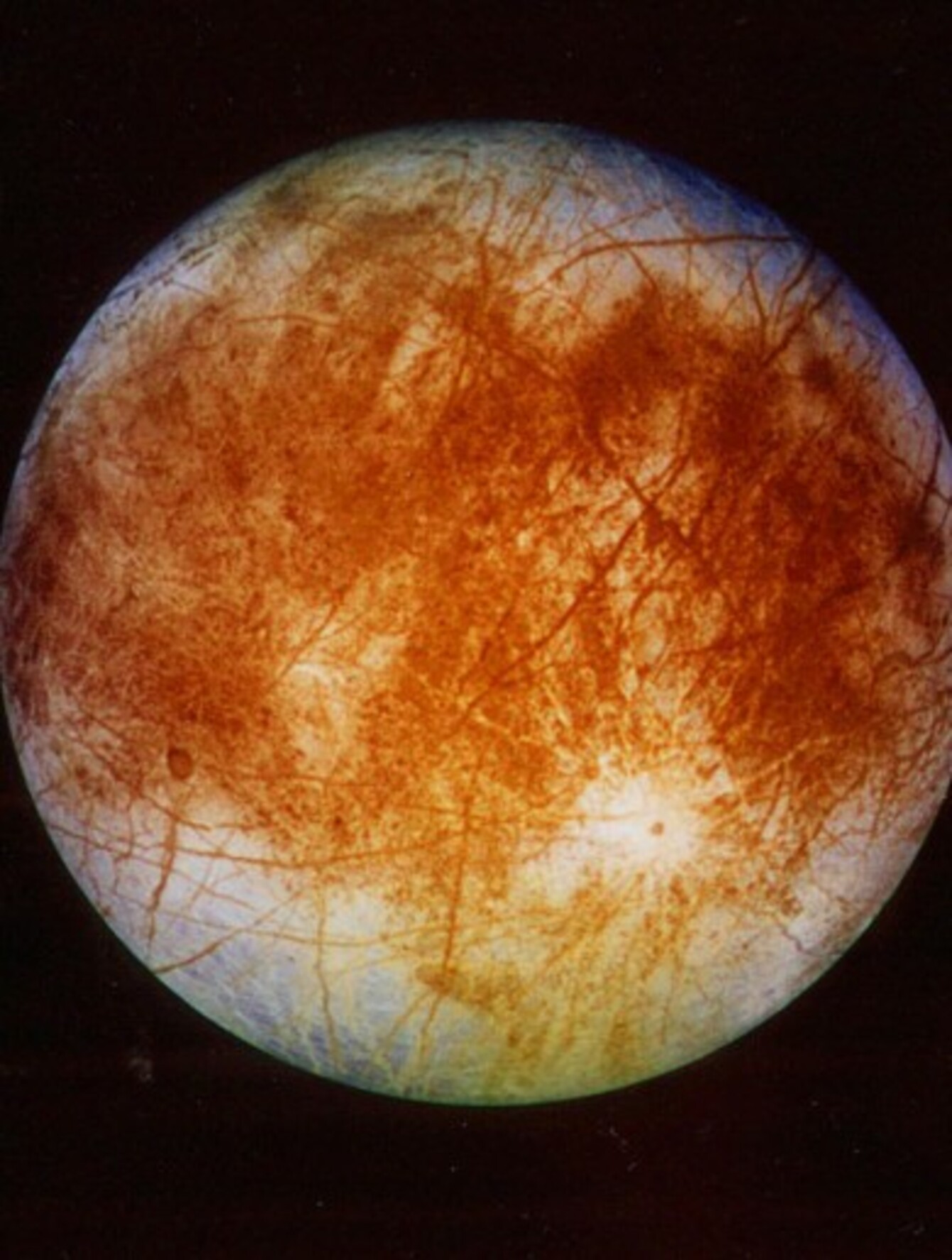 Scientists have found possible evidence of liquid water on Jupiter's ice-covered moon, Europa
Image: AP/Press Association Images
Scientists have found possible evidence of liquid water on Jupiter's ice-covered moon, Europa
Image: AP/Press Association Images
SCIENTISTS HAVE UNCOVERED possible evidence of shallow lakes beneath the surface of Jupiter's icy moon, Europa.
The presence the liquid water, thought to be equal in volume to the North American Great Lakes, may point towards a potential habitat for life outside Earth.
Results published in the journal Nature, by researchers at the University of Texas at Austin, detail an analysis of the surface of Europa that suggests a body of water exists just 3kms below the surface.
Europa has long held the fascination of scientists because of its so-called "chaos terrains" – ridges and cracks in the moon's surface that, theoretically, could point towards the existence of water.
In the 1990s NASA's Galileo probe, launched by the space shuttle Atlantis in 1989 to Jupiter, found evidence of a deep ocean far beneath the moon's surface, which raised hopes about a possible habitat for life. The ocean discovered beneath Europa's surface contains more water than all of the Earth's oceans combined – although the surface is completely frozen because of its distance from the sun.
Uploaded by clarksvilletenn via YouTube/University of Texas at Austin

After the discovery of Europa's ocean, scientists pointed out that organic compounds would need a way of rising to the surface of the moon in order for the environment to support life: this latest discovery could provide that link due to the way subsurface lakes and channels form.
Britney Schmidt, lead author of the paper and postdoctoral fellow at the Institute for Geophysics, University of Texas at Austin, said: "Now, we see evidence that it's a thick ice shell that can mix vigorously and new evidence for giant shallow lakes. That could make Europa and its ocean more habitable."
NASA is considering sending an investigatory mission to Europa as a result of the discovery.
"The data opens up some compelling possibilities," said Mary Voytek, director of NASA's Astrobiology Program at agency headquarters in Washington. "However, scientists worldwide will want to take a close look at this analysis and review the data before we can fully appreciate the implication of these results."
Jupiter has a total of 64 named moons, the four largest of which are classed as Galilean moons. Europa is the smallest Galilean moon.
Jupiter's moon Europa

Jupiter's moon Europa

Jupiter's moon Europa