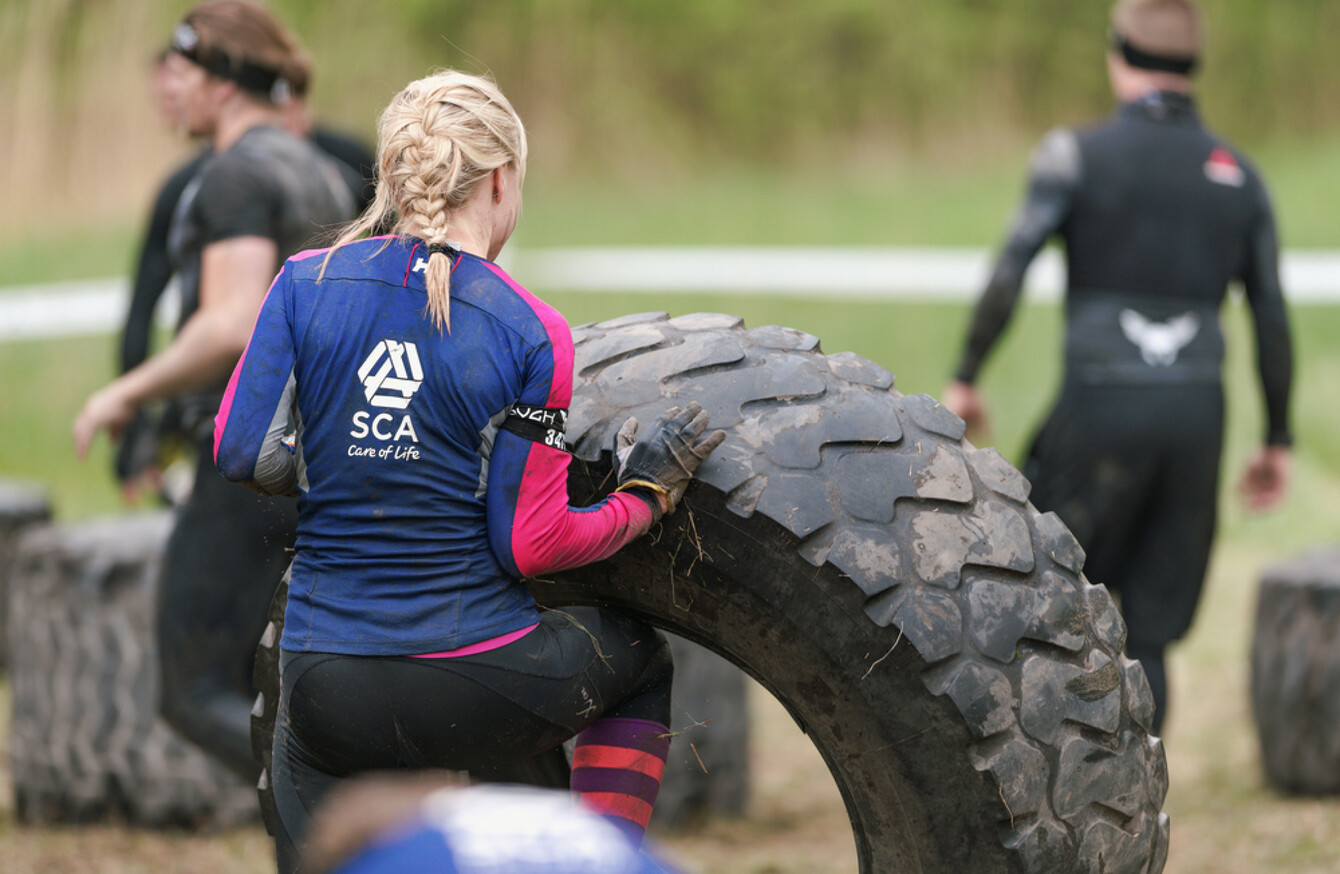 An obstacle course was one of the sporting events organised at Midland Regional Hospital for staff (file photo)
Image: Shutterstock/Stefan Holm
An obstacle course was one of the sporting events organised at Midland Regional Hospital for staff (file photo)
Image: Shutterstock/Stefan Holm
LESS THAN ONE-THIRD of adults in Ireland meet the minimal physical activity recommendation of 30 minutes of moderate activity five times a week.
Workplaces around the country are trying to combat this by getting their employees involved in exercise and healthy eating initiatives.
Regular physical activity reduces people's risk of heart disease and stroke and, with this in mind, Irish Heart Foundation's Active@Work programme supports companies that help their staff achieve a healthy lifestyle.
Enda Campbell, Irish Heart Foundation's Workplace Health Promotion Officer, said it's understandable that some people can't get 30 minutes of moderate exercise five times a week due to work, commuting and other commitments.
If possible, Campbell recommends doing exercise in shorter bouts – such as 10 minutes – and working this into your daily routine.
"That could mean getting off the bus a couple of stops early … or going for a bit of a stroll on your lunch break," he said.
Noting that getting exercise can be more difficult if you drive to work, Campbell said people could consider parking somewhere along their route and cycling the rest of the way. "This is not about drastic measures, it's just about getting into a routine."
Campbell noted that research carried out by Ibec found out that an active workforce can reduce sick days by 27% and broader absenteeism by up to 20%.
Specialist nurse
Irish Heart Foundation arranges for a specialist nurse to visit companies that sign up to the Active@Work programme. They test people's blood pressure – the best way of identifying risks of cardiovascular disease – as well as carrying out cholesterol and diabetes tests and carbon monoxide testing for smokers.
#Open journalism No news is bad news Support The Journal

Your contributions will help us continue to deliver the stories that are important to you

Support us now
The nurse then helps people set out a plan to achieve their goals for increasing fitness or losing weight.
As part of the programme, some organisations hold fitness classes or set up a running club or sports team.
Some employees at Midland Regional Hospital in Tullamore, Co Offaly have set up a running club, while a weekly circuit training class also takes place.
Miriam Weir is a multi-task attendant at the hospital. She was inspired to take up running when her husband and other colleagues ran a 10k race in Mullingar in 2016.
"My fitness level wasn't great – I wasn't active, I was overweight, I had high enough BMI (body mass index) but I got involved … They all came back excited, I said I'd do [the race] next year.
"I did the couch to 5k, that had me out running and it just took off from there."
'To run 5km was just brilliant'
Weir, 42, said she sometimes wanted to give up, but her colleagues kept encouraging her to stick at it. She did smaller runs and walks a few times a week until she was able to run 5k without stopping.
"Plenty of evenings I didn't want to go, but I did because I didn't want to let them down. It's good to have that support, it's a social thing as well.
"The achievement to run 5km was just brilliant," she said.
Weir has lost over two stone through running and healthy eating. Last year, she did the Women's Mini-Marathon in Dublin and her goal this year is to run a half-marathon in Mullingar.
It's very good for your mind to get out. When you're running you just let go of everything, you're focusing on breathing and what your goal is. Anything that's on your mind, you put it on the back burner.
Theresa Bracken works in the hospital's cardiac unit. She goes to a circuit training course at the hospital once a week, as well as walking regularly.
"I find it very good. Otherwise you just go straight home from work, you get a burst of energy after the class, it's a great boost.
"Beforehand you'd often not be in the humour to go, you'd feel too tired and say you're not going to go but you tell yourself, 'Right, I am going to go' and you feel great afterwards."
Bracken, 55, said her work at the hospital can be quite physical as it involves pushing patients from one area to another.
Bracken and Weir have both taken part in sports challenges organised by the hospital, saying they're a great way to meet people from other departments who they might not know otherwise.
Campbell said a company hoping to create a healthier environment at work should set out a plan that's sustainable. If it can't organise its own classes, the business could identify local clubs and events that staff could go to, he suggested.
"The key thing is that you need variety – something that is appropriate to one proportion of the workplace might not be suitable for another group."
For more information about Active@Work, click here.