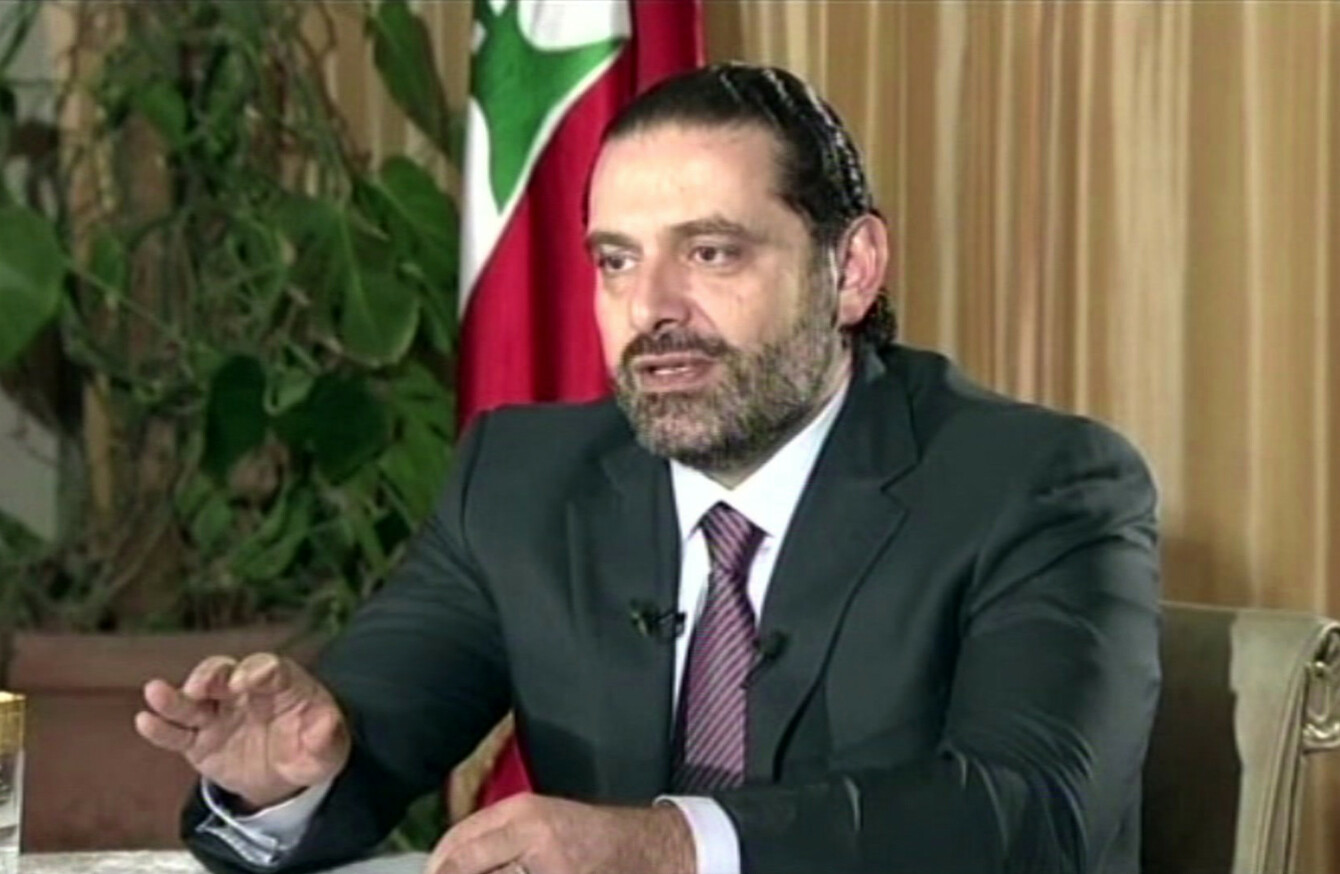 Lebanon's Prime Minister Saad Hariri giving an interview from Saudi Arabia.
Image: Future TV/AP/PA Images
Lebanon's Prime Minister Saad Hariri giving an interview from Saudi Arabia.
Image: Future TV/AP/PA Images
SAAD HARIRI SENT shockwaves through Lebanon when he resigned as Prime Minister unexpectedly last week.
He has since given an interview from Saudi Arabia and said that he was "free" in the kingdom but the Lebanese President Michel Aoun has said he believes Hariri is being held against his will.
Lebanon has become a central focus for multiple tensions in the region, with Saudi Arabia and Iran heavily involved while western countries have called for stability.
So, what's going on here? Why did Hariri resign? And what could it mean for the region?
Resignation
Last week, Hariri announced his resignation as Prime Minister in a televised address from Saudi Arabia, citing Iranian influence in Lebanese affairs.
Announcing it in such a way fueled speculation that the Saudi royal family had forced him to step aside.
He made the announcement on 4 November, but didn't make any other statements for over a week. When his private plane returned to Lebanon, he wasn't on it.
Speculation abound that Hariri, who is a Saudi national, was forced to resign and even given a script by Saudi officials.
Reuters reported that Hariri had his phone confiscated when he touched down in Saudi Arabia.
Lebanese authorities, meanwhile, demanded the return of Hariri to the country.
"Today we demand the return to the nation of our Prime Minister Saad Hariri," tweeted Foreign Minister Gebran Bassil on Thursday.
The foreign minister is the son-in-law of Lebanese President Michel Aoun, who has not yet accepted Hariri's resignation and is awaiting his return before taking any decision.
As of today, he has not yet returned.
Iran-Saudi Arabia tensions
This crisis for Lebanon is coming against the backdrop of increasing tensions between Iran and Saudi Arabia, who both support different regimes across a number of Middle-East countries.
Lebanon is currently split into camps led by Hariri and Iranian-backed Hezbollah, and it is feared Hariri's shock resignation could plunge the country into violence.
Hariri spoke for the first time in a week in an interview on Sunday. Appearing nervous, he said his life was under threat in Lebanon and that he was free in Saudi Arabia. He also said he would return home "soon".
Crucially, he also said he would consider rescinding his resignation if Lebanese factions seriously committed to keeping out of conflicts in Syria and Yemen, where both Saudi Arabia and Iran have opposing interests.
Hezbollah said this interview showed that Hariri was coerced into the resignation and dismissed suggestions it was threatening the Prime Minister's life.
Both Saudi Arabia and Iran have denied interfering in Lebanese politics.
Iranian foreign ministry spokesperson Bahram Ghassemi said: "Lebanon's internal affairs concern Lebanon, and we never intervene in the internal affairs of other countries.
Hariri's resignation was sudden and suspect, but we hope that with his interview last night, he will return to Lebanon as soon as possible so that the legal process of his resignation can be applied.
The Saudis and the Iranians have been locked in a fierce war of words since Hariri's resignation.
Several hours after it was broadcast, Saudi Arabia said its air defences near Riyadh intercepted and destroyed a missile fired from Yemen, where a Saudi-led coalition is battling Iran-backed Shiite rebels.
Saudi Arabia's powerful Crown Prince Mohammed bin Salman accused Iran of "direct military aggression". Tehran denied any involvement in the missile attack, with President Hassan Rouhani warning that Iranian "might" fend off any challenge.
New cold war
Max Abrahms, professor of political science at Northeastern University in Boston, said that having more or less eradicated the Islamic State, the countries are renewing old rivalries.
As the threat from a common enemy "has imploded, tensions between these historic adversaries have escalated", he said.
"The Saudi-Iranian rivalry has become the organising principle for Mideast alliances, reminiscent of how the Cold War divided countries along US and Soviet lines," Abrahms said.
Although highly unlikely to escalate to a full-on war, the countries appear to still want to get the upper hand on the other, with Lebanon the current battleground for this aim.
The EU has urged stability in the region, with its diplomatic chief Federica Mogherini calling for unity.
She said: "We expect no external interference in this national agenda and we believe it is essential to avoid importing into Lebanon regional conflicts, regional dynamics, regional tensions that have to stay out of the country."
Germany's foreign minister Sigmar Gabriel, meanwhile, said: "Lebanon has earned the right to decide on its fate by itself and not become a pinball of Syria or Saudi Arabia or other national interests."
With reporting from AFP