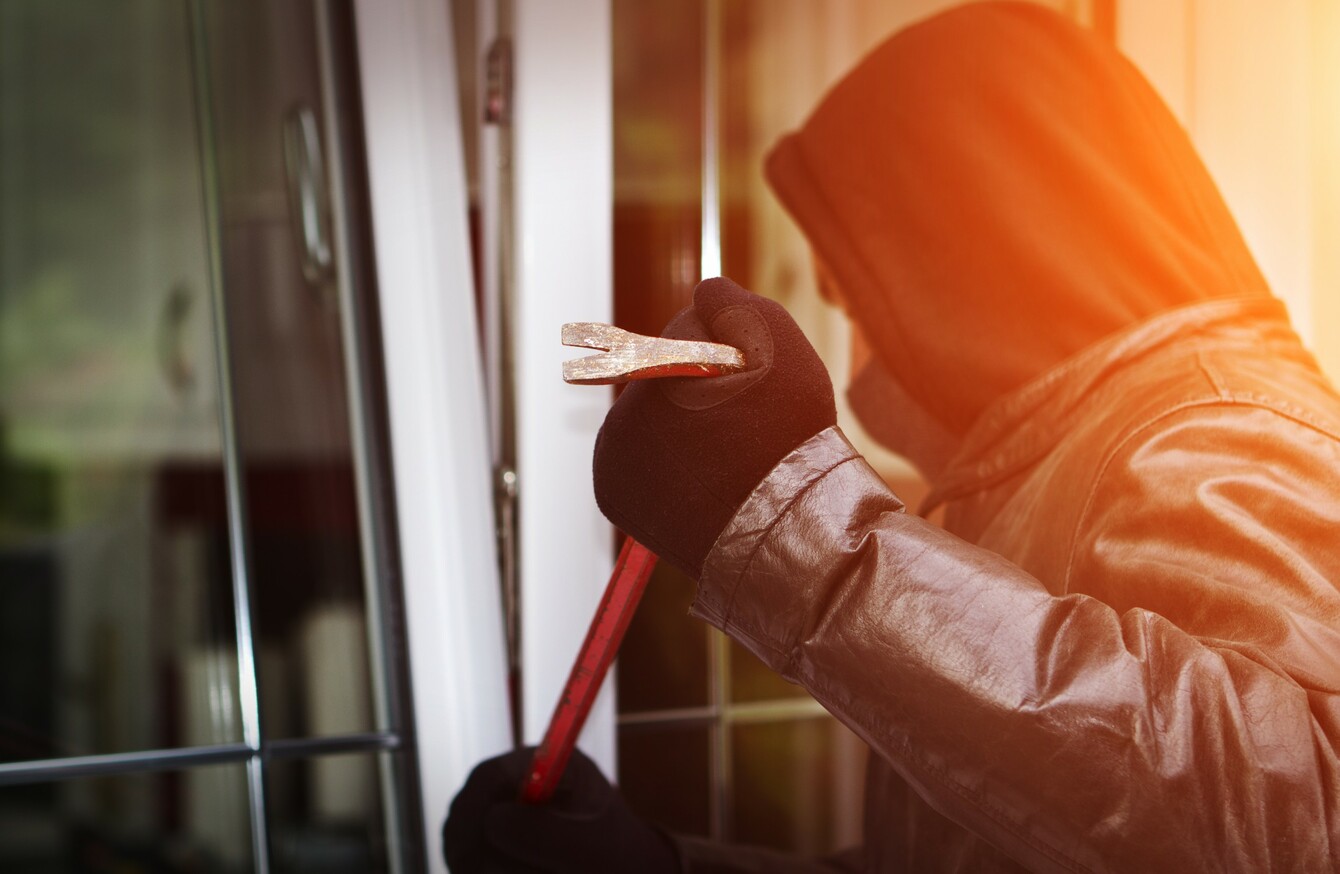 Image: Shutterstock
Image: Shutterstock
FEELING SAFE AND secure in your home is a priority for many of us, yet sometimes we end up doing ourselves (and our home) more harm than good without even realising it.  
But, according to security practitioner consultant Peter Murray of StopTheBurglar.ie, creating a safe home doesn't have to be complicated. When you're thinking about home security, your main aim should be to have a system that's "convenient, simple and reliable," says Peter.
With the winter months approaching and it being the most common time for burglaries, Peter shared the mistakes many of us make with our home security – and what to do instead. 
Mistake #1: Having a complicated security system
More doesn't necessarily mean better when it comes to securing your property, explains Peter. "Don't create a fortress, this is your home," he says.
"You want to be comfortable and relaxed in your home, but you want to be able to get out swiftly if you need to. Or if you come home tomorrow and your door doesn't open, for any reason, how will you get in?"
So, what's the right thing to do? "When you're adding an additional lock to your door, make sure that you can work it from both sides," says Peter. "The biggest mistake that people are making is they're putting locks on doors that only work on one side. For example, if you're in the house and you're unwell, you want your partner or whoever it is to be able to get in to help you."
Mistake #2: Leaving windows open – even if you're only going to the shop
As lovely as it is to open the windows and fill your home with fresh air on a sunny day, it's a big mistake to leave even one window open when you're going out, according to Peter.
Burglars can't go into every home, it's just not possible. You don't want your house to stand out to them.
"If you leave a window open, they might think, 'aha, the alarm isn't on.' Once the window is open, even if the alarm box is on the wall, there's a chance that the alarm isn't on and that it won't activate if someone breaks in. Or they might look at a window and see that the handle isn't down, so then they know that it's not secure. Don't even let them try your house."
Mistake #3: Having an alarm you can't control remotely
Having an alarm, particularly one that makes enough noise to deter a burglar quickly, is important. But Peter advises against alarms that you can only activate and deactivate from one control panel within your home. Instead, opt for an alarm system that you can also arm and disarm remotely, via a fob or your smartphone:
"If the alarm goes off at 2am and you don't know who is downstairs, would you walk down there to turn it off? No way. If you have a fob, you can control the alarm from your bedroom."
Mistake #4: Leaving lights and the TV on when you go out
Leaving a lamp or the television on when you go out to make it look like someone is home is the oldest trick in the book – but Peter isn't a fan. "If I come to a house and see that the TV is on in the front room, that tells me to go to the back of the house," explains Peter.
If a light is on, I'll just knock at your door to see if you're home. If I get into your house and the lights are on, now I'm able to look around without turning other lights on and drawing attention.
What about closing all of the doors inside the house? In this case, Peter says it's better to leave them open. "I want the internal doors open, so if a burglar looks in they can see that you're hiding nothing. Leave the blinds or curtains slightly open so they can look in. It's not natural for your blinds or curtains to be closed during the day. If they are, all you're saying is 'knock on the door and see if I'm home.'"
Mistake #5: Not getting new locks when you move in
You might not want to think about burglaries if you've just moved into a new home, but Peter says that getting a new lock should be a priority. "If you buy a new house, a burglar could have attended the viewing. Now they know what the windows and doors are like."
From day one, have your locks changed and have a second lock fitted on the front door. Make your home look different to next door. 
"A better lock on the door and a better lock on your window stops them coming in. They don't have the time to stand there picking locks to get into your home."
Mistake #6: Having a minutes-long light sensor 
If you already have a light sensor to the front or rear of your home, you'll want to make sure that it's doing an effective job at keeping unwanted visitors away. "You don't want a light sensor that stays on for two minutes," says Peter.
"If someone sets off your sensor and you're asleep, you're not going to know that it has been set off. But now they have a light and they can see what they're doing. I want your lights to only stay on for five seconds so they flash on and off whenever there's movement. Plus, if someone is passing by and they see your light flashing on and off, they'll know that something is up."
Mistake #7: Keeping your main set of keys in plain sight
If someone breaks into your home and takes your main set of keys, you'll be left with the expense of replacing the locks for whatever was taken. An easy way to avoid this is by leaving your spare car key in an easily accessible place. 
"Get your spare car key and put it in the hall. Not in an obvious place, maybe in a drawer, so if someone breaks into your home and all they want is your car, they can take that key. If they take your main car keys, you'll have to replace your locks and everything."
Protect your home with great value insurance for house owners, apartment owners and renters from FBD Insurance. As Ireland's only homegrown insurer, we've been supporting Irish homes for decades. Support, it's what we do. Get a quote online in minutes.
FBD Insurance Group Ltd, trading as FBD Insurance, is regulated by the Central Bank of Ireland. FBD Insurance plc is regulated by the Central Bank of Ireland.