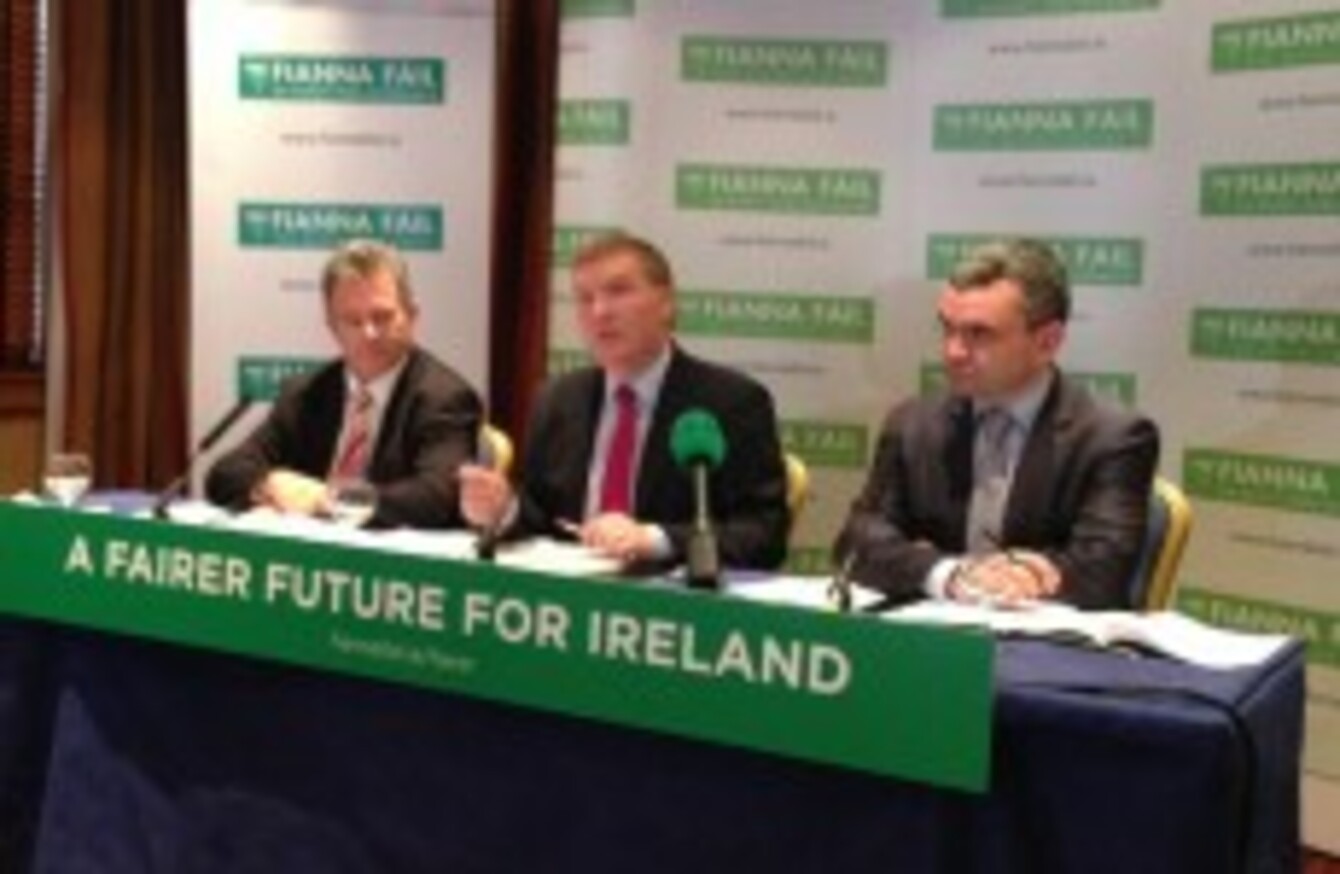 Fianna Fáils's Seán Fleming, Michael McGrath and Dara Calleary launching the party's pre-Budget submission today.
Image: Hugh O'Connell via TheJournal.ie
Fianna Fáils's Seán Fleming, Michael McGrath and Dara Calleary launching the party's pre-Budget submission today.
Image: Hugh O'Connell via TheJournal.ie
FIANNA FÁIL HAS proposed raising the universal social charge on those earning over €100,000 as well as raising excise duty on cigarettes by €1 and bottles of wine by 50 cent, in its pre-Budget submission launched today.
Launching the document today, the main opposition party is calling for an overall adjustment of €2.4 billion which would be split 50-50 between tax rises and spending cuts.
One of the main proposals is to increase Universal Social Charge by three per cent for incomes over €100,000 which would yield in excess of €70 million. It also wants to cap tax relief on pensions which deliver an income of over €60,000 per annum.
Fianna Fáil has also proposed not levying the property tax next year but has not committed to abolishing it outright.
"The tax will really hurt people when a full year's payment falls due," the party's finance spokesperson Michael McGrath said, adding: "We took the view in preparing this submission that the most honest thing to do was remove it from our numbers."
Cigarettes and alcohol
The party also wants to apply excise duty on food products with high salt and sugar content as well as apply a 15 per cent levy on the sale of alcohol in the off trade.
Alcohol abuse is "causing huge damage across the country", according to McGrath. The so-called 'lid levy' in off licences would raise around €180 million in a full year, the party estimates.
Other proposals include increasing Capital Gains Tax and DIRT from 33 per cent to 35 per cent which would yield €31 million and €35 million respectively.
The price of a packet of cigarettes would increase by €1 and would raise €149 million while excise duty on wine would rise by 50 cent a bottle, raising €27 million.
"We are committed to an objective of a smoke-free Ireland," McGrath said adding that the party supports Health Minister James Reilly's "war on tobacco".
Public Expenditure and Reform spokesperson Seán Fleming said that the party wants to achieve savings in the area of procurement totalling €165 million in 2014.
Protected spending
The party says that education, mental health and disability should be fully protected from any spending cuts. Fleming said: "I've made it very clear that there does not need to be a cut to social protection payments."
It has also proposed that there be a greater effort to collect the TV licence fee, pointing out that the State is not collecting around €25 million annually but it was not clear on how it would go about doing this.
Fianna Fáil also calls for the retention of the 9 per cent VAT rate, calling on the government to account for a discrepancy of €340 million which it says is unspent from the pension levy.
The party's proposed tax on products with added salt in addition to products where there is a high sugar content would raise over €100 million.
It would involve a graduated tax rate of between 0 and 2.5 per cent which would increase the price of bar of chocolate by 3 cent and a fizzy drink by 5 cent.