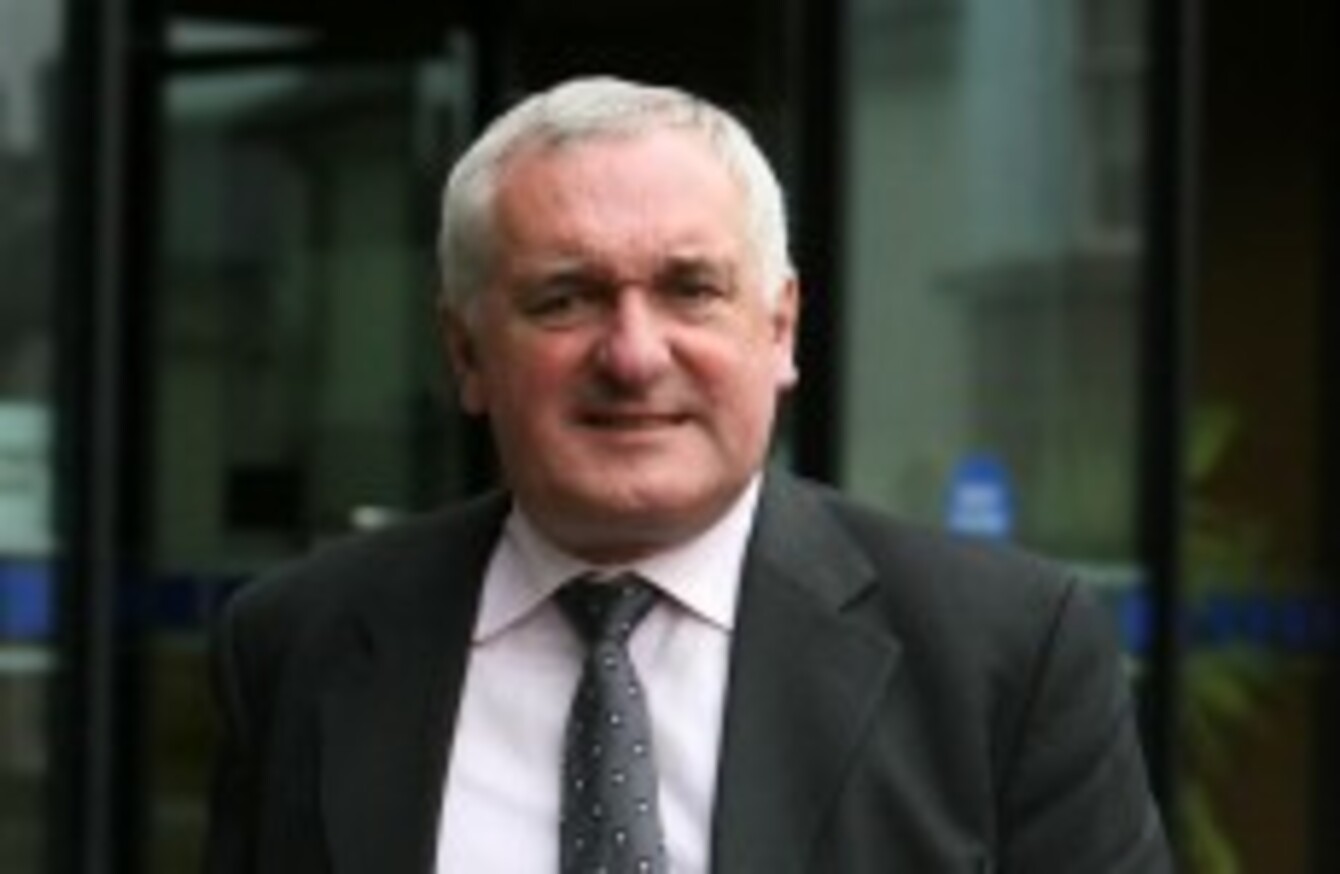 Bertie Ahern pictured in 2008
Image: Niall Carson/PA Wire/Press Association Images
Bertie Ahern pictured in 2008
Image: Niall Carson/PA Wire/Press Association Images
Updated 12.10pm
FIANNA FÁIL HAS confirmed that Bertie Ahern has resigned from the party in a letter received this morning.
In a statement the party said: "Fianna Fáil has this morning received correspondence from former Leader Bertie Ahern confirming his resignation from the Party. The Party has also received confirmation that Councillor John Hannon has resigned his membership.
"Our special Árd Comhairle meeting will continue as planned on Friday 30th March to debate the expulsion motions being brought against those other individuals named by the Party Leader last week, and to discuss the review of the organisation in Dublin Central."
The party expected to hear from their former leader today after Ahern revealed in the Sunday Independent yesterday that he would be renouncing his membership.
Earlier the party said that as soon as the letter had been received, Ahern will effectively cease to be part of the party.
The resignation of Hannon, who sits on South Dublin County Council, follows the findings of the Mahon Tribunal that he received cash totalling IR£1,000 in November 1992 from Frank Dunlop and £500 in 1999 related to planning matters.
The first payment was found by Mahon to have been corrupt.
Today's developments mean that a vote will not need to be held on Ahern or Hannon's expulsion at the party meeting this Friday.
The same goes for a number of party members – including former minister Pádraig Flynn and several councillors – who were named as corrupt in the final report of the Mahon Tribunal if they choose to resign beforehand.
A spokesperson for the party said today that it was not yet known if there would be further resignations before Friday.
Ahern revealed his resignation following the announcement by current leader Micheál Martin that a motion would be put to the Ard Comhairle seeking his expulsion.
Martin said the findings against Ahern were "extremely serious". The tribunal's report found that he had failed to truthfully account for payments worth IR£165,000 into bank accounts connected with him.
Even if all those who the party is seeking to expel resign before Friday, the meeting will still go ahead as planned as the Ard Comhairle votes on a motion to take assets in Ahern's former Dublin Central constituency into the control of central party authorities.
- additional reporting from Hugh O'Connell and Gavan Reilly