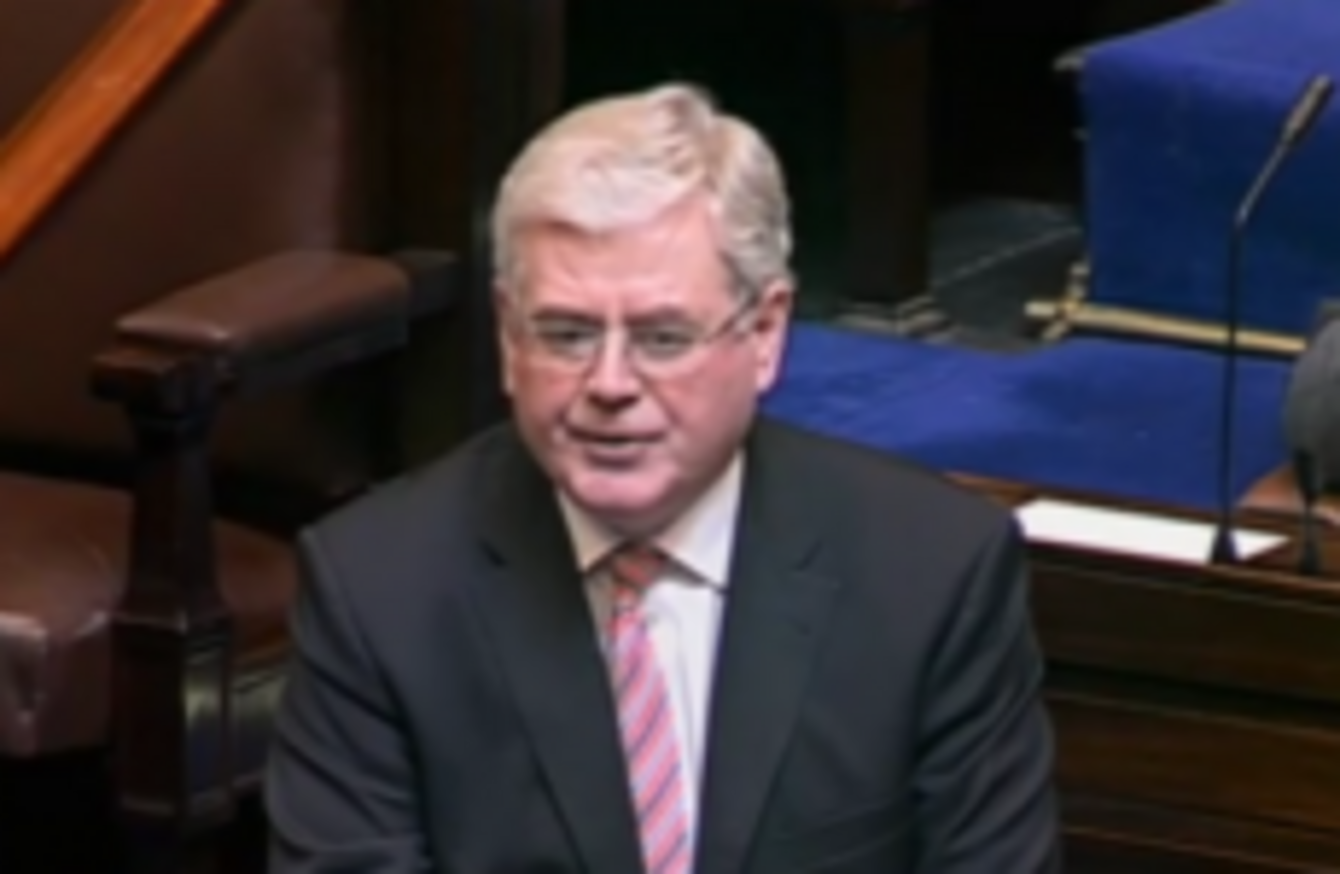 THERE WERE FIERY exchanges in Dáil Éireann this morning – with one TD being ordered to leave the chamber – during the final session of Leaders' Questions ahead of next week's referendum on the Fiscal Compact.
Fianna Fáíl's Billy Kelleher was booted from the chamber by Ceann Comhairle Seán Barrett, while Eamon Gilmore exchanged hostilities with Sinn Féín's Caoimhghín Ó Caoláin over the latter party's record in supporting fiscal measures.
Ó Caoláin had asked Gilmore to ask what the government proposed to do if the Fiscal Compact was adopted before "the fears of so many citizens prove well-founded," though he did not elaborate on what those fears would be.
"Let us recognise that this carefully crafted German-engineered text has only one gear," Ó Caoláin said.
There is no reverse, the steering is locked, it can't turn right, it can't turn left. We're heading straight into whatever lies ahead.
Gilmore responded by summarising his arguments in favour of a Yes vote in next week's referendum – underlining its role in the government's plan for responding to the financial crisis – though Ó Caoláin was unhappy with the Tánaiste's response.
'But a listening ear'
Referring to last night's European Council meeting, Ó Caoláin asked: "Was it the case – as often times appears – that we were but a listening ear as others put forward their respective positions?"
A furious Gilmore said Sinn Féin were wrong to suggest the Irish government was in "listening mode", saying Ireland's calls for a growth agenda had been one of the reasons last night's meeting was convened in the first place.
Amid interruptions, the Tánaiste said it was "typical of Sinn Féin" to complain that he had not answered a question, and then interrupting him when he tried to respond – recalling speeches made by Ó Caoláin and Pearse Doherty in favour of introducing the bank guarantee in 2008.
"Sinn Féin is wrong. It's wrong in several respects… Sinn Féin was wrong about the bank bailout, and Sinn Féín is wrong about the stability treaty."
Gilmore went on to reveal that the Irish government had specifically proposed the use of project bonds to pay for economic stimulus measures, as well as increased capital funding from the European Investment Bank and the redeployment of unused structural funding.
All Sinn Féin can do is talk down what is happening, and talk down this country, and I'm sick and tired of Sinn Féin taking every opportunity to talk down this country, and talk down the opportunities that should be there for employers.
Ejection
Earlier, Fianna Fáil's Billy Kelleher was ejected from the chamber after refusing to keep the peace while Gilmore responded to questions from his party's stand-in leader Barry Cowen.
Cowen had said the government's intention to employ people from the live register when rolling out the installation of water meters did not appear to be reflected on the ground, reporting that jobless people were currently unable to enrol in any appropriate training courses in advance of installations beginning.
Gilmore said the programme of introducing water charges was still only in its embryonic stages, before referencing NAMA's €2 billion investment into the construction sector which hopes to create as many as 35,000 jobs.
This prompted fury from Kelleher, who complained to the government benches that ministers were now hailing NAMA's ability to stimulate the economy, having opposed its existence for two years before coming to power.
"You've a brass neck, Deputy," retorted public expenditure minister Brendan Howlin," as Barrett ejected him from the chamber. "We're not putting up with this roaring and shouting every morning here," Barrett insisted.
Thomas Pringle from the technical group raised concerns that HSE cutbacks meant Dublin hospitals specialising in vital treatments were refusing to treat some patients in urgent need of care.
"It appears hospitals are not being paid by the HSE for these treatments, because they are not from the area," Pringle said, saying he was aware of individual cases where people from his native Donegal were being refused treatment in Dublin.
Gilmore asked Pringle to provide details of the cases so that they could be referred directly to the Minister for Health.