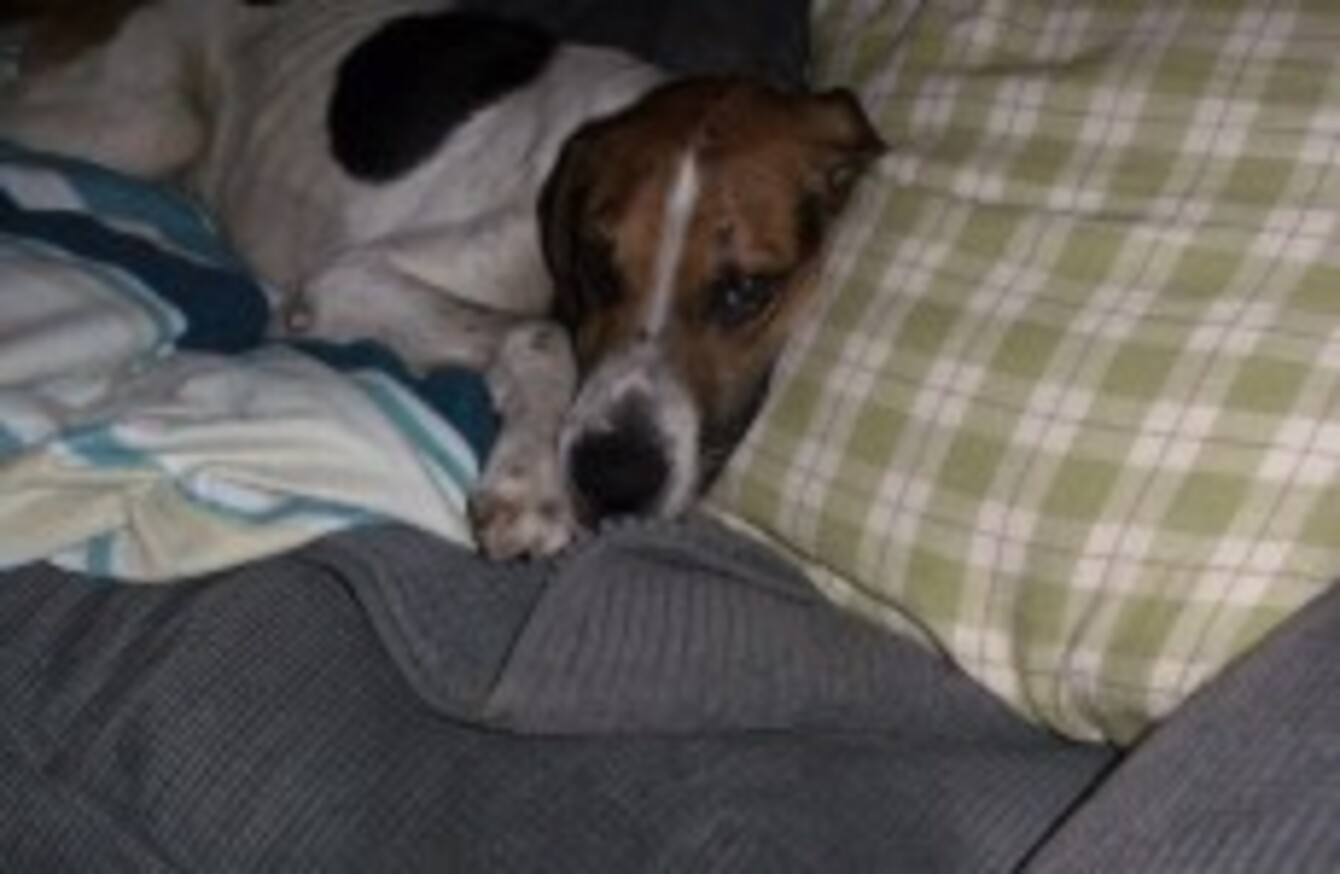 Fionn snuggled up on his blankets.
Image: CDAWG
Fionn snuggled up on his blankets.
Image: CDAWG
IN DECEMBER WE told you the story of Fionn, a dog that was part of a hunt group who was found with his skull smashed in and left to die under a pile of rubbish in Cork.
Speaking to TheJournal.ie, Margaret Twohig of CDAWG  said Fionn when he was found he was barely alive and was cold to the touch. "He was covered in cuts and pressure sores, a mere skeleton, unable to move. It looked like he had been put there, in amongst the rubbish and left to die. The rain pouring down on his poor body," she said.
Fionn, where he was found in Cork. (Image via CDAWG)
Since the group posted Fionn's story on Facebook, the group has been inundated with messages and support for Fionn from all over the world.
There is good news for Fionn for 2014, as he is set to be rehomed in Cork.
Christmas
Over the Christmas, the Cork Dog Action Welfare Group said Fionn enjoyed his Christmas day and his turkey dinner. While he was a little unsteady on his feet and had some paralysis to the side of his face, but he was described as the "perfect patient".
A spokesperson for the groups said Fionn is "truly is a miracle".
Over the holidays, however, he also had an MRI, showing that the fracture has caused the skull to split and overlap. The force of the blow to the head was so severe it has opened the skull, causing constant measure on his brain, which would eventually lead to seizures, loss of sight and mobility and ultimately death.
The group faced with two choices. Put him to sleep now or do surgery, with the group deciding that Fionn had come too far, they decided surgery was the best option for him. The surgery, which was high risk, had to be done in Dublin. The surgeon, who the group said was an expert in his field, repaired the skull to remove the pressure on the brain.
CDAWG said their prayers were answered when "warrior Fionn" got through the surgery. He has since returned from Dublin and is back in his home town of Cork. Here he is enjoying a well-deserved rest.
A charity walk for Fionn is taking place on 26 January. For more information, click here.