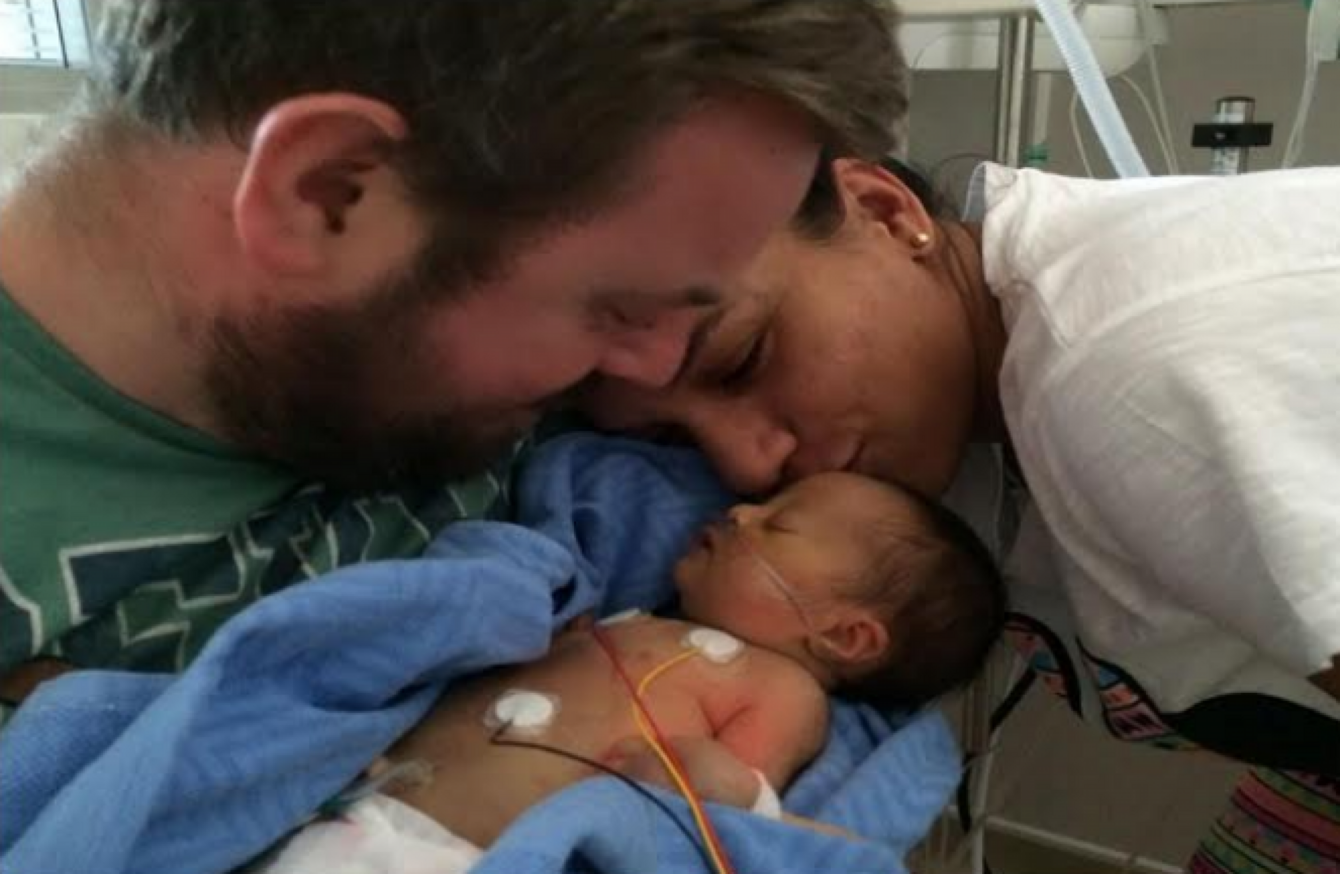 Tomas Fay and Tatiana da Silva Souza with their daughter Lorena
Image: FirstLight
Tomas Fay and Tatiana da Silva Souza with their daughter Lorena
Image: FirstLight
"THE FUNERAL WAS a blur and the aftermath was just pure hell."
Baby Lorena was born on 31 July 2016 in the National Maternity Hospital, Holles Street.
Within a few hours, Lorena's parents, Tomas Fay and Tatiana da Silva Souza, were taken into a private room to speak with doctors. It was here that they were informed that Lorena had Down syndrome and Transient Abnormal Myelopoiesis, the worst-known transient form of leukaemia. 
"It was a lot to process on the day, so we just sat ourselves in a room for a day and counselled each other. It was just pure shock," Fay told TheJournal.ie. 
"We fell in love with Lorena straight away, we just loved her."
Just a few days old, Lorena began chemotherapy treatment. However, within a number of days, her condition deteriorated and she was transferred to Our Lady's Children's Hospital, Crumlin. 
Again, Lorena's health continued to worsen and her parents were soon informed that she wasn't going to get better. 
Fay and da Silva Souza made the decision to stop treatment. Lorena passed away at 20 days old. 
"We made the right decision for her. It was a tough decision, we would be selfish trying to keep her alive just for our own benefit. She definitely would have gotten worse," Fay said. 
'I was in complete shock' 
Speaking of the days and weeks following Lorena's death, Fay said he was "in complete shock". 
"I was just away with the fairies. I just tried to keep myself busy and just pass the time. At the time, I was just going around concerned about whether people wanted tea or not, this sort of craic," he said. 
The funeral was a blur and the aftermath was just pure hell, from a sense that the level of support wasn't great from friends. 
Fay said that one of the most difficult aspects of coming to terms with the loss of their child was the lack of support they received from those around them. 
"Support from family was and continues to be fantastic, but after the funeral some people weren't or haven't been there," he said. 
"Expectations were high of some people and they just simply weren't there for me.
Society, believe it or not, they run away when they're dealing with parents who have suffered a bereavement. 
Finding themselves struggling to come to terms with Lorena's death, Fay and da Silva Souza made contact with the FirstLight charity. 
Established in 1977, the charity provides crisis intervention and professional counselling services throughout Ireland to bereaved parents and family members who lost a child or young person. 
In 2017, over 2,000 children and family members received professional support from FirstLight. 
After getting in touch with FirstLight, Fay and da Silva Souza were offered counselling and they attended groups where they met with other bereaved parents. 
"[It] meant we didn't feel alone. In fact, the feelings are mutual that the other parents experienced with society," Fay said. 
"The counselling they give and the support is amazing. They go down to the very core of the loss. Sometimes it can be uncomfortable but they take you there and they bring you to these uncomfortable places because if they don't do that, there's no point," he said. 
Walk in memory
Since turning to FirstLight for help, the couple have worked alongside the charity to give back and help out with numerous fundraising events and awareness days. 
The charity, working with Fay and da Silva Souza, is holding a walk in St Anne's Park, Dublin on Saturday, 8 September, which it said is an opportunity for parents, families and friends to come together and walk in remembrance of all children and young people who died suddenly. 
The Mile in Memory Walk will be 4km in distance, starting at the FirstLight stall directly in from of the Red Stables at 12pm. 
Speaking of which they made the decision to get involved in charity work, Fay said: "Mainly, our point is to educate society on dealing with parents who suffered a loss and to inform parents who suffered a loss, and the public, that it is ok to go to counselling. 
Society needs to educate itself on dealing with bereaved parents.
Da Silva Souza added: "Our mission now is to help others who cannot cope so well." 
Speaking directly to parents who are struggling with the loss of a child, Fay advised that they get in contact with FirstLight. 
"It is difficult, the pain never goes away, you never get over it and the sooner you realise that you'll never get over it, the more you can… I don't like to use the term move on because that's a negative word, you can't move on," he said. 
The fact of the matter is your world will stop. You become a different person and you have to get used to the new person that you are.
"It does get… I wouldn't say easier, but you just learn to live with it."
Registration for the walk on 8 September can be made by emailing info@firstlight.ie. More information about the charity can be found here.