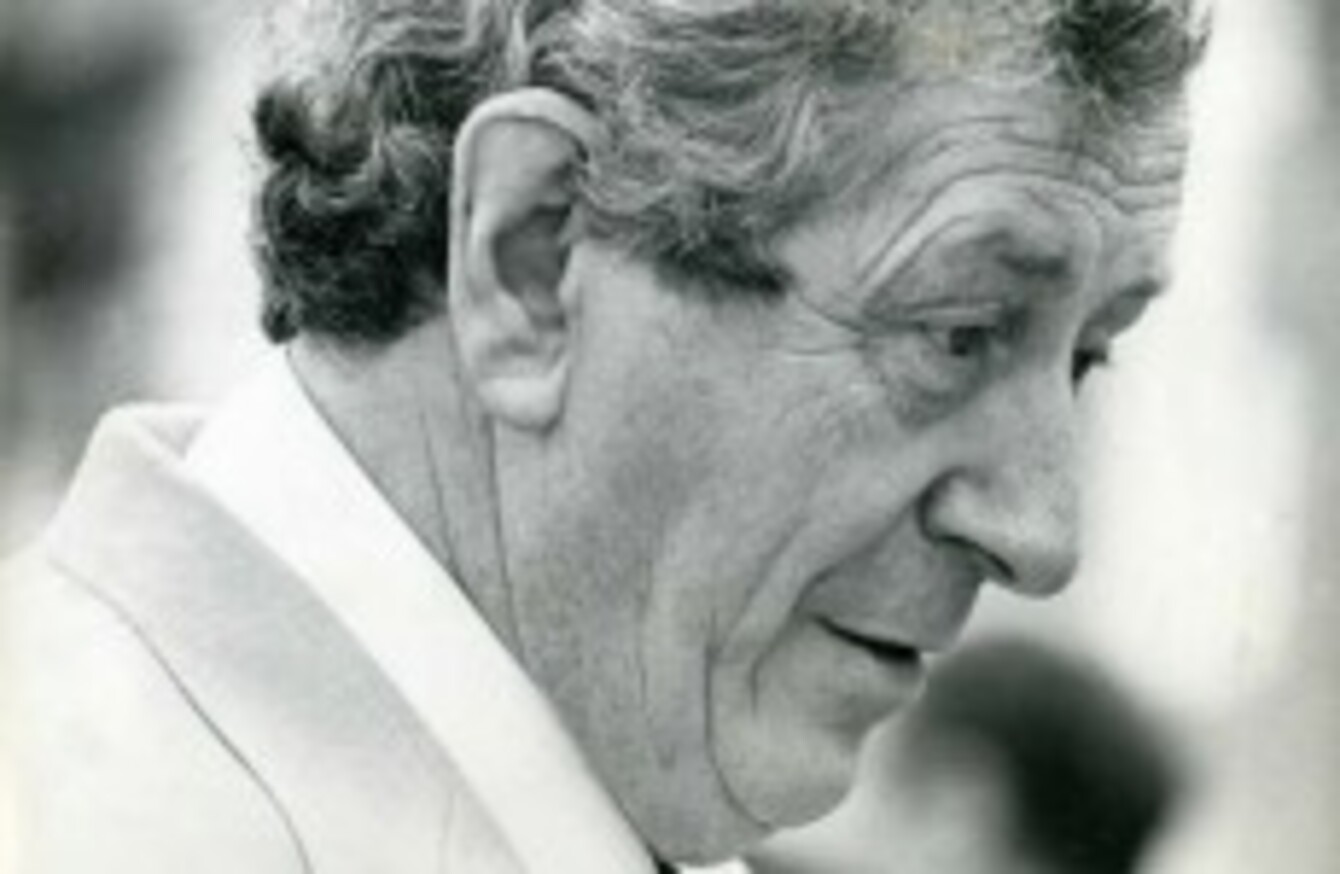 Dr Garret FitzGerald, 1926-2011.
Image: Photocall Ireland
Dr Garret FitzGerald, 1926-2011.
Image: Photocall Ireland
FORMER TAOISEACH Garret FitzGerald has passed away in Dublin after a short illness, aged 85. The former Fine Gael leader served two terms as Taoiseach in the Fine Gael-Labour coalitions in the 1980s: from July 1981 to February 1982; and from December 1982 to March 1987.
A statement from the Taoiseach's office this morning says: "The family of Dr Garret FitzGerald are sad to announce that he has passed away this morning after a short illness. They would like to thank the doctors, nurses and staff at The Mater Private hospital for the wonderful care he received during his illness.
"He was a much loved and adored father, grandfather and great-grandfather and will be sadly missed by his extended family."
Funeral arrangements will be announced later.
"Towering intellect"
Speaking this morning, Taoiseach Enda Kenny described FitzGerald as a "good-natured" man who would be missed by all who knew him. Kenny told RTÉ's Morning Ireland that FitzGerald had a "towering intellect". "The fluency of his economics was always balanaced by the humility and the generosity and the warmth of his personal and family life," he added.
Kenny said that he thought FitzGerald would have been very pleased to have heard the Queen speaking last night on her first state visit to the Republic. FitzGerald and his father before him had worked hard to put "the jigsaw pieces together for our country and for our two countries and our two peoples", Kenny said.
Fianna Fáil leader Micheál Martin said he was "deeply saddened" to hear of FitzGerald's passing. "He has served the Irish people with great intelligence, decency and commitment in a lifetime devoted to public service," Martin said in a statement.
Political life
Born in 1926 to another prominent politician – his father Desmond was one of Ireland's first Ministers for External Affairs, and a founder of Cumann na nGaedheal – and a Protestant mother, FitzGerald's exposure to both Protestant and Catholic backgrounds was to shape his political agenda in the decades that followed.
His political awakening came in college when he enrolled in UCD to study Arts: his college contemporary Charles Haughey tried to convince FitzGerald to follow his father's republican roots and join Fianna Fáil, and it was a classic twist of fate that his former classmate would be his great political nemesis when the two rose to the top of their respective parties.
Having built up his profile as a masterful political thinker, FitzGerald was elected to the Seanad in 1965, raising such a profile for himself that when he first ran for the Dáil four years later, he easily topped the poll in Dublin South East.
In 1973 when Fine Gael and Labour ended 16 years of Fianna Fáil rule, he was appointed Minister for Foreign Affairs – emulating his father, though the position was considered a minor snub and an attempt by then-Taoiseach Liam Cosgrave to sideline a potential leadership threat. When Fianna Fáil retook power in 1977 Cosgrave quit anyway, and FitzGerald was the sole nominee to succeed him.
Quickly setting about nurturing new younger talent within the party, by the next election 1981 FitzGerald's reinvigorated party gained 20 seats, and Garret became Taoiseach for the first time – finding himself being stared at by his old foe Haughey, who had fought his first election as FF leader.
His government collapsed when independents pulled support after two draconian austerity budgets – the latter including an infamous plan to impose VAT on children's shoes – and FitzGerald returned to opposition benches, though only for a few months: another election in November 1982 saw Fine Gael and Labour given a combined majority, and FitzGerald returned to power.
It was in his second tenure that FitzGerald was able to pursue some of his more ambitious plans: a referendum to allow divorce was put to the people, although it was beaten; while relationships with the unionist community and the UK were developed with the creation of the New Ireland Forum and the signature of the Anglo-Irish Agreement with Margaret Thatcher in 1985.
In his most recently published interview (in the RTE Guide), FitzGerald said Thatcher "wasn't my kind of person", but a "good relationship with her was very important and my main concern was to bring peace back to the North and make sure the IRA didn't come out on top".
Though the country's continued economic stalemate and the defeat of the divorce referendum saw Haughey resume power in 1987 – a defeat which saw FitzGerald step down as Fine Gael leader – the veteran remained politically active, unique among former Taoisigh in maintaining popularity from all sides of the political spectrum after his retirement.
In later years he served as the president of the Institute and International and European Affairs, as well as being a vocal supporter of the Nice and Lisbon treaties and writing a weekly column for the Irish Times.
A qualified Barrister as well as a PhD recipient – the latter qualification being secured while in the Seanad – FitzGerald served as the Chancellor of the National University of Ireland from 1997 to 2009.
Even just three months ago FitzGerald gave the truest display of his continuing devotion to public and political life: as the general election saw Fine Gael end 14 years on the opposition benches, FitzGerald was working as a tallyman for his old constituency of Dublin South East, keeping close watch as party colleagues Lucinda Creighton and Eoghan Murphy won election in his old stomping ground.
Dr Garret FitzGerald is survived by two sons and a daughter, as well as ten grandchildren; his wife of 52 years, Joan O'Farrell, died in 1999.
Additional reporting by Susan Ryan