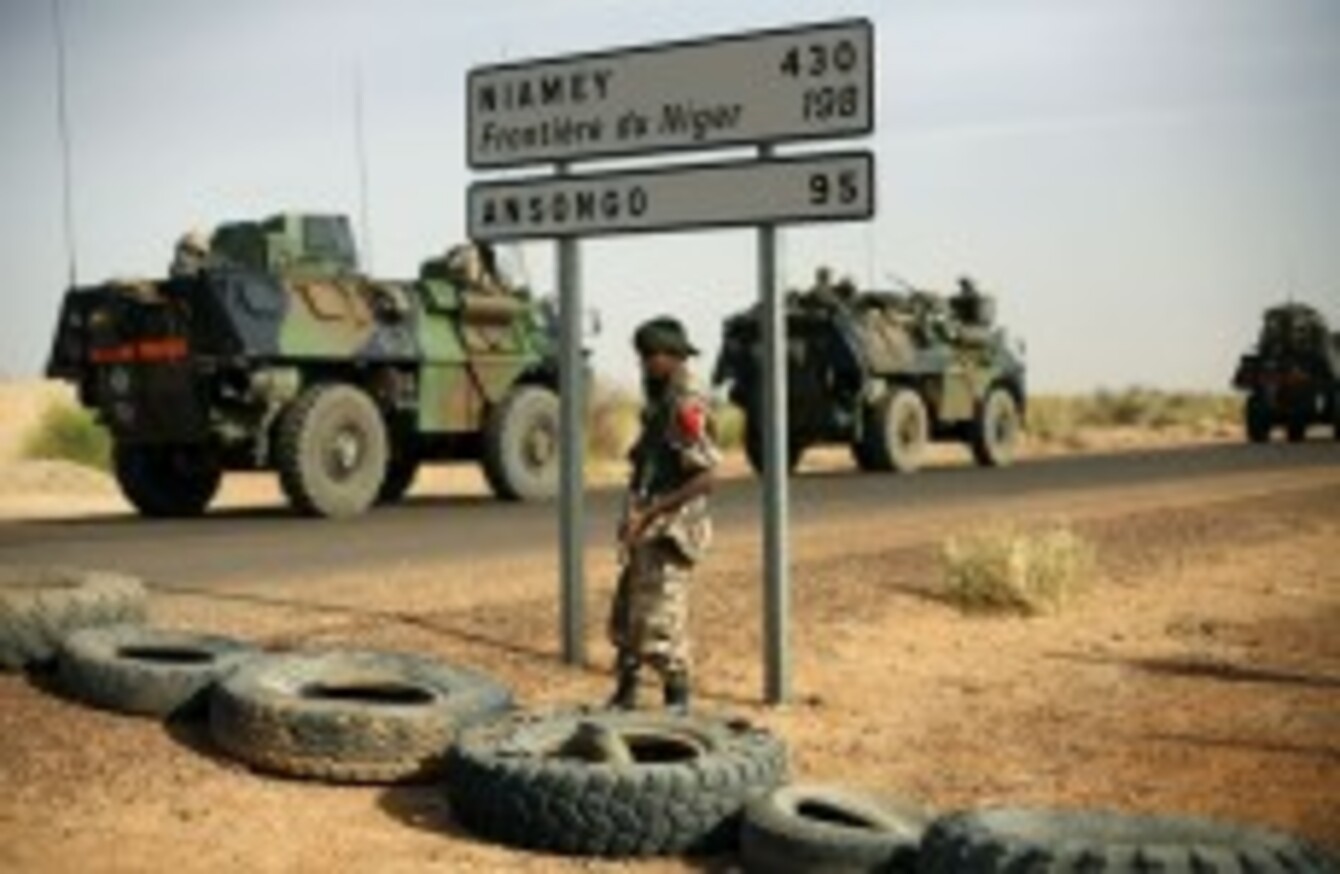 French armoured vehicles are seen heading towards the Niger border in Mali.
Image: Jerome Delay/AP/Press Association Images
French armoured vehicles are seen heading towards the Niger border in Mali.
Image: Jerome Delay/AP/Press Association Images
NEARLY A MONTH after launching an offensive in Mali to drive out Islamist extremists, France mulled the withdrawal of its troops today after asking the UN to prepare a peacekeeping force to take the baton.
France's 28-day-old intervention has largely driven the Al-Qaeda-linked rebels, who controlled northern Mali for 10 months and had threatened to advance on the capital, to the remote mountains of the far northeast, along the Algerian border.
But French-led forces continue to come under attack in reclaimed territory, and with fears of a prolonged insurgency, Paris is keen to hand over the military burden.
The French defence ministry said today that the intervention in its former colony has already cost France 70 million euros ($95 million), with the figure rising by 2.7 million euros per day.
Clashes with rebels
French Defence Minister Jean-Yves Le Drian said the rebels had hit back at troops with rocket fire on Tuesday in Gao, the largest city in the north, and that patrols in reclaimed towns had encountered "residual jihadist groups who are still fighting".
Le Drian said Tuesday the French-led operation had so far killed "several hundred" Al-Qaeda-linked militants.
"This is a real war with significant losses but I'm not going to get into an accounting exercise," he said when asked about the toll.
France's sole fatality so far has been a helicopter pilot killed at the start of the operation. Mali said 11 of its troops were killed and 60 wounded in early fighting but has not since released a new death toll.
A spokesman for one of the rebel groups, the Movement for Oneness and Jihad in West Africa (MUJAO), told AFP: "The combat isn't over. The attacks are going to continue."
In Gao, French-led forces have beefed up security to prevent rebels infiltrating the city, according to a Malian army source. An AFP journalist reported large patrols by French, Malian and Nigerien troops.
French helicopters have been patrolling the road between Gao and Douentza, 400 kilometres (250 miles) to the southwest along the road that leads to the capital, Bamako.
The area is littered with land mines and improvised explosive devices, according to security sources.
Two Malian soldiers were killed last week when their vehicle drove over a mine outside Douentza.
Peacekeeping force
After announcing plans to start withdrawing its 4,000 troops from Mali in March, France called yesterday for a United Nations peacekeeping force to take over.
Foreign Minister Laurent Fabius said a peacekeeping force could be in place by April, incorporating troops being deployed under the banner of a West African intervention force, AFISMA, into a UN mission.
"This gives the advantage of being under the umbrella of the United Nations, under its financing," he said.
'New national pact'
The Economic Community of West African States (ECOWAS) is slowly deploying some 6,000 troops in Mali, joined by another 2,000 from Chad.
#Open journalism No news is bad news Support The Journal

Your contributions will help us continue to deliver the stories that are important to you

Support us now
France's ambassador to the UN, Gerard Araud, said it would take "several weeks" to make an assessment on deploying peacekeepers but that the Security Council had "no objections" to the plan.
UN peacekeeping chief Herve Ladsous acknowledged that Mali's interim government had raised objections to such a force, but said the idea was supported by the African Union, the Economic Community of West African States and key UN members.
"I think there is clearly a shared desire of the international community to do what needs to be done in Mali," Ladsous told a press conference in New York.
France now has as many troops in Mali as it had at the peak of its deployment in Afghanistan in 2010.
French fighter jets continue to pound the area around the Adrar des Ifoghas massif in the far northeast, a craggy mountain landscape honeycombed with caves where the insurgents are believed to have fled with seven French hostages.
France's UN ambassador said a peacekeeping mission would also be tasked with helping Mali, whose bow tie-shaped map circumscribes a vast sprawl of terrain and peoples, "reach a new national pact".
Mali's descent into chaos began with a new rebellion among the Tuareg in January, a traditionally nomadic northern people who have long felt marginalised by the southern government.
But a Western UN diplomat warned such a mission would not be easy.
"The initial mandate will be for 12 months, but the political problems between Bamako and the Tuareg definitely can't be resolved in that amount of time," he said.
- © AFP 2013.