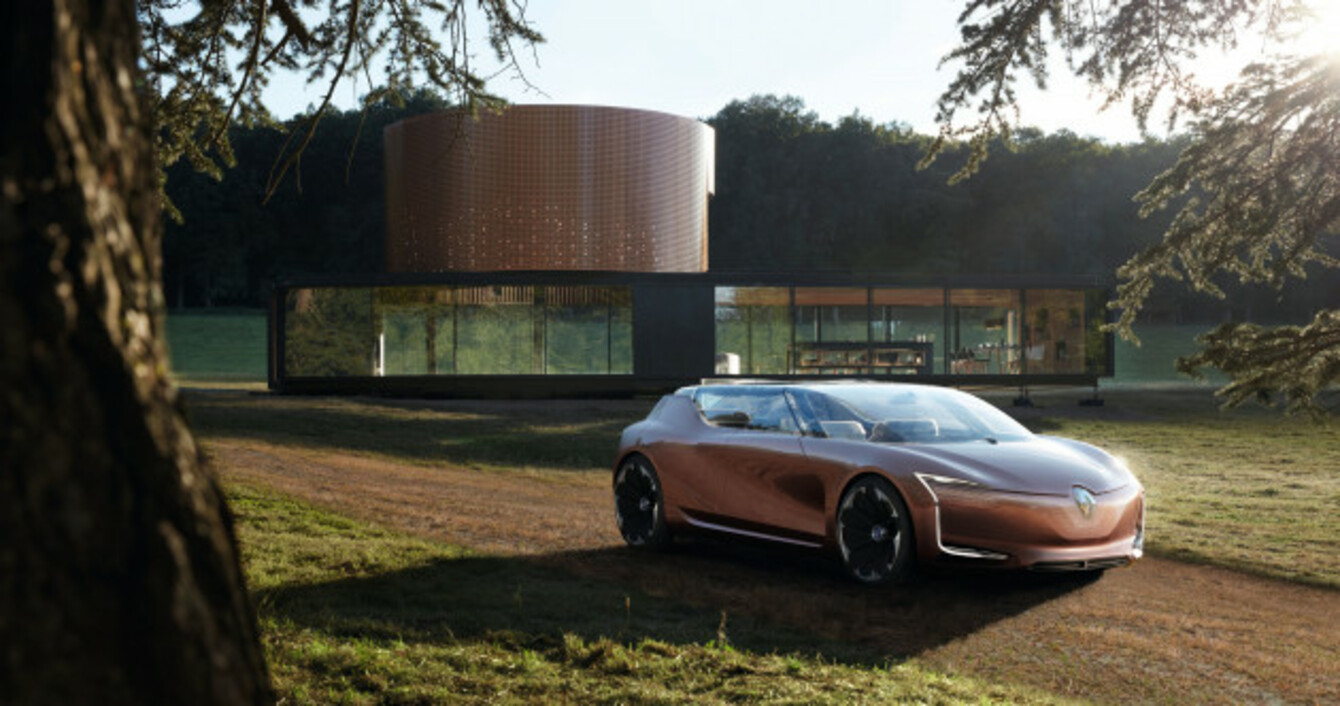 Image: Newspress
Image: Newspress
ELECTRIC CARS AND autonomous driving systems were the two dominant trends at this year's Frankfurt motor show as many manufacturers took this opportunity to demonstrate what they think the future of motoring and driving may look like.
And, well, it doesn't look good for combustion engines and those who like to get behind the wheel.
Let's take a look at some of the more eye catching and out-there concepts.
1. Renault Symbioz
Renault turned heads with its striking Symbioz concept, which showcases the French carmaker's vision for how cars will connect with homes.
The car is electric (natch), autonomous (double natch) and fully connected to its environment. At the Renault stand, visitors could walk around a connected home and see how the car could double up as an extra room.
Renault Symbioz featured the same interior furnishings as those used in the house and remains in complete harmony with the home. The idea being that the car becomes a new mobile, multi-purpose living space and then when used as a mode of transport passengers can feel at home out on the road.
2. Honda Urban EV Concept
The Urban EV Concept previews the direction Honda is taking with the technology and design of its future battery electric production models – with the company saying that a production version of this car will be here in Europe in 2019.
And I for one welcome our EV overlords, especially if they look this funky and retro. The car features rear-hinged coach doors, bench seats that can fit four occupants and a floating dashboard console. The dashboard itself is completed by a wrap-around screen that runs behind the console and extends into the doors. These screens in the doors act as the car's wing mirrors.
The on-board advanced Honda Automated Network Assistant acts as a personal concierge, which learns from the driver by detecting the emotions behind their judgments. It can then apply what it has learned from the driver's past decisions to make new choices and recommendations. If the car detects you are angry it may play calming music, or perhaps drive you by a donut shop so you can bury your feelings in sugar and fat. Nice.
3. Audi AIcon
No pedals? No steering wheel? No lights? No problem. Audi thinks such things are not needed in the future.
It has to be said, this is more of a shuttle than a car. Instead of exterior lights, the AIcon has fully digital display surfaces comprising of hundreds of pixel segments which enable visualisations to be displayed. For example, horizontally cut lighting segments to the left and right of the signature Singleframe grille look like eyes and can be expanded to resemble wide pupils or squinted for an aggressive look.
If the car detects passers-by or other road users, it literally makes eye contact with them and follows them with its "eyes." Freaky, and a little Stephen King-like if we are honest.
4. Smart Vision EQ fortwo
This is what Daimler thinks the future of urban motoring entails. Electric. Autonomous. Connected. Personal. And, eh, round?
The doors can be left clear to allow the two occupants to see out, they can be turned into screens to display weather data to the outside world, or they can be blanked off to create some privacy for those inside.
Much like the Audi above, the LED exterior lights of the Vision EQ can be programmed to look like eyes to make contact with pedestrians and cyclists. I wonder if they can wink at the cute ones?
5. Volkswagen Group SeDriC
SeDriC (a name cleverly derived from the words 'self-driving car') is an electric automobile that looks like an angry robo-caterpillar. SeDriC doesn't sport any brand badges on its body as the platform has been designed to be used across the whole of the Volkswagen group.
Much like the Audi AIcon above, SeDriC has been designed for level 5 autonomous driving – in other words, there's no need for a human driver. Again more shuttle than car, SeDriC can be called up at any time with the push of a button or by using an app or a digital assistant. SeDriC will call to the requested location and transport individuals conveniently from door to door.
This concept also features lights that take on the function of eyes that can make visual contact with people and interact with them. Enough with the scary eyes already!