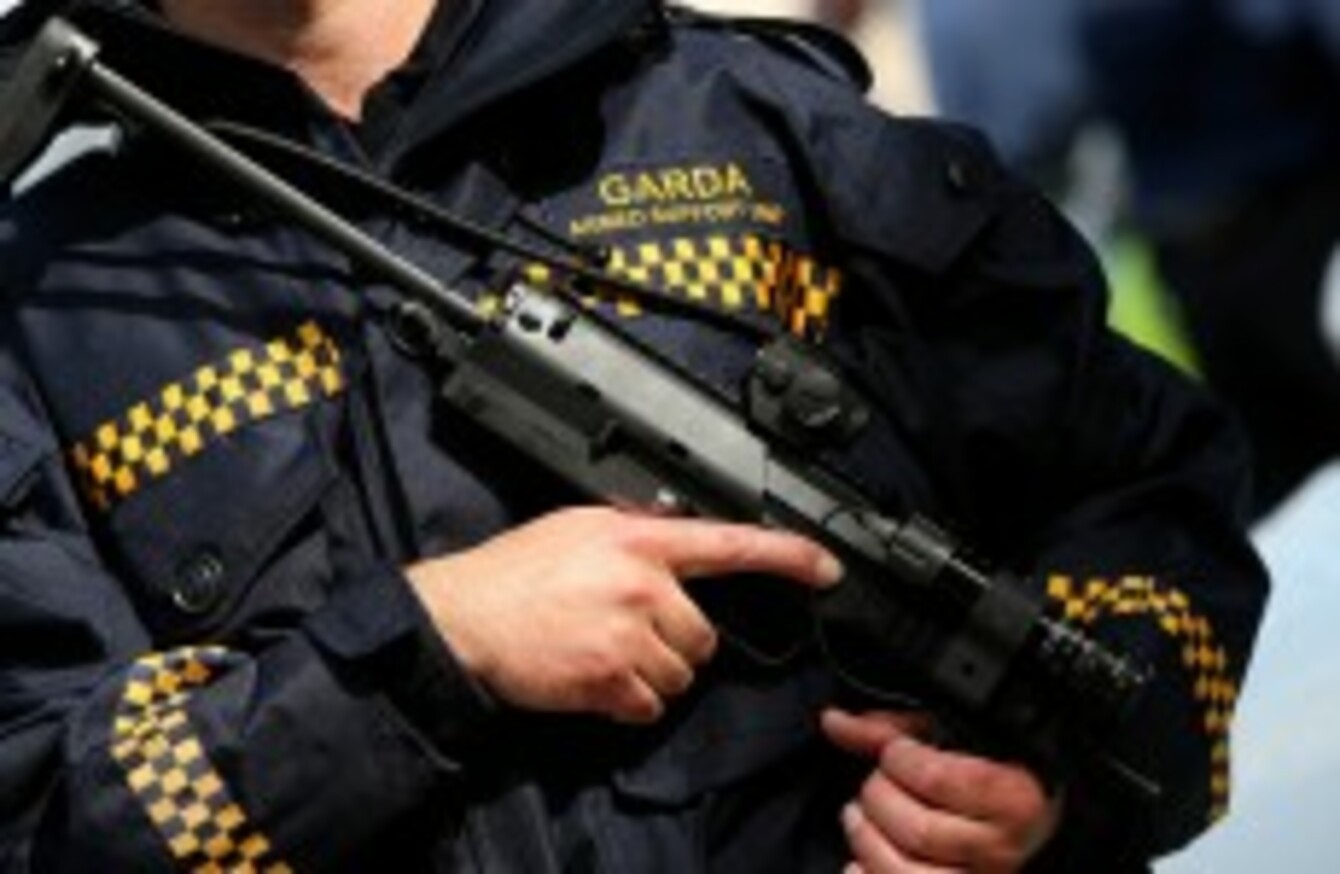 File photo of member of the armed regional response unit
Image: Julien Behal/PA Archive
File photo of member of the armed regional response unit
Image: Julien Behal/PA Archive
GARDAÍ FEEL THAT their lives are being put at risk due to a decision by garda authorities to withdraw the Uzi submachine gun from detective units, TheJournal.ie can reveal.
The decision to withdraw the Uzi was taken in March last year after a review by garda authorities. One of the reasons for the withdrawal of the gun was that it was deemed unsuitable for incidents that might occur in a confined room, like in a bank for example.
At the same time revolvers carried by armed detectives were replaced by Sig Sauer semi-automatic handguns that all detective units now carry holstered to their belt.
A spokesperson for the garda press office said that the Uzi was taken out of service "because it no longer fulfilled the requirements".
The press office said the Sig Sauer handgun was "identified to best meet the policing needs" of An Garda Síochana and that specialist units such as the Emergency Response Unit and Regional Support Unit have the MP7 submachine gun at their disposal.
Sources said gardaí are not looking to have every person in the force armed with most "happy to do their duty" in the knowledge that they have armed backup if required. However in situations like armed escorts, many gardaí are worried about their lack of fire power.
Detective Garda Adrian Donohoe
A source who knew Garda Detective Adrian Donohoe said they were "bothered about the fact that he was not sufficiently armed" when he was shot dead by armed robbers at a credit union in Dundalk.
"Had this attack on Adrian occurred a year earlier, he would have had the Uzi locked and loaded and resting in his lap as was common practice when escorting cash-in-transit vehicles," they said.
Previously an armed escort unit of two detectives would have a handgun each and a Uzi machine gun, which the passenger in the car would carry. Now gardaí are asking for these guns to be replaced as they worry about facing criminals with superior firearms.
While the handgun is semi-automatic and has a high rate of firepower, it has a shorter range than the Uzi and sources said the image of an armed garda standing with a larger submachine gun in his hand while performing security duty or at arms checkpoints can work as a "visual deterrent".
Armed response units
As the garda press office pointed out, the emergency response and regional support units are armed with powerful MP7 submachines but it is understood that there are large area gaps and at times a lack of personnel which leaves gardaí feeling vulnerable.
In a recent attack on a garda in Tallaght, in which he sustained 'serious facial injuries', it took nearly half an hour for the armed response unit to arrive as the two responding gardaí waited in the bathroom of the house where they had barricaded themselves.
One garda told TheJournal.ie that colleagues feel they do not have enough armed support "to protect the community and indeed ourselves".
"I was never an advocate of arming the guards and I'm still proud of the tradition of not having an armed police force but it's getting ridiculous now," they said.
The feeling among most members is that we are sitting ducks, and more attacks of this nature are bound to happen. I'm not suggesting that every guard should be armed, but it could be more appropriate to have one uniformed armed response unit for each district. This member would perform all the duties a regular uniformed officer, with the added responsibility for dealing with particularly violent or armed suspects.
#Open journalism No news is bad news Support The Journal

Your contributions will help us continue to deliver the stories that are important to you

Support us now
When contacted by TheJournal.ie, President of the Garda Representative Association (GRA) John Parker said the failure of the garda authorities to replace the Uzi submachine "has been a serious concern".
In the same review of firearms last year, a decision was made to cut back on training for firearms cards, which all gardaí carrying a gun must have. Garda authorities decided to downscale the number of cardholders particularly in rural areas and for detectives working mainly on white collar crime.
Parker said this "is another worry and it has left members without adequate resources," he said. "Members are being exposed to unnecessary risk."
In a statement the Department of Justice said that Minster Shatter has no direct function in this matter and that the decision to withdraw the Uzi last year was that of the Garda Commisioner.
In that context the Commissioner determines the appropriate measures to be put in place, including the specific firearms to be deployed, without reference to either the Minister or his Department.
The department said that garda authorities "have indicated that at present the armed capability of garda members is provided by district detective units supported by other units".
"In addition, they have made arrangements to co-ordinate armed response measures throughout the country, it added. "In view of the operational nature of the functions involved, it would not be appropriate to comment on how the relevant resources might be deployed."