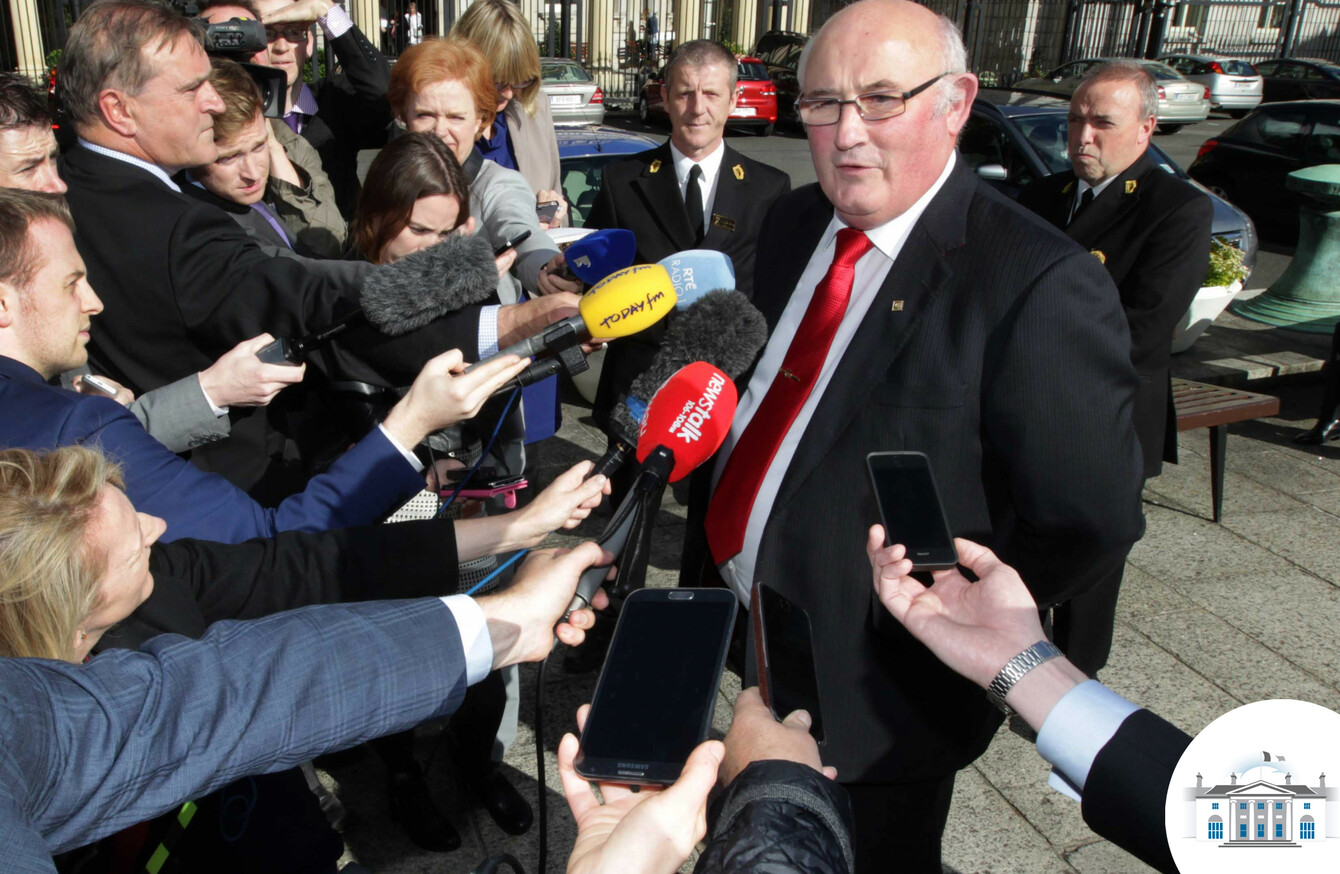 Image: Mark Stedman/Rollingnews.ie
Image: Mark Stedman/Rollingnews.ie
INDEPENDENT SENATOR GERARD Craughwell has said that he was serious in his presidential ambitions but that he could not afford to formally join the contest.
Craughwell confirmed this morning that he would not be running for the nation's highest office, despite saying for months that he would be seeking to succeed Michael D Higgins.
In a statement, Craughwell said he had put himself forward to ensure that there would be a presidential election.
"In doing so, I opened up what has been the first serious national conversation on the presidential nomination and election process," he said.
Craughwell said he feared that Oireachtas members and local councils would have been prevented by their party from backing a potential candidate.
He said that now that a number of potential candidates have said they would seek a nomination, he was "satisfied that [he has] achieved the objective [he] set out last August".
"I will now stand aside and take no further part in the process other than to wish each and every candidate success in their campaign," he said.
Expanding on his decision on RTÉ's News at One this afternoon, Craughwell said that he wanted to run but that it came down to a matter of finances.
He said this came particularly into focus since both Fianna Fáil and Fine Gael backed President Higgins.
"It's a very upsetting day for my family because ultimately we had to come to a decision. I had to have to sit down and look at what has happened. It was about democracy, it was about encouraging a competition and that competition is now going to take place," Craughwell said.
But when you see the main political parties backing the president, one of them prepared to canvass for him and I understand provide funding, when you see independently wealthy people who can afford an election, the only way I could move forward was through some form of crowdfunding and to borrow money, and I am at an age of my life now, coming up at 65, would be right put my family into debt? I had to consider these things.
"It's not just about running, I never went for anything in my life just to run, I did not want to become and also-ran. I wanted to win and if I was sure of finding funding in the morning, if I was sure that I was not going to land my family in debt, you and I wouldn't be having this conversation," he added.
Craughwell said he was confident he would have secured a nomination if he pushed forward with a candidacy, adding that a motion to nominate him was going before Galway County Council today.
To get on the presidential ballot, candidates need the support of either four councils or 20 members of the Oireachtas (a one-term president can nominate themselves).
Craughwell said he is confident he would have secured the required number of councils but that a nomination through the Oireachtas looked more difficult since a number of other senators joined the conversation.
Pieta House founder, and senator, Joan Freeman and Senator Pádraig Ó Céidigh have both been mentioned as potential candidates.
"Gerard Craughwell, let's be honest about it, who out there apart from a very small group of people know who Gerard Craughwell is?," Craughwell told RTÉ today.
Earlier this month, the senator said he would do his utmost to challenge Michael D Higgins for the presidency, in a bid that had been widely expected.
He also expressed his anger that the current president had left it until July to confirm he'd be seeking a second term.
He told TheJournal.ie that was he was "very angry that it has been left so late".
#Open journalism No news is bad news Support The Journal

Your contributions will help us continue to deliver the stories that are important to you

Support us now
"It hasn't put me off. I am sickened this morning. I can't begin to pretend that I am not angry. I am extremely angry that the president has decided to do exactly what he criticised Mary McAleese for doing in 2004 – leaving it to the twelfth hour. There is a sense of entitlement here."
"I don't believe anyone is unbeatable, including the incumbent," he added, though he admitted at the time it would be a difficult contest to win.
While Fianna Fáil and Fine Gael have chosen not to run a candidate of their own against Michael D Higgins, Sinn Féin has said it would put someone forward for election.
With reporting from Gráinne Ní Aodha and Rónán Duffy