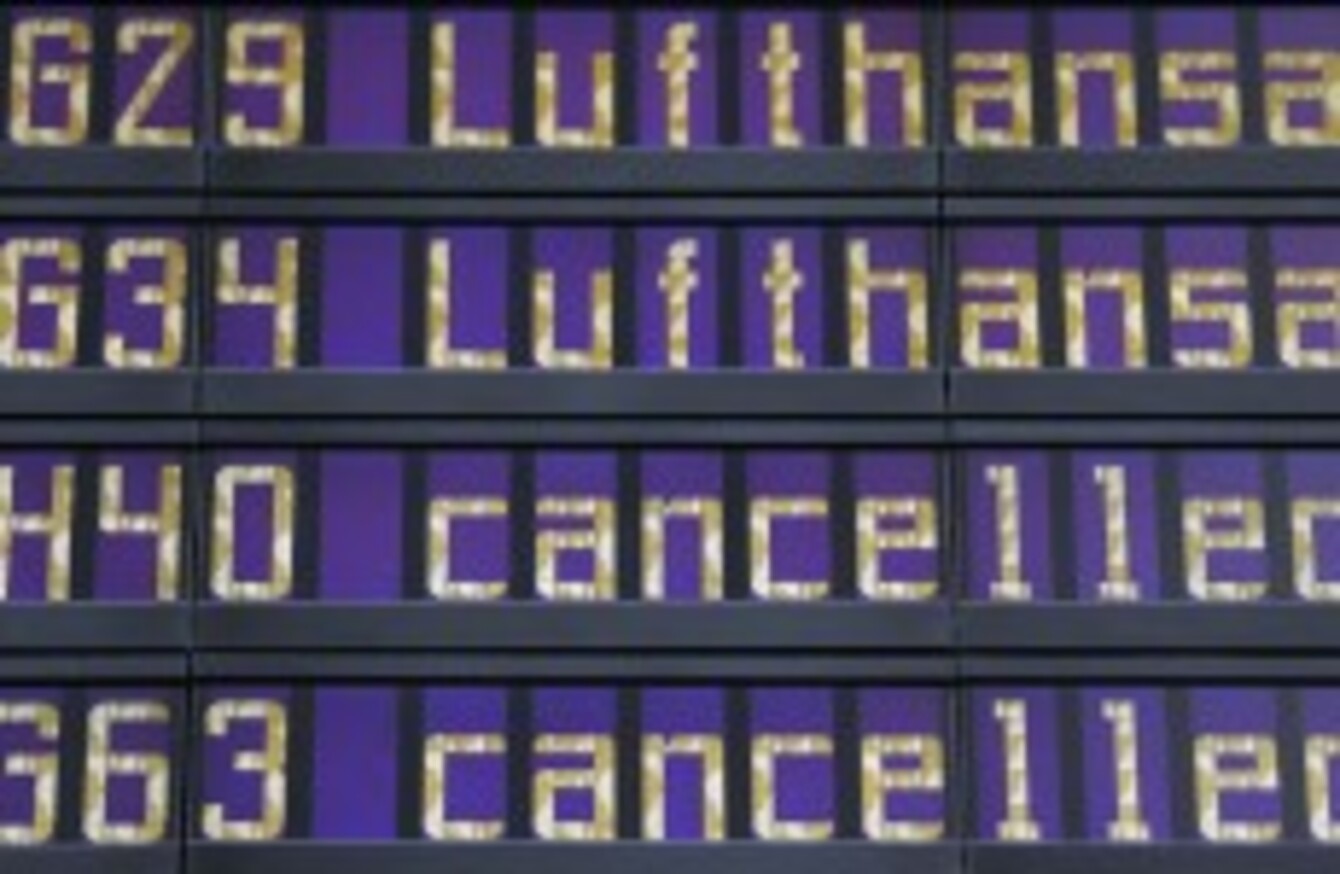 Image: Matthias Schrader/PA
Image: Matthias Schrader/PA
LUFTHANSA PILOTS LAUNCHED a strike today, deepening Germany's travel chaos after train drivers stopped work at the weekend just as school holidays began in much of the country.
In Dublin, three flights the airline had scheduled to Frankfurt have had to be cancelled. Three flights due arrive here from Frankfurt over the next two days have also been cancelled, as well as one from Munich. However other airlines are operating their flights in and out of the country as normal.
The top-selling Bild daily complained that "ping-pong strikes are crippling our economy", Europe's biggest, as about 10,000 pilots and 20,000 train drivers had "taken hostage" 80 million Germans.
The German Industry Federation charged that the pilots strike, following the "disproportionate" railway stoppage, "harms the entire economy" by hitting logistics, tourism and business travel.
The government said the strikes will certainly "impact some sectors of the economy", though there was no reason to change Germany's 2014 growth forecast, which was lowered this month to 1.2 percent.
Pilots for Lufthansa, Europe's biggest airline, said they would broaden strike action to long-haul flights on top of previously announced stoppages on short- and medium-length routes.
The industrial action today and tomorrow is expected to affect more than 200,000 passengers on 1,400 flights, said Lufthansa, advising passengers to check for updated information on its website.
Pilots stopped short- and medium-haul flights departing between 1100 GMT today and 2159 GMT tomorrow, as well as intercontinental flights scheduled to leave Tuesday between 0400 and 2159 GMT.
The strike will not affect Lufthansa subsidiaries Austrian, Swiss and Brussels Airlines or Germanwings, the low-cost carrier whose pilots staged a 12-hour strike last week.
Pilots union Vereinigung Cockpit (VC) launched its eighth action in recent months in a bid to keep an early retirement scheme that management wants to phase out to reduce costs.
Infrastructure paralysed 
The stoppages come as autumn school holidays start in seven of Germany's 16 states and are ongoing in two more.
"Now, during the holiday period, I think this is pretty brazen," one affected air passenger told NTV television, though he said he understood that "everyone has interests they want to promote".
Lufthansa accused the union of bringing Germany to "a standstill" and sought to draft in pilots working in management positions to ensure a third of scheduled services still operate.
The airline labelled the strike "incomprehensible and disproportionate" and demanded legislation against actions that cripple large parts of Germany's travel infrastructure.
Lufthansa spokesman Andreas Bartels said the company wants new "rules of the game for such labour disputes, which are needed especially in infrastructure-critical" sectors of the economy.
Berlin is working on legislation to stop small groups of employees from paralysing large parts of the transport system, and a draft law is expected in November.
The flight chaos compounded weekend disruptions when train drivers halted at least two-thirds of passenger and cargo services nationwide.
The GDL train drivers' union launched their biggest stoppage since 2008 in demand for more pay, shorter hours and the right to also represent conductors and other rail personnel.
GDL chief Claus Weselsky announced a seven-day pause, but warned of more stoppages after that if rail operator Deutsche Bahn (DB) does not offer "real negotiations".
His union earlier rejected an offer of a five-percent wage increase over 30 months.
DB said the strike had caused damage "in the tens of millions of euros" due to lost business, reimbursement payments, extra staffing for a customer hotline and hotel and taxi vouchers for many customers.
As train carriages stood idle, it said, "vandals took advantage and sprayed graffiti on 69 suburban train cars at eight stations in Berlin alone", also defacing trains in Hamburg, Leipzig and elsewhere.
DB personnel chief Ulrich Weber charged that the small union "has not moved one millimetre, has applied pressure, angered millions of customers and damaged the company".
- © AFP 2014 with additional reporting by Michelle Hennessy.