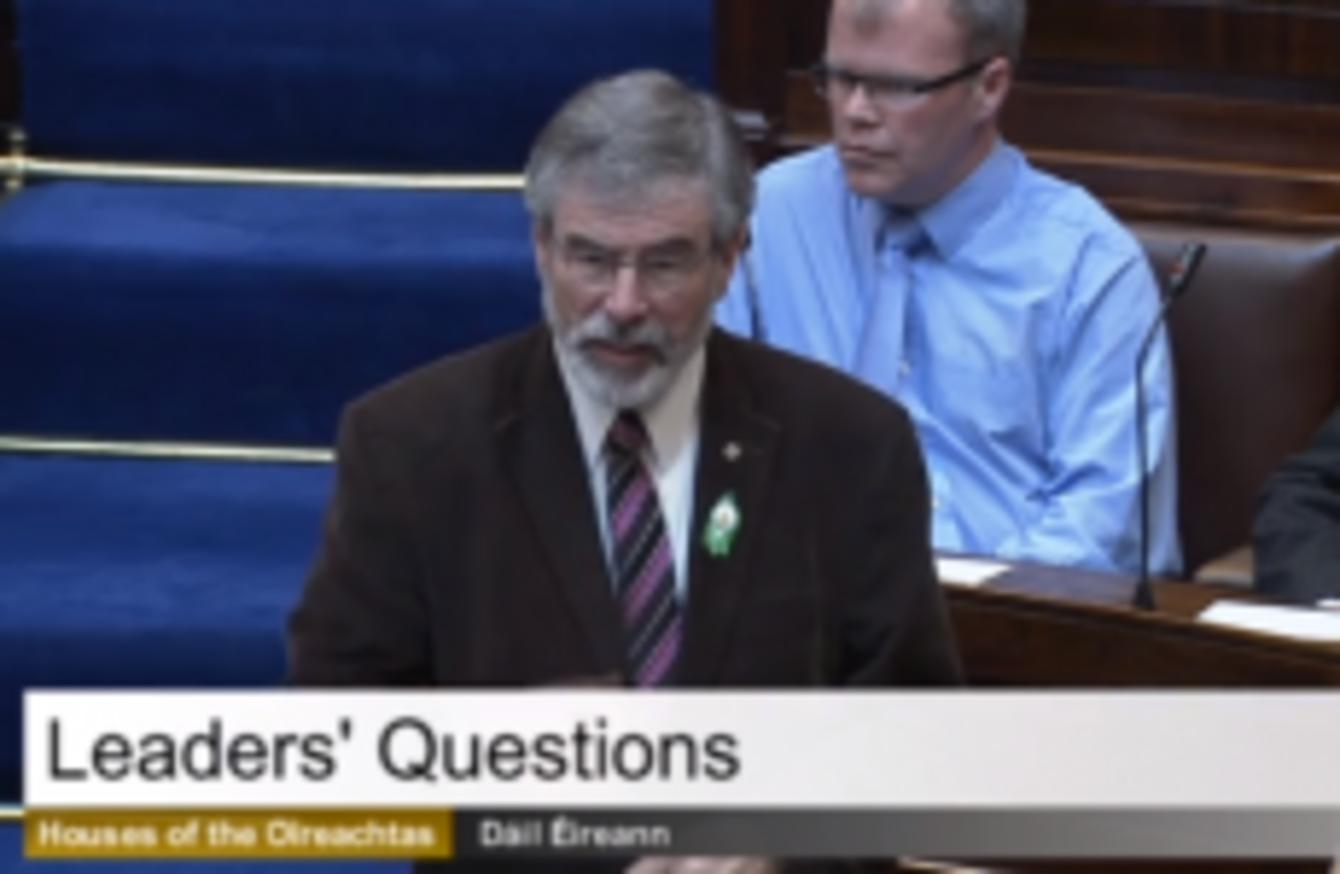 Gerry Adams
Image: Screengrab/Oireachtas TV
Gerry Adams
Image: Screengrab/Oireachtas TV
GERRY ADAMS HAS said it is unacceptable that James Reilly is overseeing a review into how a company founded by the director of the West/North West Hospital Group, Noel Daly, was appointed to examine maternity services under the group's remit.
Sinn Féin's leader had raised the issue during Leaders' Questions last week but, as Enda Kenny was not present then, he brought it up once more today.
Kenny said that the "matter is being dealt with seriously by the Minister of Health". Adams questioned how Reilly could examine the issue when he was the one who appointed Daly to his current role in 2012.
Daly set up D & F Health Partnership Ltd with Deirdre Foley Woods in 2008. Upon his appointment to the hospital group, Daly resigned as chair of the Health Partnership.
He retained a 50 per cent share in the company but the hospital group said he has received "no financial reward of any kind from the company since his retirement in December 2011″ and "remains committed to disposing of his shares".
Last month, Reilly said he was "satisfied that this operational matter is being dealt with appropriately by the HSE working with the CEO and the Group Board".
He added that the Director General has written to the Hospital Group Chairperson and the CEO to ensure there will be "no further breaches of procurement rules".
At the time, the hospitals group said it "cooperated fully" with the internal review and accepted its recommendation that a register of members' interests be established and maintained to avoid conflicts of interest.
Medical cards
Adams also questioned how a review of discretionary medical cards was underway when Peter Tyndall, the Ombudsman and Information Commissioner, said "original files on the decisions made about discretionary cards are not available".
How can you conduct a review if these cards are not available?
Kenny said he didn't know why this was the case, saying: "I'll have that checked for you, I can't answer that question."
Adams responded: "I don't think it's good enough, Taoiseach".
Children with terminal illnesses have had their medical cards taken away… What happened to the contrition of 21 and 22 May?
"You're telling me that I'm supposed to know all of these details. I'm telling you candidly that I don't," Kenny stated.